ES weekend preview 2-13-11
ES weekend preview 2-13-11
Happy Valentines day! Or Valentines day massacre? The market continued its relentless march higher last week now that the Egypt situation appears to have calmed down.Its my contention that it will continue into an April or June peak (at a minimum!).There was some hope by me that just over 1300 would be the end of this phase of the rally , but it was good for only a 13 handle correction or so.The first phase of the rally from the end of Nov went all the way to the end of Jan with 4 corrections averaging about 15-16 handles! Amazing. Then we finally got the one i forecast(right on my turning point too!). But even that fell well short of the 50-85 handles hoped for coming in at around 37 handles. This smells like 2007 when the market SHOULD have peaked out in May but kept relentlessly climbing untill the Oct peak! I'm not implying a resumption of the bear market, but the point is ,the market is like a pressure cooker and if it doesnt let out a sufficient amount of steam every now and then ,it just makes it worse when it finally does! Ive seen this several times over the years! Anyway ,corrections of 25-40 handles can occur at any time and should be looked at as buying opportunities! Tho i remain a seclar bear (see the secular bear thread under Kane trading here at my pivots to learn more), im still looking for much higher prices....
Click image for original size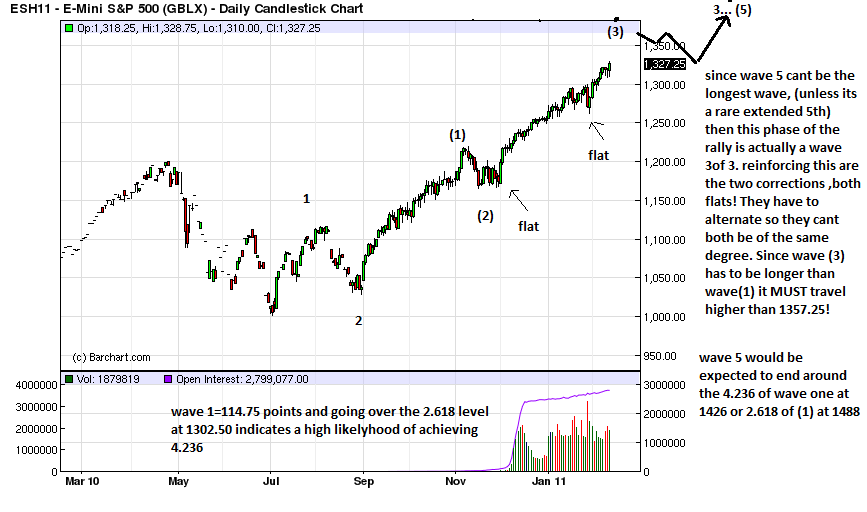 But who cares about the 'longer term' outlook anyway right? We want to know whats in store for next week! In a nutshell, expiration weeks and in particular expiration Friday are historically usually posiitve. This one may prove more interesting than most ,however, because of the seasonals. Im looking for basically a flat to higher market into Tues and then a surprise Valentines gift (for bears anyway) starting by Wed. Observe the 3rd year presidential cycle seasonals...
Click image for original size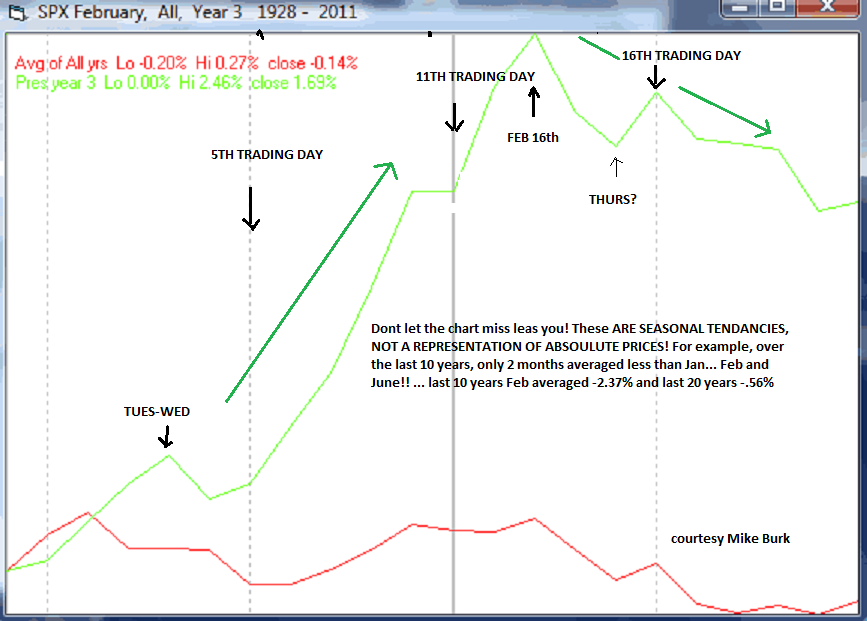 , and courtesy of sentimentrader there look at the coming week.
Click image for original size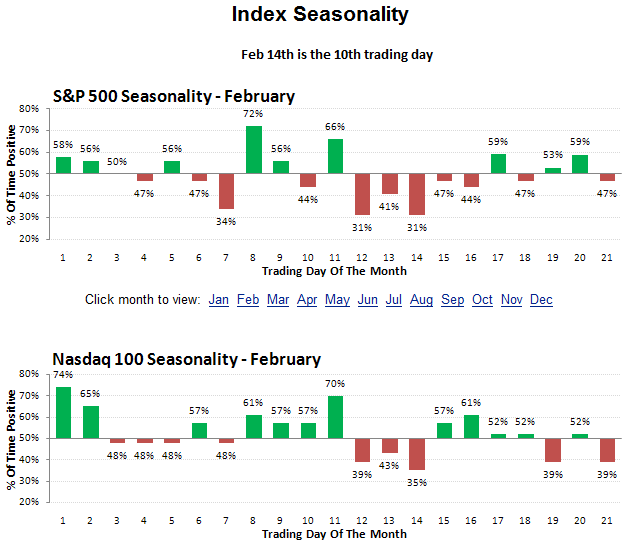 Both indicate a peak Mon-Tues then go negative! Remember that Feb is historically an ugly month,or perhaps you could say it provides a great buying opportunity for the rally into April. Very near term lets look at the daily chart...
Click image for original size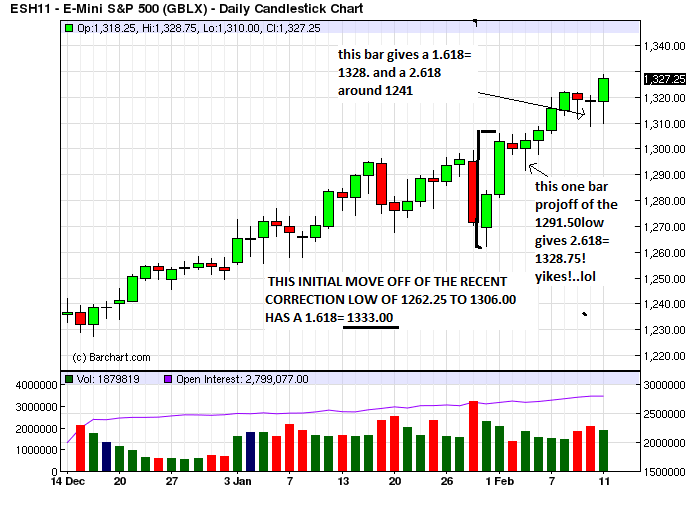 . Now, daily projections can be off a handle so lets take a closer look...
SUMMARY: Though much higher prices may be seen over the next couple weeks and months, next week, i'm looking for a short term peak by Tues,(especially looking at 1333 and change, 1336.50 and 1341ish as potential short scalps. Of course, i reserve the right to change my targets if the market tells me too, but thats how it stands going into the Sun nite open. Feel free to comment and/or disagree, just be respectful!
PS: One more thing i forgot, and i wanted to show it , cause it seems to re-enforce my view of a short term pullback coming soon!... From Tom Landry (the "t" theory guy)...
Click image for original size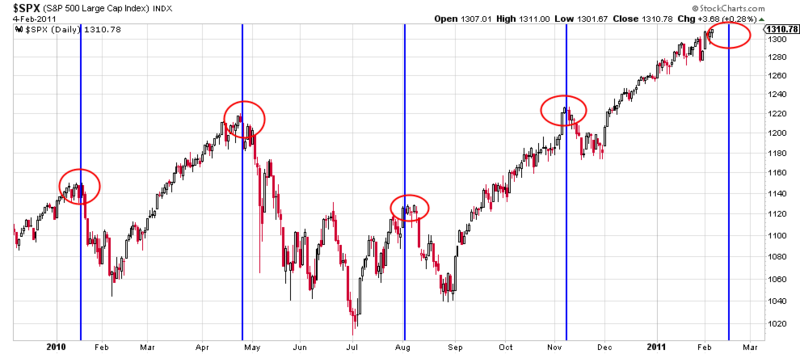 ...
Click image for original size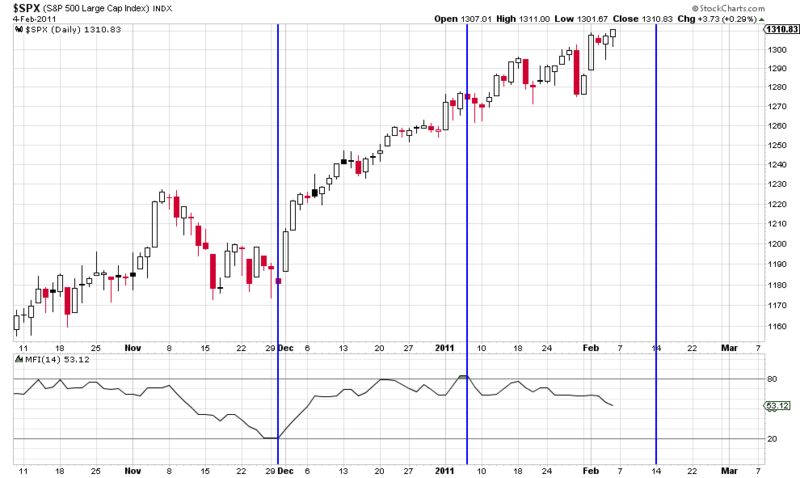 and of course Kools calendar!...
Click image for original size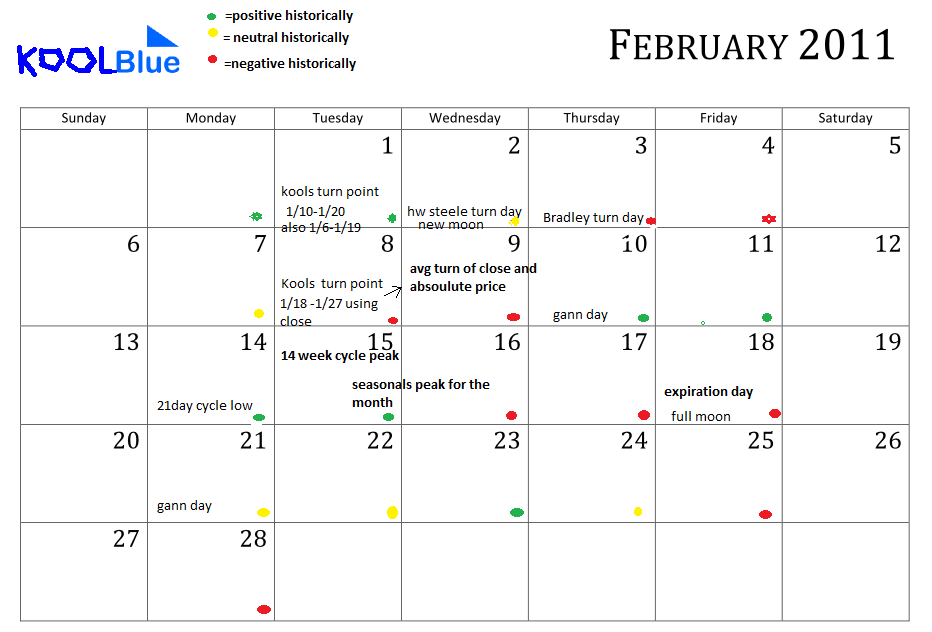 .. good trading all!!!
Hey, D.t.! Can you delete the double post of the above charts? thx .. Last one ,also from Tom L....
Click image for original size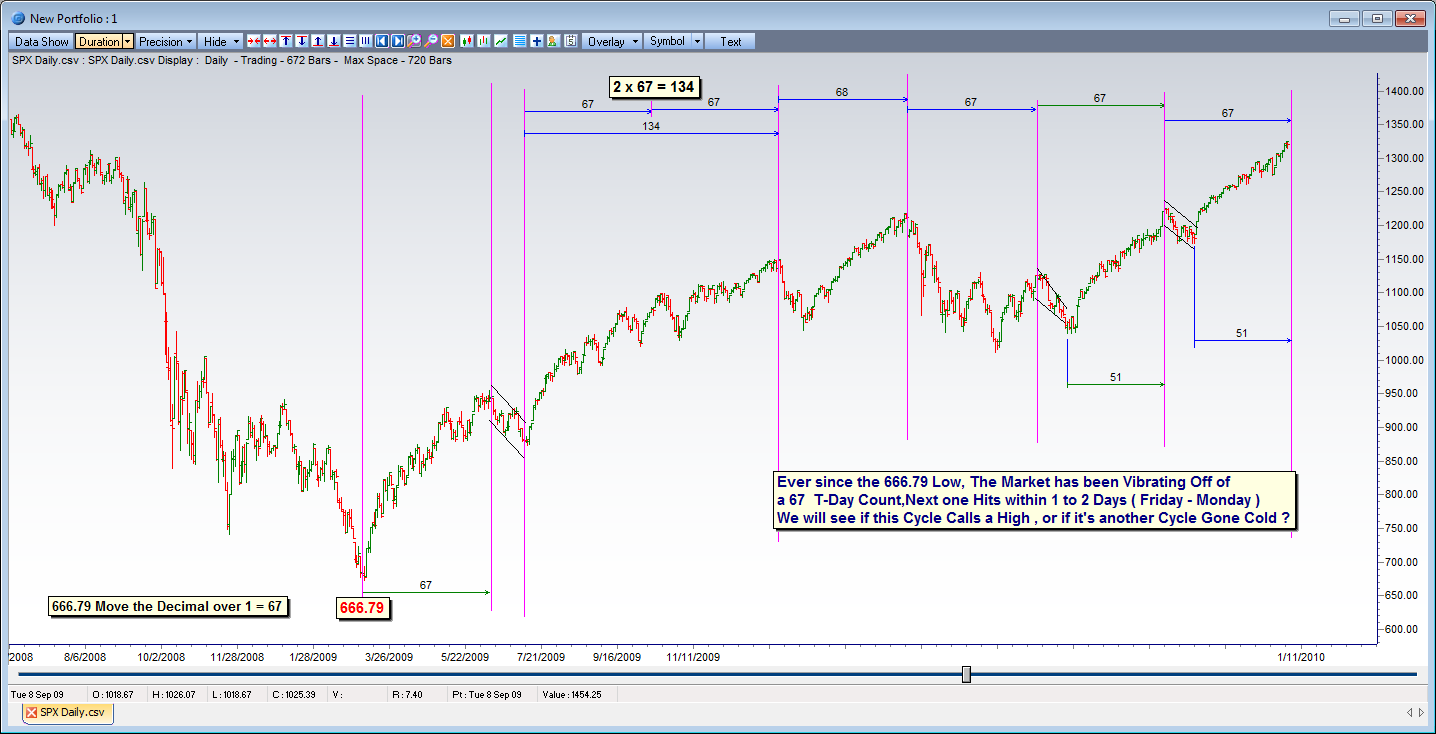 Here are Mike Burke's comment on the Feb 2007 mini- Crash: "In late February 2007 (3rd year of the Presidential Cycle, 4 years ago) all of the major indices hit multi year highs confirmed by everything that matters. From that point the major indices fell, for no apparent reason 5% – 9% in a week. These things happen in strong markets and I do not know how to predict them. What I do know is the market has always recovered from a decline off a confirmed high fairly quickly so they are buying opportunities." There were similar buying opportunities during the August 2010 and November 2010 corrections of the P3 bull run. The next correction should be viewed in the same way, in my opinion.... Valentines day? or Valentines day massacre? lol..kool
Thanks for the wealth of info, Kool. It will be interesting to see if the 67 day cycle still works or is it too commonly known now to be faded. For the time being though the trend remains up.
The two support areas for next week for
DJIA
are shown here. I'll trade
YM
Mar contracts this week with those two areas of support in mind. Best wishes.
Great breadth and depth of analysis Koolio ... this is good stuff buddy! Makes me feel anemic with my
PASR
levels I draw in on my 30min chart that's about the oldest and most pervasive thang that pretty much everyon knows.
Anyway, thought I'd toss in my 2-cents of a chart with Red lines as potential significant
PASR
levels with Magenta semi-significant. The Whitish Dashed lines are the Wkly Pvt levels and I've also got the Green Dashed lines drawn in on
HVN
of 20 days of activity based on the
Volume Profile
displayed on the right side of the chart. Also have a Yellow line that's a Fib cluster above the current market. Reminder: the grayed areas are overnight
ES
sessions with
RTH
's in the blue background.
Just a MAP for coming into the trading week whether banging out
ES
trades or finding the best time/place to enter individual stock trades (which is my primary trading).
Click image for original size