ES update
I'm still concentrating mostly on the euro as i slowly make the transition to increasing my position size, but am starting to watch the
ES
as i feel an inflection point (tho minor in the larger scheme of things) is imminent. Friday i had a ten lot sale ready to pop at 1361.25 and we touched 1361.00 before going to my objective! sheese!.. Anyway, here's a look at what may occur next week(then again, maybe we just continue on to dow 36,000!lol)
Click image for original size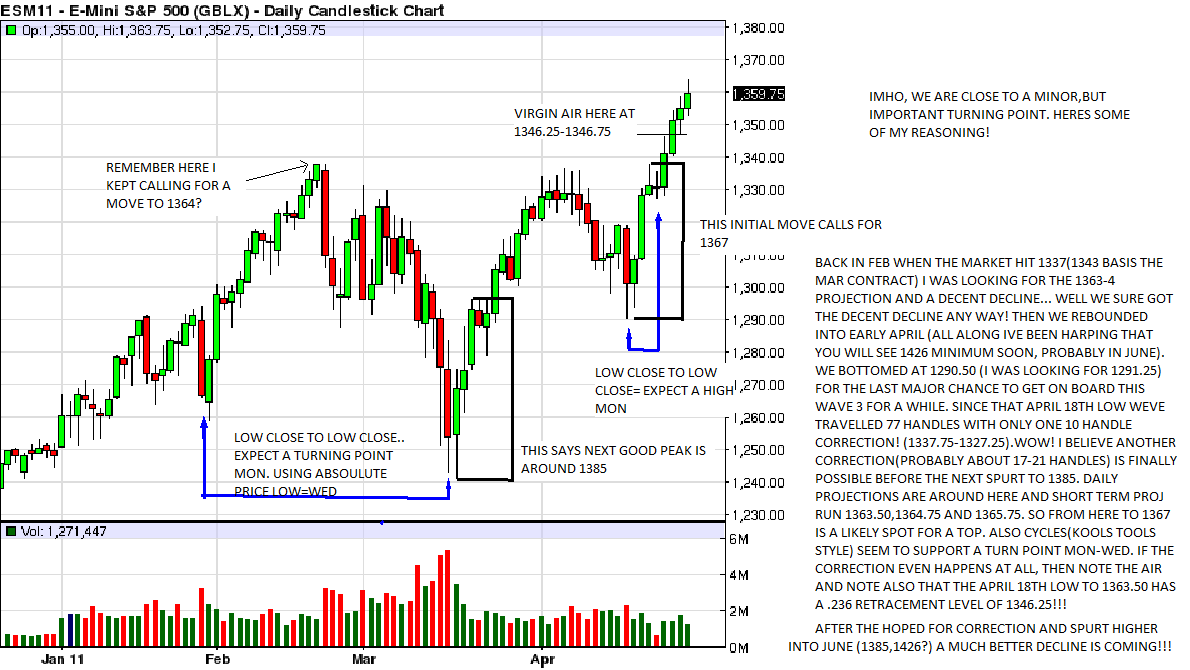 ...seasonals seem to support my hypothesis...
Click image for original size
..Good luck gang!
Your performance in trading is a reflection of your preparation over a long period of time. Not just this weekend or today. Notice how Koolblue frequently studies the markets and posts charts on the weekend in preparation for the week coming up. Do you think that it's a co-incidence that he's ranked in the top 5 traders on the forum?
Thx D.T. for the compliment. I'm trying to show how the original mypivots bull (1426 bare minimum!) hasn't changed his tune but may try to sell this thing next week. I prepare every day prior to trading, but its really a labor of love.
kool, thx for the update...are you trading the euro permanently or only temporarily ?
Pretty good call ,so far! Monday was indeed a high and a turn point though it should bottom out tomorrrow or thurs. Still looking for 1343-1345.50 or so.
I anyone here to read posts?
yes I read posts...looks like sellers slowed down for now. See 46.75 as low for day not there yet.
LisaP,
I'm checking in occassionally, I just don't feel like posting. sorry.
Originally posted by koolblue



Originally posted by rburns

Thanks Koolio


note also friend that the 1357.25 to 1351.25 move could be a projection to 1341.50 if the current low doesnt hold tomorrow!..So lets keep that in mind...Either way, i believe this to be a dynamic buying opp.

Correct me if I'm wrong... but it looks to me... YOU NAILED IT! How do you do that? That's freakin AWESOME!