ES 5-5-2011
Interesting look at this weeks action laid against the backdrop of last weeks
volume profile
.
Click image for original size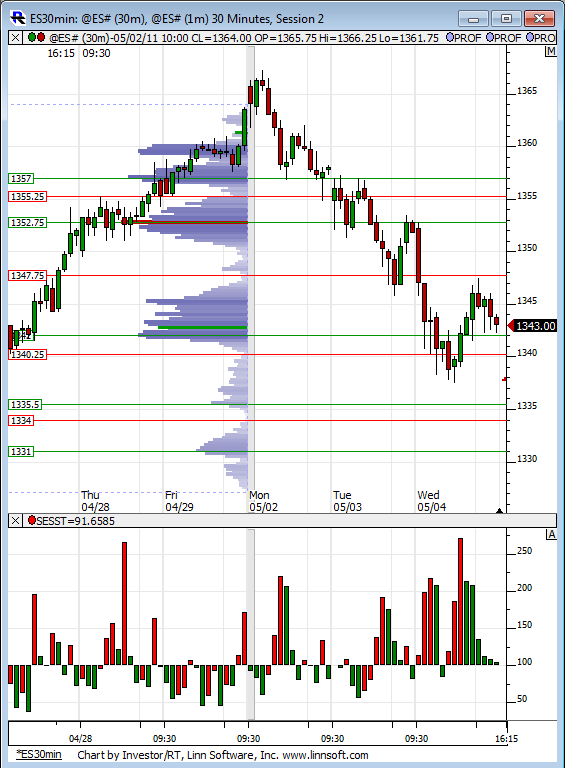 numbers I'm using today
1325 - 1327.50
1332.50
1338 - 1339 -
gap
in data from 8:30 reports and this is where buyers stepped in on Wednesday
1342 - 1343.50 -******** peak volume from Wednesday and
low volume
area from
O/N session
...key area to watch as resistance should we get up that high
1347 - 1348
low volume
from day session and
O/N
highs
Lorn,
profile you are showing, is that standard
market profile
(price frequency) or is it volume at price?
thx
woops, nevermind, I see the label difference. sorry (gettin' old)
From my "non-forum" discussion
Q: What software you are using for the charts you posted?
A: I am using
Market Delta
software for my Footprint charts with
IB
feed (crappy). I understand that
Ninja
also offers similar charts.
Regarding the datafeed. Based on my discussions with Lorn, I started refreshing my charts during the day, so I now post "refreshed" charts. Unfortunately it takes time to refresh, capture, upload and post, so my posts are delayed a bit, especially if I enter a trade. But it is OK, as we can refer to the "significant levels" at their retest, which is one of the advantages of these charts.
I am currently looking for another datafeed, but busy with other things these days. I had a car accident (I am OK)before my vacation, so busy with insurance negotiations and car search. THose who happy with their datafeed, please let me know. Thanks in advance.
Oh yeah, I find
IB
feed still OK for time-based charts (candlestick or bars)
Here is where real effort was made
Click image for original size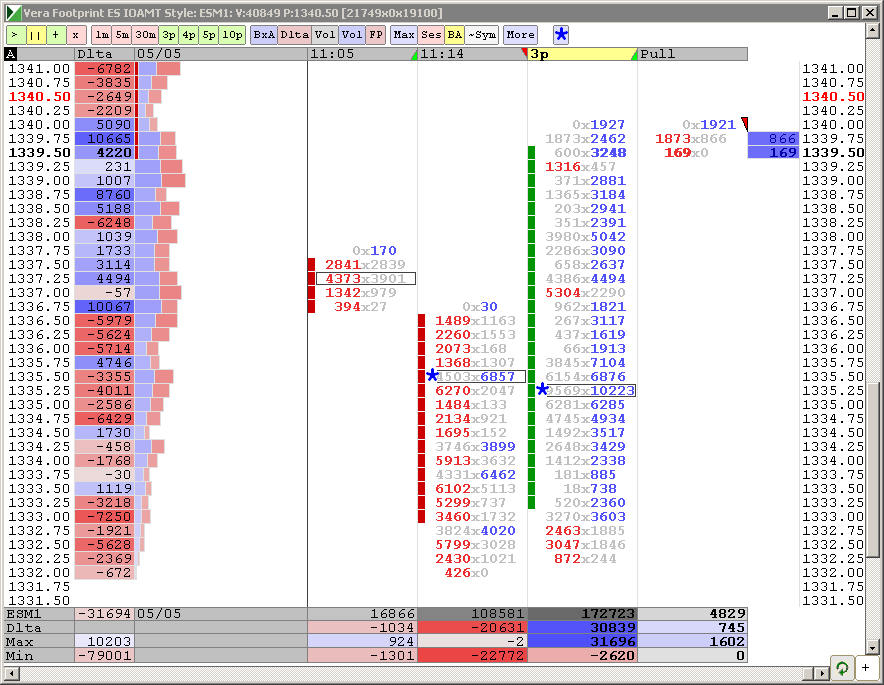 Lisa,

Any way I could encourage you to make a video or two about footprint use? I see your levels but getting in on those seem to only be possible if/when we get a retrace. Quite often the move runs away and by the time a retest happens there is no new energy at the ORIGINAL level. That's why I prefer to use volume as targets.


You have been kind to offer out to the forum SKYPE conversation but my thoughts are that it may be better to have a few quick videos so all can Listen and watch over and over and it would be a better use of your time. The Jing video capture is real easy an even I can do it ! It also has a short time limit which is nice because it lets us post a few short simple ideas.

Let me know what u think and hope u r ok from your car crash.