ES 7-13-11
Void below. Island reversal, Daily chart
gaps
. Looks good. Maybe too good.
Diagonals create their own support if you think about it. That's why I'm thinking it about the only possibilty left for higher.
Projecting from 1295.25 low gives a minimum 5th wave of about 1380.
I know, doesn't seem likely.
Also, diagonals are made of 3 wave moves.
Free your mind?
1325 and 1332 above.
1320 and 1317.25 below.
shorted 26.75...chart will follow...25.50 is peak volume
Ok...here we have a
divergence
in
Cummulative delta
as we made those 27 highs and volume diverged also..it's a key number and second set of singles is below....still !!
Click image for original size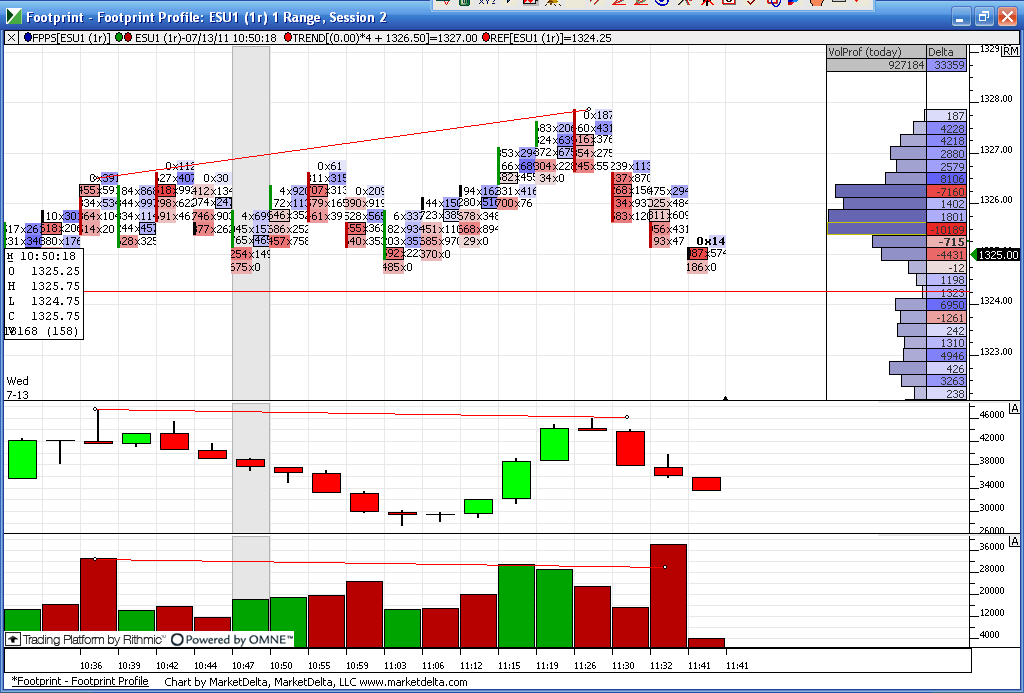 flat on both counts !
27 area proved to be nice resistance
done here, have a good day everone
Originally posted by apk781

added at 27.5...will take these off at 25.5 and still aiming for 24.5 on the previous sell (26)

Here is where the real power of the footprint finally helps me out...this is a close up of the 11:19 and 11:26 bars...on the 11:19 we have all those buyers ( the blue shading) 15 thousand if you
add
it up and more...with 2060 at the 11:19 bars high...then the next bar can only get 180 buyers involved at the highs and it flips over with sellers..now I factor in the volume and
cd
divergence
and it makes for a good contextual short
Gonna go enjoy my kids now...hope all have a great day..
Click image for original size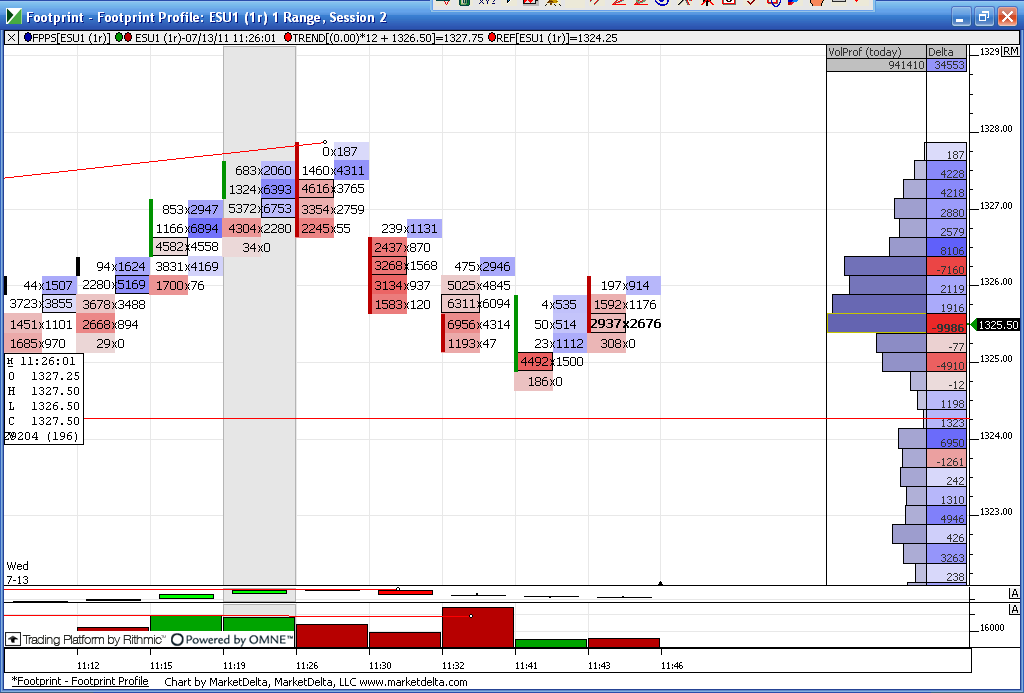 break loose 1324.25 and targets 1323.25 and/or 1321
no break there yet,just pierced so far, imo
above the 1325 50%
s/r level
, have 1326.50
one more as to why my runners came off at 24.50....look at that low into the key 24 area....only 27 contracts on the red side...so not many sellers there...at least not yet....ok..nuff said on this..too hard for me to post and trade with these new fangled methods/confirmation..gotta run
Click image for original size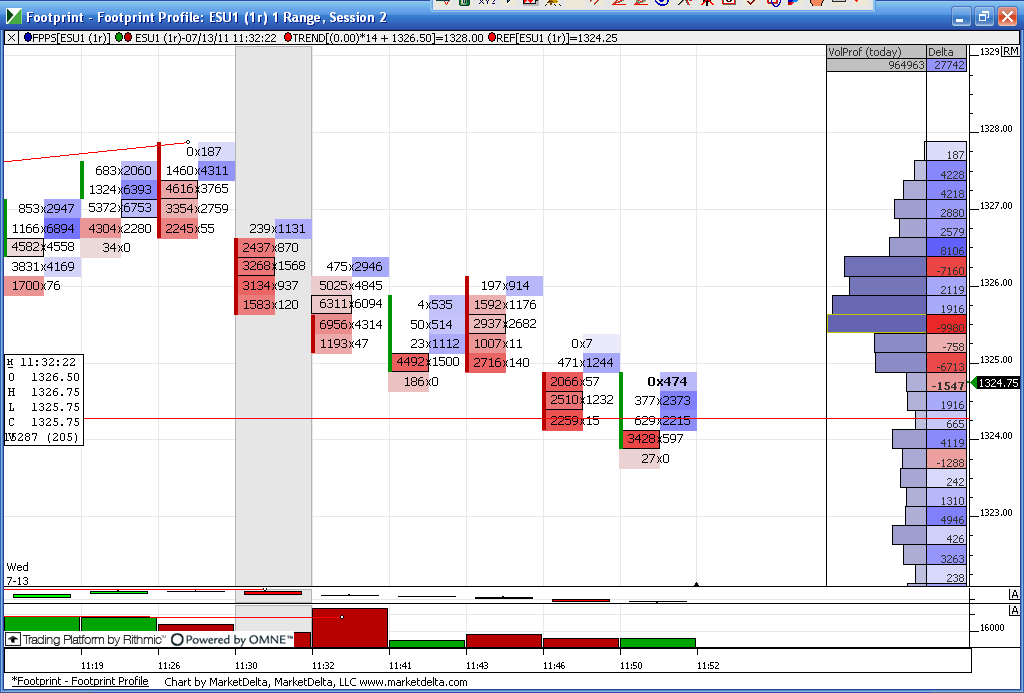 1325.00-1326.50
need a break
either direction
Wed lunchtime-tight range
One time framing
short. On @1326.00 @ 11:30 open. Will go breakeven at 1323.50 looking for 1321.00.
Original stop is 1327.50.
looking good bigmike
quick question, i was looking at
one time framing
setups yesterday did you take any by any chance?
Originally posted by NickP

looking good bigmike

quick question, i was looking at one time framing setups yesterday did you take any by any chance?

Yes, both for breakeven.
Originally posted by day trading



Originally posted by Big Mike

Great info DT. One question, is that a typo on the "E" candle? I can't see how 9:00 CT is "E"?



Traditionally the D candle starts at 8:30CT and the E at 9:00CT. If you look at the Market Profile Calculator you'll see that it defaults to D as the first bracket.

More great info! Thanks DT.