ES Fri 8-12-11
Thursday
Market Profile
summary for Friday's trading. Here is one scenario that a
market profile
trader might have traded:
On Thursday the market opened inside the
value area
and traded down to the
VAL
which would have been a buy price. Our hypothetical trader would have reversed at the
VAH
and then been stopped out on their short. With an upside breakout they entered a limit price to buy at 1142.50 (
VAH
) but never got filled and sat back for the rest of the day watching the upside that got away from them. Our HT made a good profit on his first trade and lost half of that profit on the second trade but came out the day ahead.
Obviously I could have told a very different story with my 20/20 hindsight of the day but I'm trying to be realistic.
Click image for original size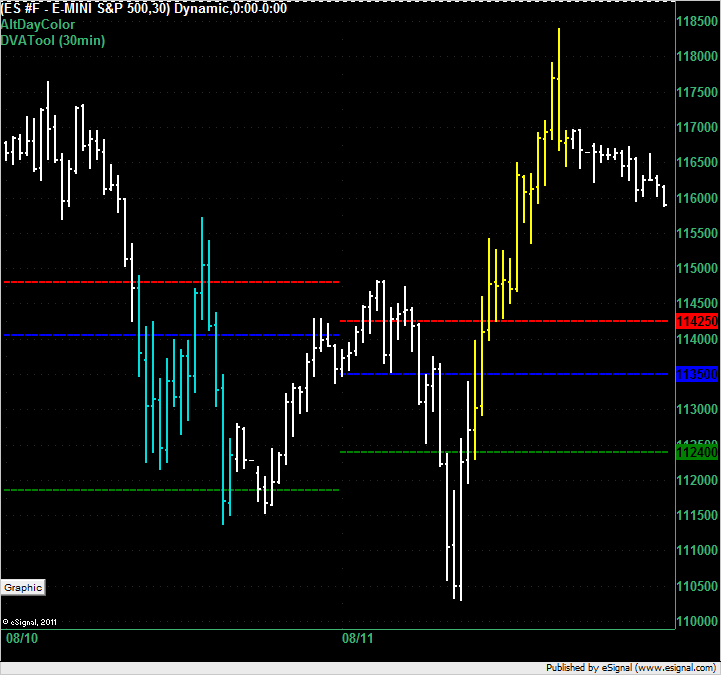 I wasn't around yesterday.
I just read yesterday's thread.
WHat an incredible wealth of knowledge Bruce delviered.
Thank you, Bruce.
Thank you dt, I feel much more comfortable with
MP
now, and when
MP
levels might mean more than usual.
there is a synergy developing... the tracking of multiple disciplines in order to recognize where respective price levels cluster, then pay attention to whether buyers or sellers are becoming more aggressive.
here's something to watch...
Chaikin studies of 600 period exponential
MA
of 5minute
RTH
only bars.
Odds are high that if yesterday's close was below the 600xma and today's open
gaps
above it, more likely that
gap
does not fill, BUT if the
gap
open falters and undercuts 600xma, could be profit-taking by the longs.
WHY 600xma on 5min?
600XMA on 5min is same (virtually) as the 200xma on 15minute charts (popular with slightly longer intraday traders)
600xma equivalent to 100xma on 30minute charts
600xma equivalent to 50 on hourly cjhart, lots of eyes.
as of close yesterday, 600xma was 2177.89
market does not know what to do this week...lol

What a crazy week for the markets! :)
The market is been very wild , its day traders market