ES Wednesday 11-30-11
Here's what I've got for my
ES
MAP of
PASR
ZONES using a 30min chart of 20 days of data coming into Wednesday's trading. The Red lines are potential significant levels with Magenta lines as semi-significant. The White dashed lines are the Weekly Pivots and the Green line is an unfilled
Gap
. The Light Blue
Volume Profile
of the past "rolling" 20 days is displayed on the right vertical axis. The Gray background shows non-
RTH
price activity. Hope this is helpful to some as a "MAP"
Click image for original size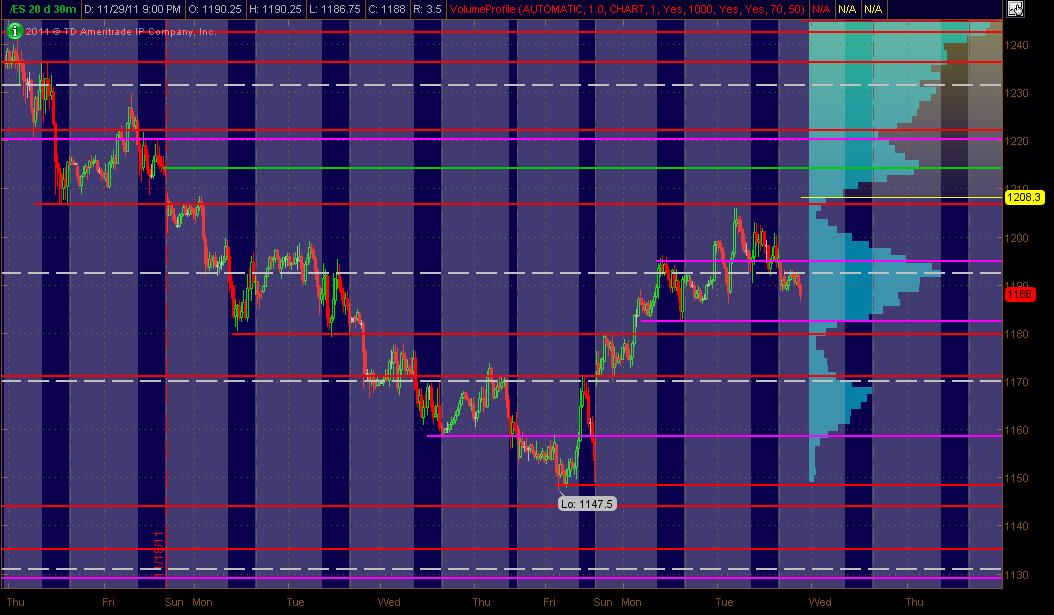 Here are two 5min charts showing
Volume Profile
... 2 days worth, with the one on the left incorporating (in gray background) All Trading Hours ... with the one on the right showing 2 days of
RTH
. This is using
Thinkorswim
software.
Click image for original size

And
Volume Profile
RTH
from Tuesday:
Click image for original size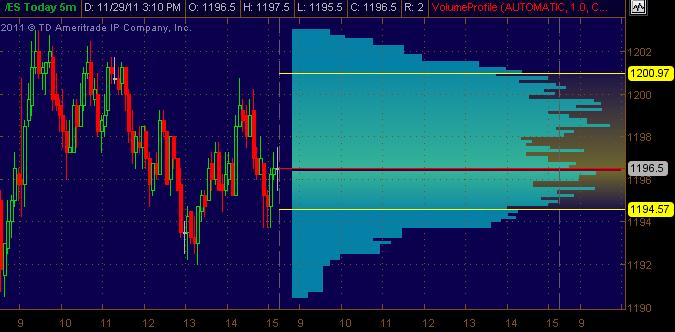 where is everyone? is there a new Forum?

scott, what happend to the Forum? has it moved?
I can only speculate but I think that sandoxe was challenging some of bruce's calls....and bruce didn't appreciate his comments. I always appreciate his insight and your charts....
hi lisa

no it hasnt gone anywhere got rid of the paper traders as bruce called
Ive had a very sick wife and dog so im in and out Il post tomorrow
how was south ???
Hi All,

I joined this site about a year ago... quit coming here and then got interested again a couple of weeks back. The (non-antagonistic)commentary is great. I hope the regulars post more frequently.