Volume Indicator
Is there such a volume indicator that subtracts sell(down) volume from the buy (up)volume and charts negative results below zero and positive results above zero in bar form?
Very cool, thanks for the suggestion. I can
split
my volume into up(green) or down(red) movement as my choices, but I thought it would be better to subtract the two and display it on a bar chart such as this
MOM
Indicator... what ever the heck this is. I can't adjust it, I'm not sure what it reads... I just like how it's set up and would like to learn how to set up a volume indicator that reads into negative as well as positive with zero as middle.
Click image for original size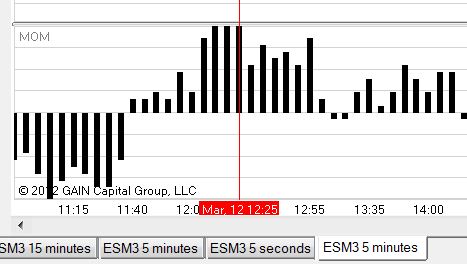 A book I've glanced at had an example of a candle that gets fatter as the volume increases, but that seems like it would take a lot of space. Regardless... Thanks again for your suggestion.. I will definitely look into that. cheers!
staylor455... I figured it had to exist somewhere. Many thanks again...
Funny... Last night I posted I had no idea what this MoM indicator was... this morning Business Insiders "10 Things You Need To Know Before The Opening Bell" basically explains it!

"Consensus is for retail sales to rise 0.5 percent month-over-month (MoM)."

I love it when that happens!