ES 5-10-13
here's what I have today :
Spent more time on the long side spots because we are still
one time framing
and in bull markets they like to make lows early in the week and highs towards the end.
You can use the
VA high
of yesterday for a short spot and then the 31 - 32 zone....short trades are more aggressive today
forgot to mention that pushing out the
O/N
lows will also get us back to the weekly R1 area at 23.50 for confluence..In general we are balancing the last two days so we need to trade as if it will stay in balance until volume breaks it out..
It is much better to take the long trades and buy below value because we are trending on longer time frames up even though the last two days show balance..
My ideal long trade first will be into the 23 - 24 ...Then I will try under that double low preferably close to 1618 if possible
ideal short will see them push above 1629.50 first
are we looking at 1614-1616 if this thing blows under that double? Any insight?
not for me trade queen...here is the current week excluding today on the left and just today on the right...gives a nice visual..seems like there is a lot in the sellers way to hit the numbers you mentioned
of course it could happen but the volume doesn't seem to show that still...I wouldn't be surprised to see it go back to 26 again...
your results may vary !! don't follow me as this is out of my best time of day for trades...only saying what I see...watch that 1623 on the upside...gotta get beyond there
Click image for original size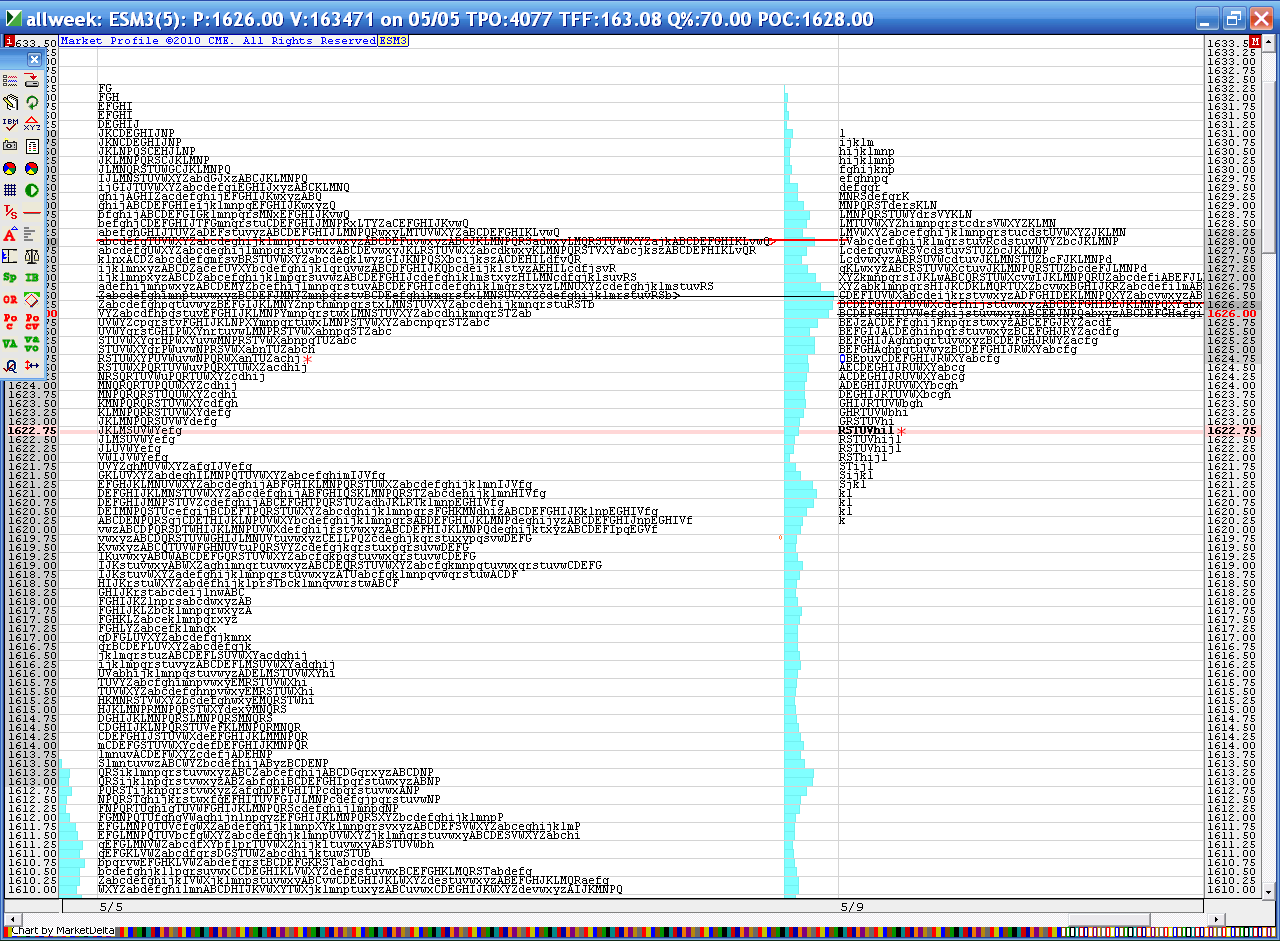 if the 23 becomes resistance then that double low will get broken.....classic battle now for us bulls vs the bears..
my point trade queen was that with all that time spent in the 18 - 21 area, blowing through that double low seems to run into more support..
I appreciate your feedback... Many thanks! I see and agree with what you say. I was thinking of shorting at 25.50ish, close to your 26 mark, but was and still am undecided. I'm gonna go watch a movie and start my weekend...

It's nice to see you enjoying the day, but it's days like this that drive me NUTS! (chuckle)... Again, big THANKS! Have a great weekend all.