ES Tuesday 6-3-14
Nothing happening again.....the overnight range is completely inside the range of YD and we are set to open inside value....on the upside I am watching that bell curve that formed yesterday afternoon...which includes the ledge...so 1920.50 - 21.75 is lower edge and center of bell from that chop in yesterdays session,,,,on the downside we still have the major area of 1912.50 - 1914 ...unfortunately there are too many areas close by as the range is so tight again.....we can look at the
LVN
from yesterday at 18.50 and also where the
single prints
start from yesterday and current On low near 15.50.....I'm making my key lower range 3 points wide at 1912.50 - 1915.50...that's big !! wish I had something good to say....here is a picture of my
VIX
chart from the past year.....of course we can go lower but my bet is still that volatility should expand soon which will bring the
VIX
up....assuming the market drops on fear !!
good luck today...yesterday had most of the range in the first 60 minutes except for one tiny test outside the high and then a close back inside...
Click image for original size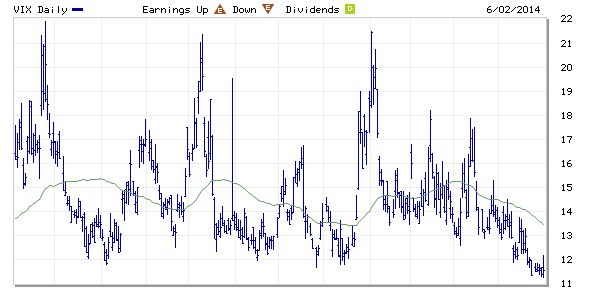 Thanks for your post. Nice to see you back posting again.
I think the longer this market holds above that 20.5 lower edge the greater the odds we take out the
IB
high and YD highs...so if you sold the 21.75 then I would be quick to get out with something even if it's only 1.5 points or so....I hate to say that but volatility is so poor now that we gotta take what we can get...also keep in mind that nothing good will happen until we test outside of YD range since today is an
inside day
so far
I still see nothing happening on this day... a failure at
IB
lows would target todays midpoint and the ledge 19.75 and even higher...trust nothing....and nobody...including me.....!!......still an
inside day