ES 2-18-15
I'm looking for a retest of 2081-2083 ( key zone of support), 2075 and 2069 on Downside this week but need to see a daily close under last weeks highs of 94.50 to put that in motion otherwise higher we grind up still to 2110....that is my bigger prediction....Today is
fomc
day. .....
Dialing it down I am using 93 as my key price !!! that is near last weeks high and an LTN from Tuesday...so far the new all time highs do not show any volume ...that should be a concern for longs....my 2090 Greenie is also right near that previous all time high of 88.75 so treating 88.75 - 90 as another key spot...
I expect any trades under 93 to go back up to at least test that number as long as our 88.75 - 90 holds....otherwise long bias is in trouble...
gonna start small longs at 91.50 in On........magnet will either be 96 or 90 today......On midpoint sits above currently at 95 but that could change if we keep dropping into
RTH
open
here is chart from YD showing low and high time prices...trading remote early on today..93.50 is also pivot today !!
Click image for original size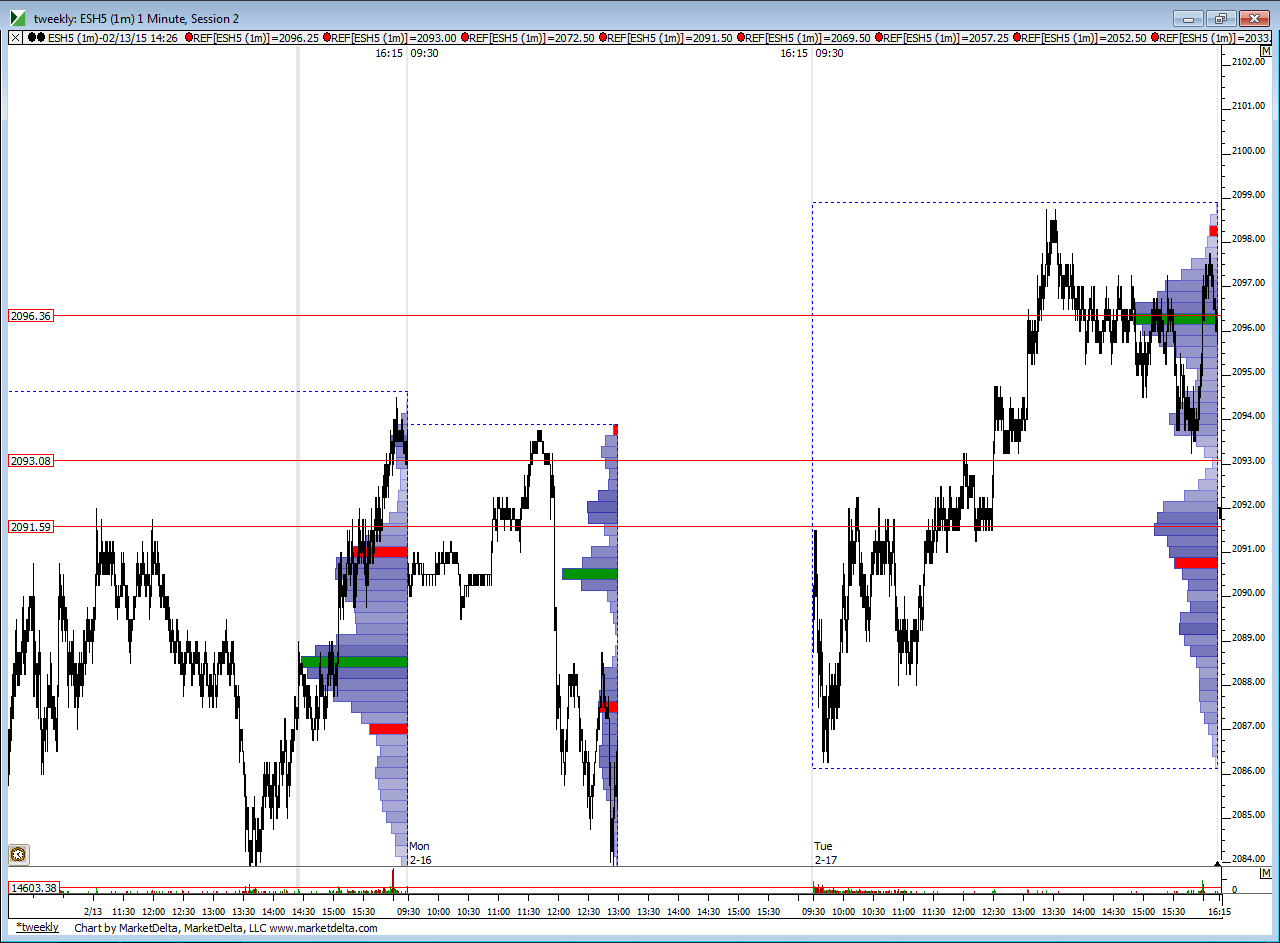 adding at 90.50.....watching 88.75 - 90 close on
RTh
open...this could be a real clunker of a trade
gm, i have a few zones that overlap with yours bruce...looking at 86.25-8.75 as support, that is yest lows and prior ath combo...below that i have 80.75-82.75 (set of recent swing lows) 91-91.75 area a set of greenies on my chart (
val
from yest is at 90.75 also, so basically in that zone) and above that there's taht 93.25 bruce mentioned (ltn and
lvn
from yest)...above that there's 96.75-98.75 (yest
vpoc
- yest
hod
)...onh tagged 98.5 and failed so we know they are looking at that zone
in terms of pivots, s1 comes at 88.5 today and goes well with that 86.25-88.75 zone of mine...s2 is 81.25 and goes well with that 80.75-82.75 area...r1 is 101 today
so basically 90.75-93.25 is first supp, 86.25-88.75 is next and below that 80.75-82.75...i think we may see that lat supp zone today if internals open weak...gl
came all out at 93.50....on vacation...hoping to be back in more action tomorrow...good luck and watch out for 2 pm fed stuff