ES Friday 8-28-15
Good evening to all. Thursday we broke out to the upside of the previous 3-day balance area and closed the
gap
to 8/21. Now we need to monitor for continuation and look for check points on 8/20 and 8/21 where the market had really started breaking down. 1995 is the
VPOC
from 8/21 and 2035 was the previous swing low that we broke through on 8/20, so those are the 2 major points we should be on the lookout on the big picture.
Greenies: 1894, 1964.25, 1995, 2014.25, 2053.25, 2077.75
Click image for original size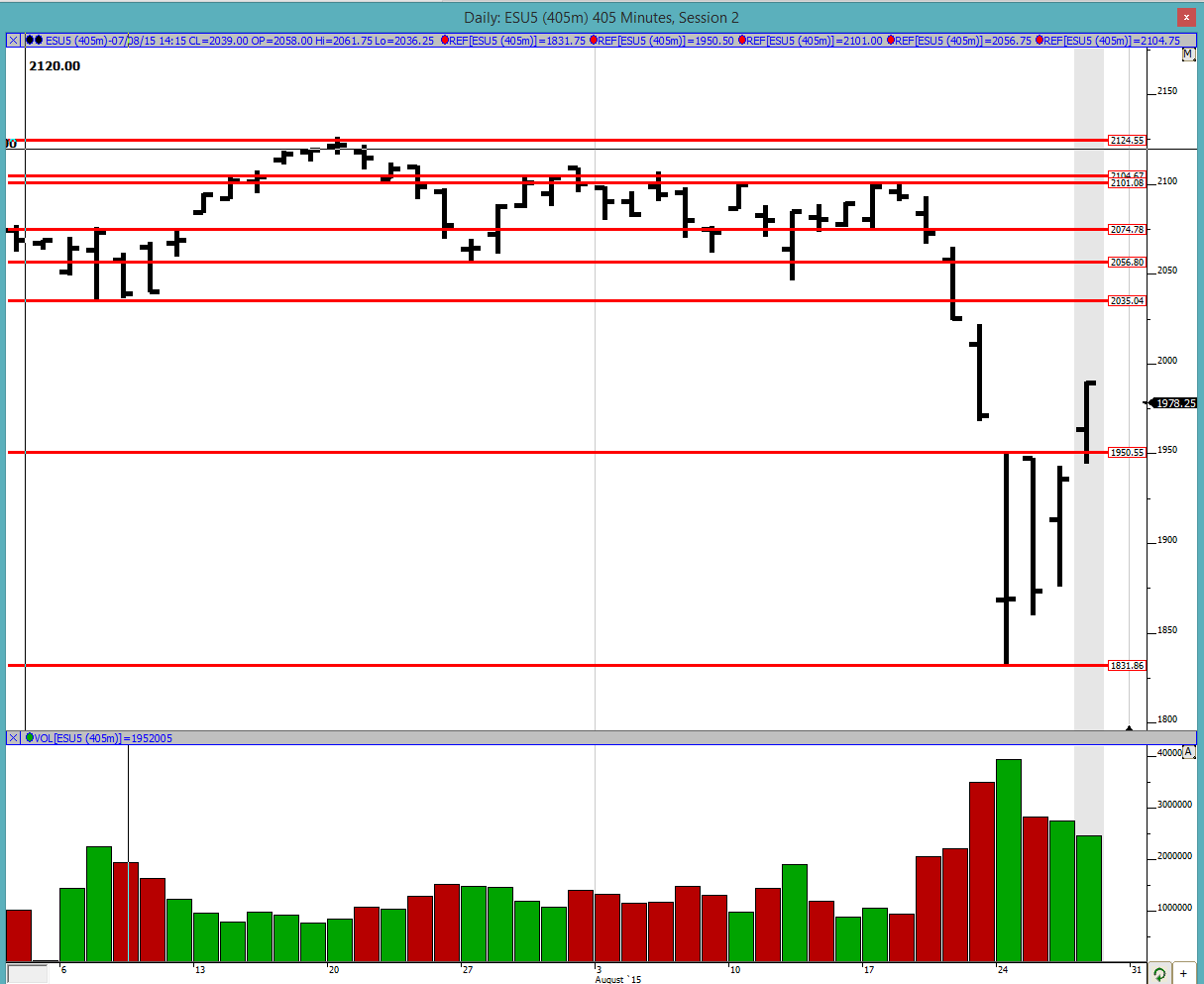 Profile:
The profile was again stretched out with a bunch of wild swings in the last 60 to 90 minutes of trade. We can see the VPOCs as also listed in the greenies.
Click image for original size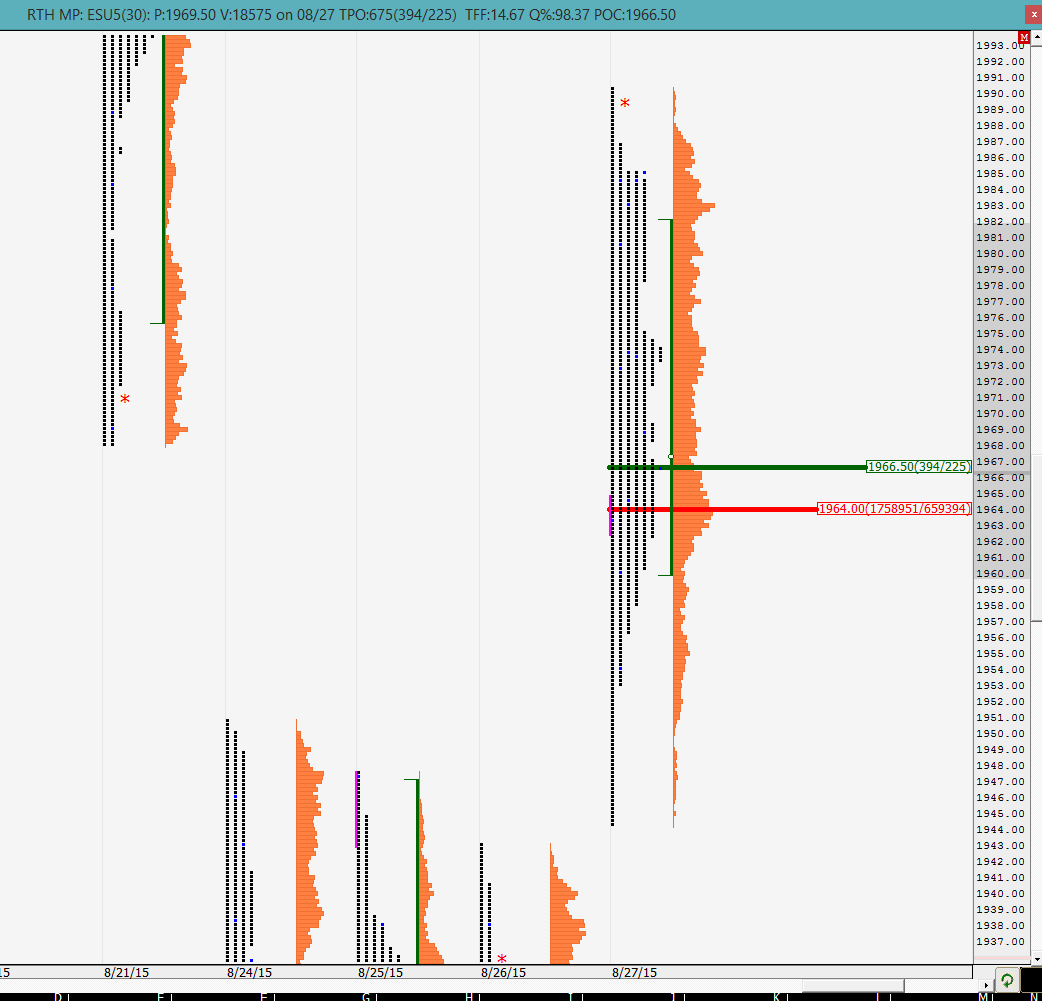 In the
split
profile we see that the market was slowly grinding up until the H period and then all hell broke loose. It appeared that the longs had thrown in the towel and we started seeing liquidation in the J, K and L periods. Especially in the L period we almost closed the
gap
to Wednesday's high but even before we could get there, we had either a massive short squeeze, a bunch of buyers stepping in or a combination of both and shot up to make new highs on the day. It was almost a 45 point rally from the lows of the L period to the new high of the day! That was one heck of a rally! We shall see tomorrow how the market reacts because the consensus around town is that there are a still a whole bunch of shorts out there and that if new buyers come in, it is going to be a monster squeeze, so be on the lookout for that. The volatility is still out there and we are continuing to see large swings.
Click image for original size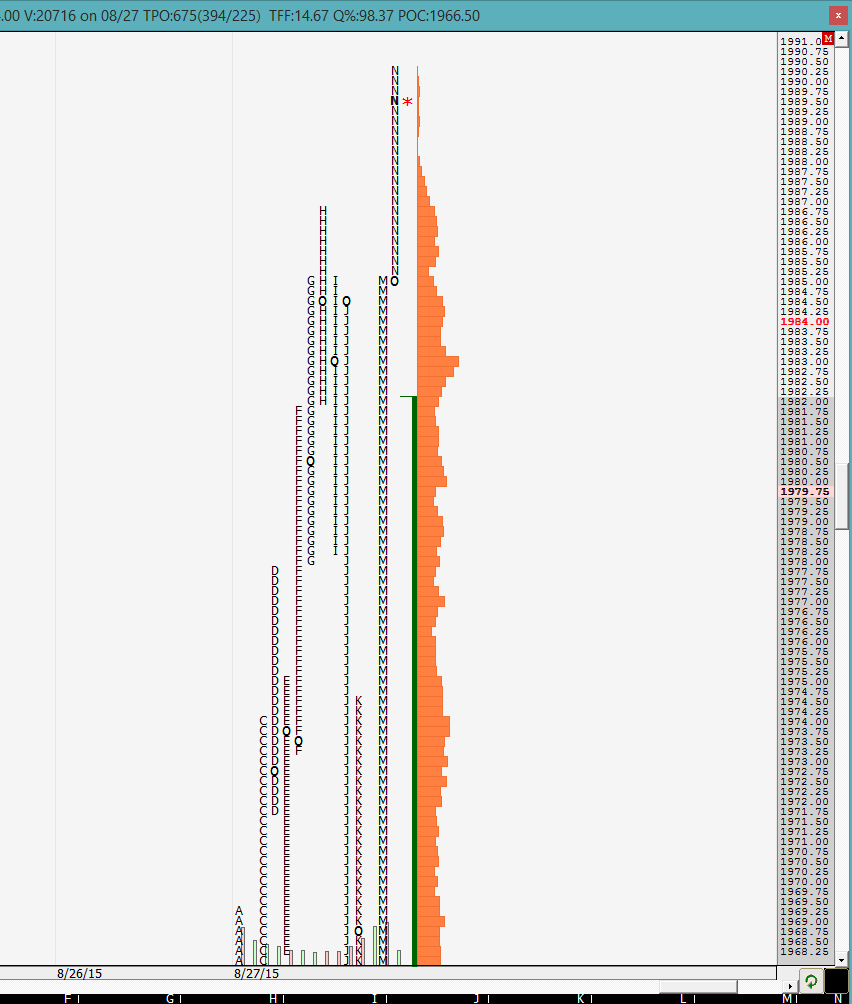 We will look at the
O/N
inventory in the morning. Keep in mind that this was the second consecutive day where the day's close was far away from the
VPOC
. Looks like the buyers are coming in and leaving a large amount of volume on the lower ends? We shall see.
The
O/N
inventory is almost 100% short. The
O/N
VPOC
is at 1974 and YD's
VPOC
/greenie is at 1964, which is below the
O/N
low. If the market opens and drops, look for a bounce off of 1964. The
O/N
high was a little higher than YD's
RTH
high and then rolled back but that is not too surprising because of the 1995 greenie. Good luck to all.
one more point that i should have made (thanks to shadowtrader it came back) is that we should look out for that previous
gap
high/8.21 low to hold at 1968. that is where the
O/N
low stopped. the bulls would not want us to go back into that previous
gap
. also the same goes for the previous balance area high, which was 1950.5 i think
highs cleaned up and we continue on. YD high. ONH and 1995 greenie next