ES Friday 8-19-16
Big Mike, the study I used to come up with those statistics posted yesterday ran from May 17, 2001 - May 14. 2012 ( compliments of data I poured through from Paul) regarding the overnight midpoint tests. I have since kept track of them and they still hold up so we are looking at 15 years worth of data. Here is how the week is unfolding so far with the major levels marked by arrows. I will look at overnight and isolate todays areas to formulate some key numbers in the morning. My initial feeling is if we can run out of buyers in the 84 area then they should push back to high time back at 79 area. Otherwise 88 - 89 is the next major level in this volatility
Click image for original size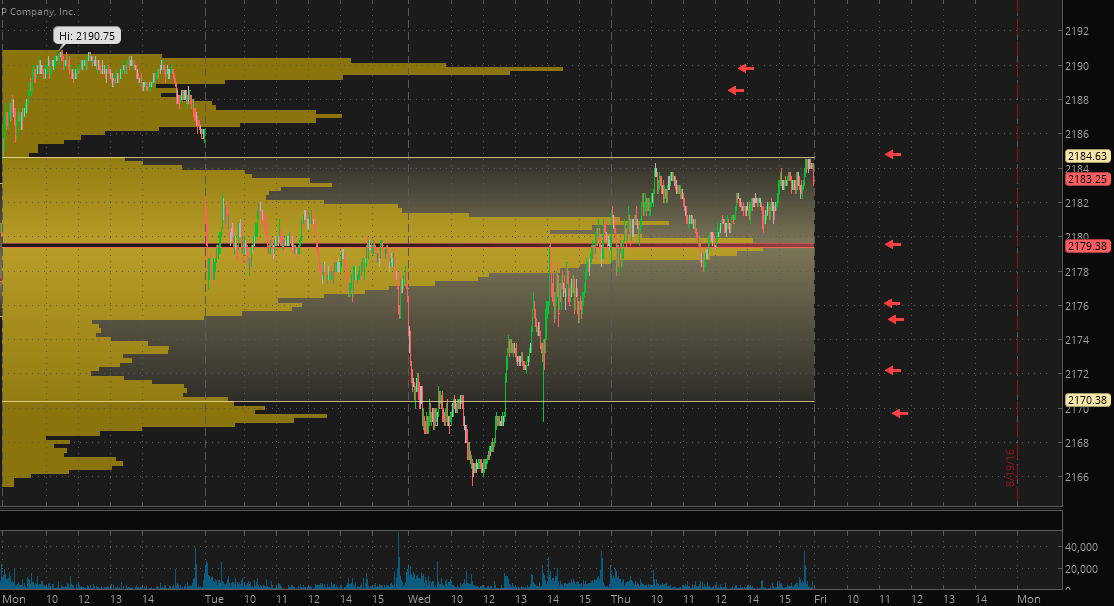 edit : morning update - I like using 79 as magnet still for
RTH
but given the small range I will also take OR breaks in order to try and target the Overnight high or low....98 % chance we will get a midpoint
or
Overnight high or low and 94 % chance we will get a Overnight range extreme........the only tricky part today is that at 1 pm is a key report for those watching other markets but I think the range should expand enough to give us a good trade this morning....not much more to say...OR should be smaller then yesterdays to give us more reasonable stops if using just that range.....some use a function of the OR range as an initial target ...so go back to yesterday and see if you could have tagged TWICE the OR range once it was broken !
I updated post one above...nothing has changed much - 75 - 76 in play as is the 79 and 84
we can really only think and assume like this today ..If above 79 and OR high then assume overnight high and plus 4 will hit...if below 79 and OR low then assume overnight low will break
dam no fill cause it wasnt in time..got limit order now at 77.50
coming out heavy at 76...that is my first arrow !!!
you got the break of OR.. what order type

there the -4 at 74.75..i cancel my order..
74.50 print is final exit...just under the minus 4 and break of overnight low...hope all have a great weekend.....last week was kids family party ( just the 5 of us) for his birthday....today his friends come over for his birthday .....a bunch of 10 year olds running around......hope I make it !! LOL...lots of fun...hope what u do is fun too
took short at 77.50 stopout at 79.25 reversal to long..dam i am being fool again.i am drug addict..need action
buy two more at 79.25 total long 4
oopps ..didn't c this...glad u r out
Originally posted by duck

well a broken clock is right twice a day..exit all 4 at 81.25