ES Friday 9-8-17
Very early now but we have confluence down here at the 2455 - 2456 zone....just in case u feel daring in the overnight.....standard video / Review will happen post 8:30 reports
edit:
Rollover
- Ugh....I'm creating a possible support zone at 2454.50 - 2457.50 to try and target 2461 and 2464...at least that is the plan......with two inside days and diminished volatility we need to be mindful that some may be going for the breakouts today especially given concerns about Hurricanes etc.....here is how I see it
What report today? thanks
I just put up a video...u r right Padmaja...there were no reports....my bad !!
thanks a lot for all the effort
scaling heavy at midpoint...yesterday it took my third try to get it right...today it only took once...runners will try for 63.50 or get stopped out at 57.50...I figure it's an even risk to reward now but I have no confidence as the On
poc
and yd's
poc
will be in my way...this is only daytrade today
if cash comes back to 2460.25 then I am pulling runners
taking two runners at 61.75 and final will go for that 63.50...I'd be foolish to leave money on the table..now putting hard stop at 59.25...that is just under afternoon pull back low from YD...I figure if it comes back out from there then I have no business being long anymore
cash at it's pivot and right near 4 pm close on cash....so this could be trouble for final...went flat at 62 even...somebody else can hang on for the extra 1.5 points !
I find on
Rollover
it is even more important than usual to watch the cash as all us
ES
futures traders are all confused....do we use September or do we use December ? Do we use continuous contract or just December ? So go to the cash for some help....
here is why I covered that last contract....cash going into it's pivots and the cash close was just slightly above
Click image for original size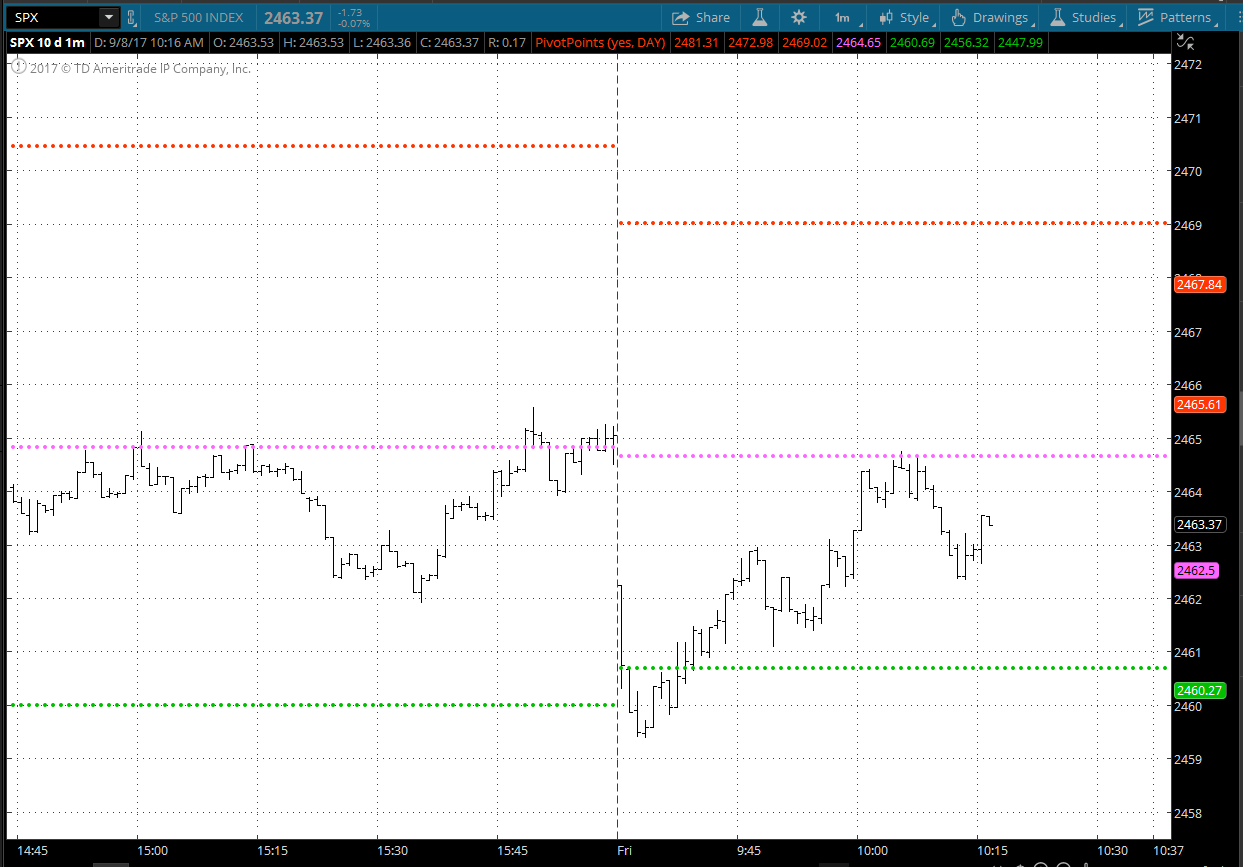 hope all have a great weekend
The market played right into your analysis today Bruce, VERY WELL planned out..
Price dropped down to that 57 area and made it back up to the
POC
of yesterday.