ES Monday 9-18-17
all the way short and will be selling the 2525 spx call spread this morning...no longs for me...u can have them all
key weekly bracket / bell curve for me
Click image for original size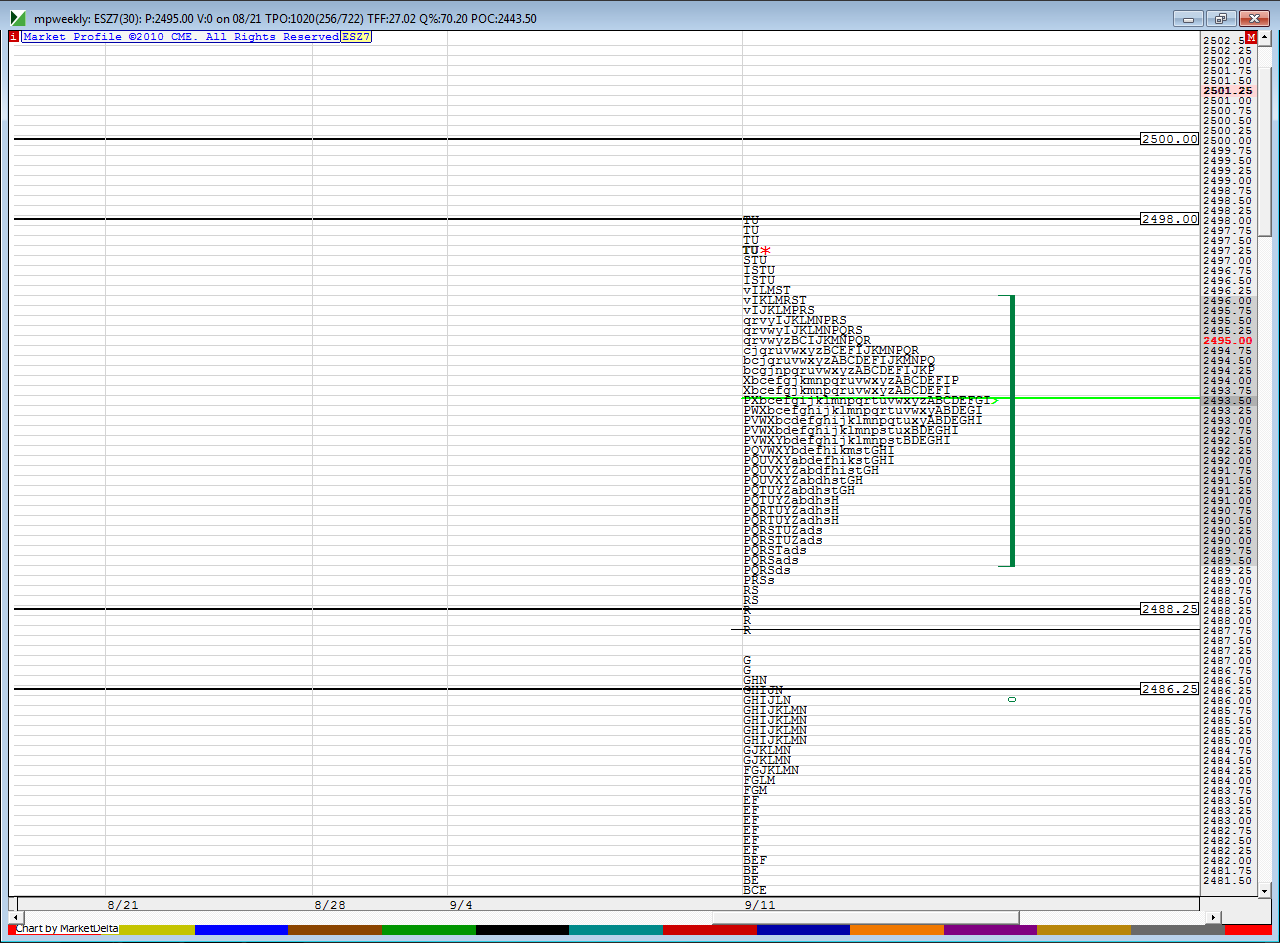 ON SPX - 31 point one sd move for this week so 86 % chance we tag 2515 or drop down to 2485 before weeks end....one could use the opening 15 minutes of the week and use stop and reverse order until the 15 points is achieved...just an idea....today we have a 14 pt one sd move...so 86 % chance spx will print 2507 or 2493! one could use the opening 5 minute bar to try to go for that but you would need to think about
gaps
etc with these thoughts....these two ideas turns one into a breakout trader but that would be ok with proper risk management
magnet price for me is 98.25 today
I'm starting small shorts at current overnight midpoint...I am undaunted by any
gap
and run higher in early trade........perhaps I will be humbled again.....we'll see...but that 98.25 is calling me and I need to find a way to go get it....actual target will be 98.50
core
RTh
trades going on at 04.50...with plan to
add
on an official push above
O/N
highs...cash is almost at 1/2 sd level
2507 is cash 1/2 sd level
2505 - 2506 should be our key area to watch now as that is where the volume came in on
ES
...my first target is going for 2503.25...calls have been sold
once again they are working on a "P" shaped profile...cash should want to retest 2504.75 at some point which should bring Es to about 2502.25 ...so i am still leaning short side
just pointing this out but notice how well you would have done from buying the break of the first 5 minute high....( look at cash market) in order to go get the 86 % probability of cash hitting 2507.......7 points ( 1/2 sd up )....easy to see in hindsight
Hindsight traders are the best of the lot.
now if you were going for the 14 point move then you would be long off the 15 minute high ( or pick a range...could still use 5 minute range ) as per post one above so you would be long 2506 cash looking for 2514 to print and you would have to get short on a break of todays low ( the first 15 minute bar of the week range low)..and then target the 2485....just something to think about...you could even do this with options
that seems quite logical....hope it goes that way for all who are long...the cash only closed about 3.5 pts higher today.....right in the center of the range....
doji
players may get sucked in short....no clue
Originally posted by Aladdin

With no excess on today's high, this break could be just a gap filling exercise.
If this is the case, than the odds are high that the market might be aiming for that gap in data at 2506.00

And if today's session runs out of time, they might even try to reach that 2506.00 in tonight's overnight trading...

Just thinking out loud...