ES Magnet prices 5/10/19
Only three areas I am interested in so far but it is still early....
2871.25 - closing price area and afternoon volume bell curve is here
2860 - 2862 ( same area as yesterday) has a
low volume
area, the afternoon pullback low and the
pivot point
*****************
2845 - 2847 - we have S1 and the first half of yesterdays Volume node..
EDIT : In my ten years or more that I have been watching VOLUME nodes (Different then the nodes of time - TPO's) I cannot recall ever seeing one of these not get tested when we open in between.....what do I mean ? Yesterday was a double distribution day as per volume...look at the well defined Volume nodes ( the light blue areas that stick out) at 2871 - 2872 and then at 2844- 2845.....if we OPEN in between those areas you are almost guaranteed to test either up to the 71 or down to the 45.....The Volume will attract price and you want to try to get on board for one of those tesst....or at least take something off on the way up or down....also note how the low volume at the 2860 area breaks up the two different distributions....does this **** make sense or is it flying over many heads? Many ramblings from past posts on this concept but I'll be damned if I know how to find them.....Good luck and I hope you can use this idea today to make money and your weekend!!!
Keep the above in mind but I am NOT saying it will be an easy ride to ultimately print one of those targets....just the fact that one of them will print...
here is how it looks....I may try to trade for these after 8:30 EST as we are at 2855 now and I have no lines there so they may push to one of the above mentioned magnets
Click image for original size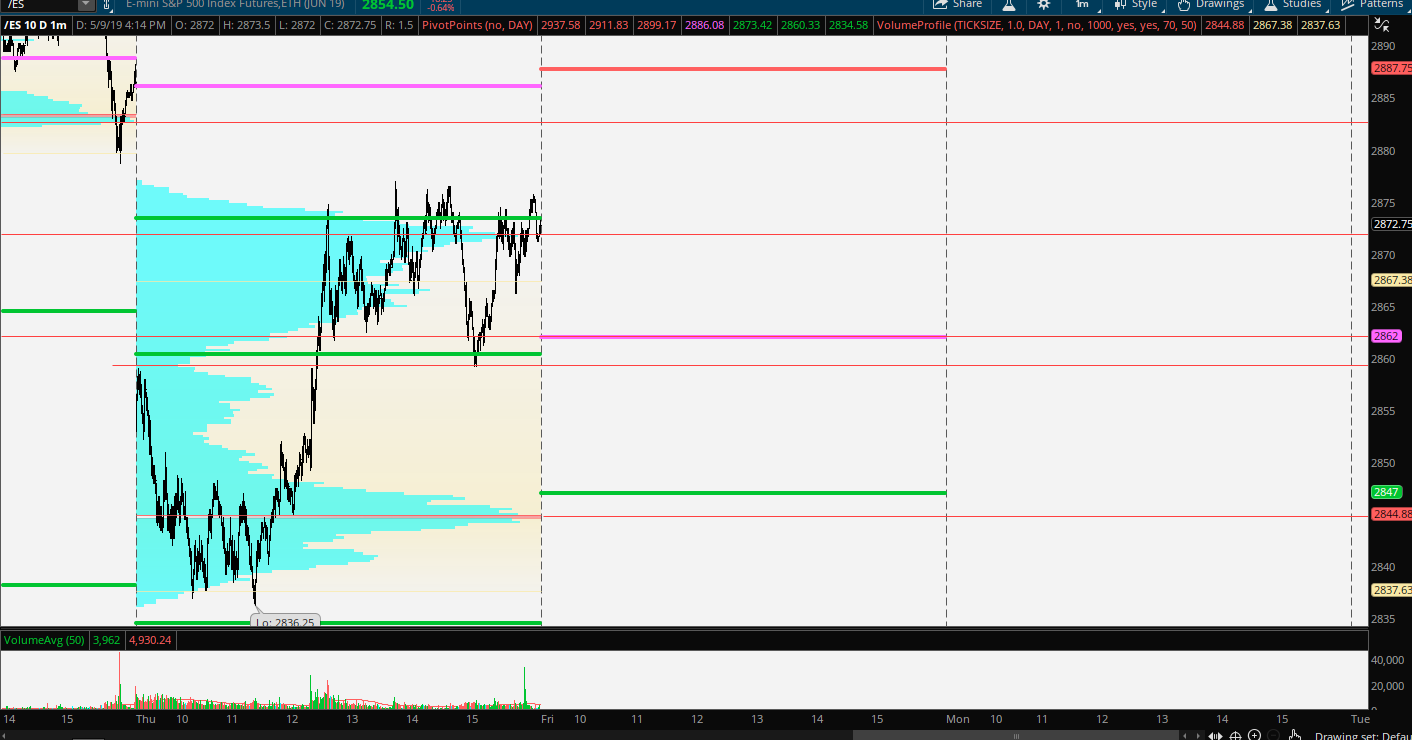 thanks for the comments its invaluable
thanks Padmaja...I just edited the post with a concept that most may be familiar with so I'm just pointing it out in case some aren't
astute traders will know where the overnight low is regardless of the S1 etc....get out at your first probability possible and then try to hold something for further targets
I'm certainly not telling anyone how to trade but there is a
gap
in the data at 2846.75 but if you get signs that we are firming up then that would make a very cool long term target on an upside play......if I was trading this idea ( which I am not) I'd want to see price firm up above a zone I created at 2833.50 - 2836.....big volume forming around that area now..
we saw what happened yesterday .....it's friday...go have some fun and a great weekend to all
hit both
high volume nodes
...the second one just now.
Originally posted by BruceM

Only three areas I am interested in so far but it is still early....


2871.25 - closing price area and afternoon volume bell curve is here

2860 - 2862 ( same area as yesterday) has a low volume area, the afternoon pullback low and the pivot point *****************

2845 - 2847 - we have S1 and the first half of yesterdays Volume node..

EDIT : In my ten years or more that I have been watching VOLUME nodes (Different then the nodes of time - TPO's) I cannot recall ever seeing one of these not get tested when we open in between.....what do I mean ? Yesterday was a double distribution day as per volume...look at the well defined Volume nodes ( the light blue areas that stick out) at 2871 - 2872 and then at 2844- 2845.....if we OPEN in between those areas you are almost guaranteed to test either up to the 71 or down to the 45.....The Volume will attract price and you want to try to get on board for one of those tesst....or at least take something off on the way up or down....also note how the low volume at the 2860 area breaks up the two different distributions....does this **** make sense or is it flying over many heads? Many ramblings from past posts on this concept but I'll be damned if I know how to find them.....Good luck and I hope you can use this idea today to make money and your weekend!!!

Keep the above in mind but I am NOT saying it will be an easy ride to ultimately print one of those targets....just the fact that one of them will print...

here is how it looks....I may try to trade for these after 8:30 EST as we are at 2855 now and I have no lines there so they may push to one of the above mentioned magnets


Click image for original size