ES10-04-22
Very hard to post today...kids. Pretty good call on the weekend update calling for a rally that could go to 3765.75 by Tues! Not so great on the call of the low first. Went to 3571 and I had 3580 or 3588 as the low.So here we are 3762...is that it? Could be. There is a chance of a last push up to 3804 or so. Either way ,I expect the wed - Friday /Monday time period to be a struggle for bulls. Good trading!
Hi,
How do you determine from where to anchor Fibs? Do you only use retracements but inverse it? Or you also use fib extensions?
Idont use fib retracements at all. Everything you see is always fib extentions. How i pick them would take too long to explain, but there is an explanation at kools tools room here at mypivots.
Ohhh got it. Thanks. I'll check it right away.
My pleasure ace`s! This turnaround has to happen before the fed chills out and bear can end .. Perhaps a small beginning here? Courtesy of Bespoke:
Click image for original size
On the
ticks
chart above, the black mov avg line is still heading south... now about plus 300 coming down from 1000! If they are able( cause i still think we see higher , ) i would be a buyer at that 3766 fib or near it.
Stock Trader's Almanac
@AlmanacTrader
·
Oct 3
Market Rebounds 28.2% After Midterm Year Down YTD Q3 - S&P 500 closed Sept down -24.8% YTD 4th worst YTD Q3 perf since 1930. Since WWII (1946) when S&P 500 was down YTD at the end of Q3 in midterm year it gained 28.2% on average over the next 5 quarters with no losses.
Click image for original size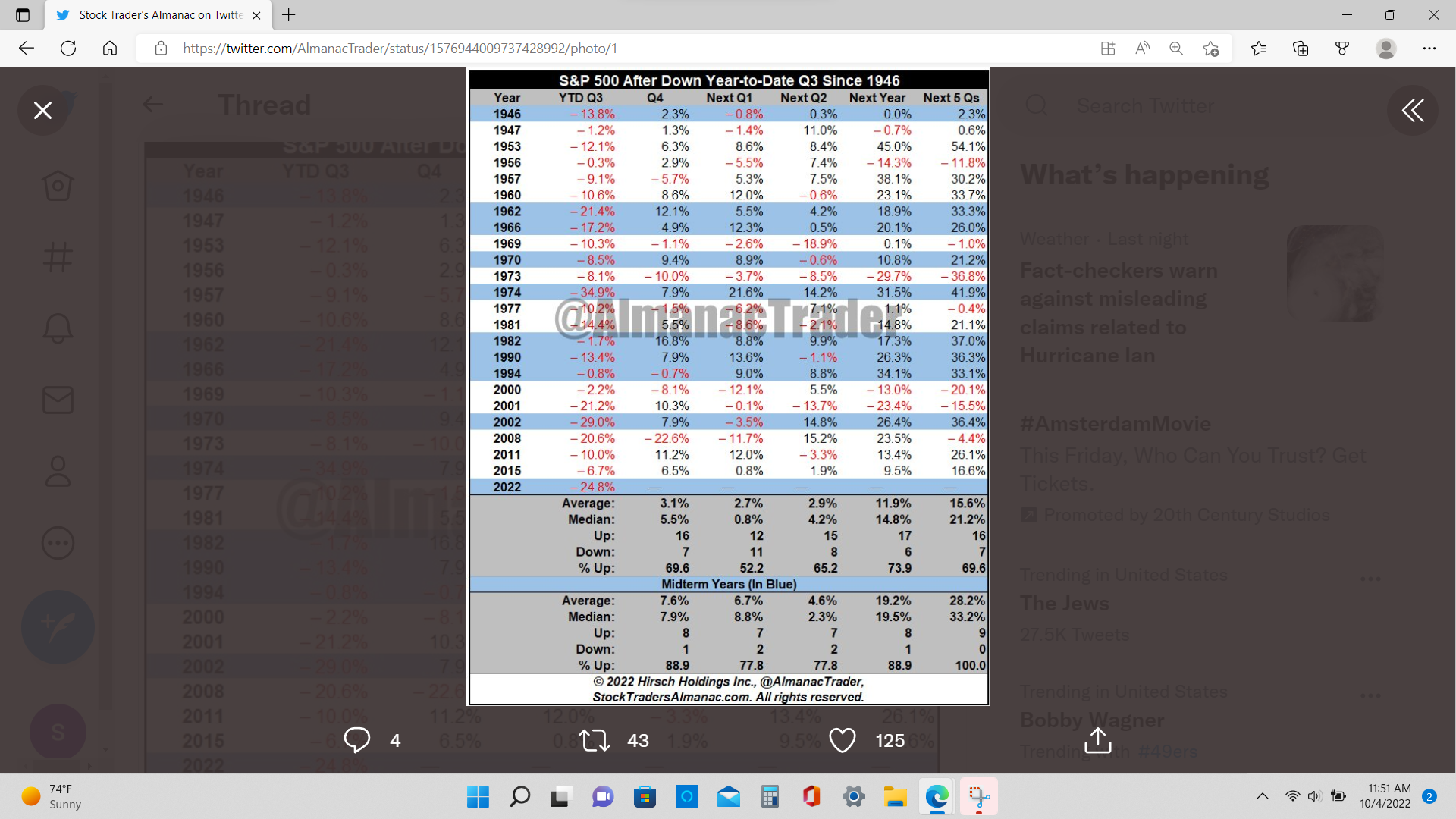 Reardless of whatever happens the next couple weeks, good things could be coming soon
Long from 3767 for better or worse .I will unload one at 3777 and hold the runner if I get the chance
Out the runner at 3791.Sweet. I love those quick scalps...