Cambodia Securities Exchange CSX
Cambodia Securities Exchange CSX
Definition of 'Cambodia Securities Exchange CSX'
Set up with the help of the Korea Exchange (KRX--Asia's third largest bourse) as a joint venture, with the KRX owning a 45% stake, the
CSX
currently has 0 companies listed and is hence the world's smallest (the next smallest in terms of companies listed are Mozambique and Laos, with 2 companies apiece, though Laos' has a market capitalization of $0.7 billion compared to Mozambique's $0.4 billion).
Cambodian officials hope that three state-owned companies will list by the end of 2011. The exchange is located in the country's tallest building, OCIC Tower, in the capital, Phnom Penh.
The three companies that have been instructed to list their stock are Telecom Cambodia (telecommunications), Phom Penh Water Supply (energy), Sihanoukville Autonomous Port (commerce).
Click image for original size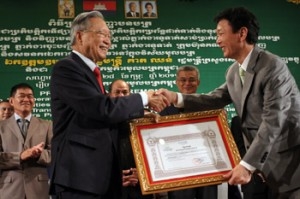 Do you have a trading or investing definition for our dictionary? Click the Create Definition link to add your own definition. You will earn 150 bonus reputation points for each definition that is accepted.
Is this definition wrong? Let us know by posting to the forum and we will correct it.