Dow 10/11
Dow
Market Profile
chart 11-Oct-2006
Click image for original size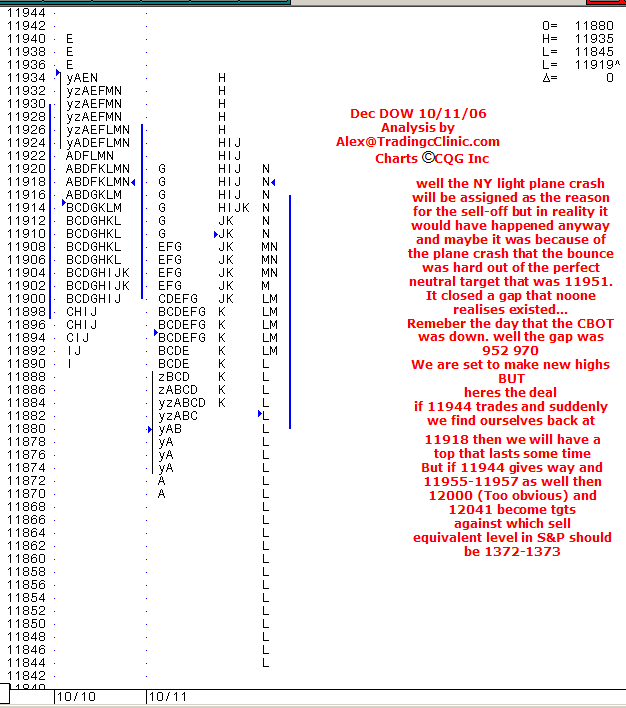 quote:

---

Originally posted by alleyb

exactly Elite. Its always actually in the chart. The activity, the who buying and selling and the levels and the volume for that is the very essence of Market Profile

---
That activity of the "who" is available in the CTi data but that is not available in real-time so you can only see that after-the-fact. During live trading you would benefit from the "who" and so I do not understand why they do not make that available.
Actually Elite it is available if you read the
MP
as it unfolds in terms of what used to be referred to resposnive and initiative activity. It does require a degree of subjectivity due to the fact that you cannot be 100% certain but it is good enough for the purpose of establishing the dominant trader and their influence on the value.
In other words the footprint is there you just have to understand what it looks like in terms of the patterns that unfold.
As to why they don't make such information available its because the commercials have no interest in disclosing in fact they would far rather remain these days hidden from view in reality they would for the volume not to be disclosed let alone the open interest. The exchanges still to this day actually report open interest one day in arrears. It used to be for the fact that it took time to collate the info. These days the excuse is possibly because all too frequently trades are missallocated and remain in limbo at the execution broker before being transferred to the clearing broker.
Rather than worrying what should be provided in the way of info it is better to just work with the tools available and be grateful that at least we have that amount of info available to us