3 days of unclosed gaps in the ES
3 days of unclosed gaps in the ES
Does anybody know if the
ES
has seen 3 days of unclosed
gaps
in the past like we saw on Wednesday, Thursday, Friday last week?
13, 14, and 15 June 2007 all had unclosed
gaps
.
In order to come up with a sensible answer to this question I went off and did some research which included some programming to extract the relevant data and some analysis to select the appropriate days. You can read the article here:
3 Days of Unfilled Gaps in the ES
Interesting situation...looking at these charts, though -- in daily candle form -- it struck me that there are
gaps
, and then there are
GAPS
.
We have "
gaps
" when the when the day's range never revisits the previous day's close.
We have "
GAPS
" when the day's range never INTERSECTS the previous day's range.
So we have two
gaps
followed by one
GAP
.
Is this relevant???
Also, one other thing...
I don't have my charts before me at the moment, so I don't have the relevent date.
But, on the
ES
, Friday's
gap
-up created a double-
gap
, I believe with a
gap
down at more-or-less than same level two or three weeks ago.
Again, I wish I had my charts here so I could bring a bit more specificity to this post, but a cursory glance will show what I'm talking about. How rare is that???
I've looked at this from a slightly different angle in the past when I discussed
Extreme Gaps
in a
Gap
Fade
Study that I did. I defined an "extreme
gap
" as one opening outside of the previous day's range and a
gap
as an opening at least 1
tick
from the previous close. However, I have never study what happens after there was no intersection between 2 days.
Here are the last 4 weeks in the
ES
. Which day are you talking about?
Click image for original size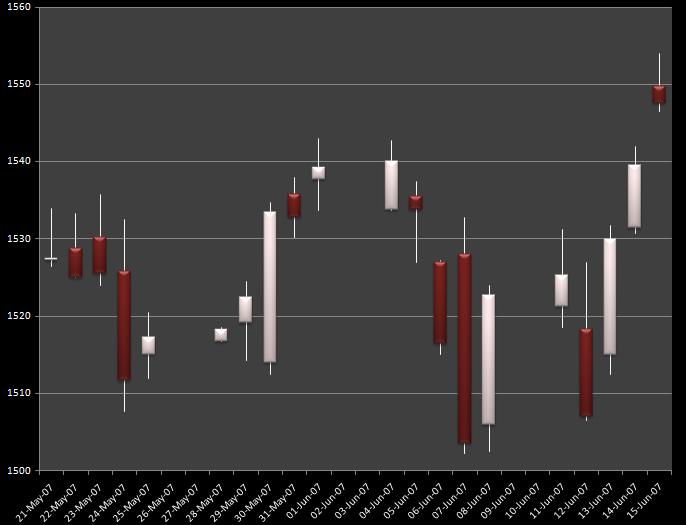 Blast...this is what I was afraid of...I need to get to my charts. I'll repost in an hour or so....thanks...
Ok, there it is...between the close of 6/05 and the open of 6/06...
And now I see the problem. I'm looking at
TradeStation
's continuous contract, which shows a close at 1549.75 followed by an open at 1543, which appears to fit rather perfectly with the overnight
gap
-up between this past Thursday and Friday....except, I suspect, I'm looking at an amalgam of the June and September contract.
Thing is, when I look at the M07, then U07, neither show a
gap
on this date. Woah, what the heck?
Clearly, I have some investigating to do...sorry for the confusion
That last chart I posted shows the continuous contract.
Rollover
was on 7 June I believe.
I can't figure out what the deal is for the life of me. What do you have for the close on 6/04 and the open on 6/05?
6/4 close (settlement) is 1540.25 and 6/5 open is 1536.00. I'm using the last traded price on 6/4 which I have as 1540.00.


BruceM, could you elaborate a bit on how you used the cash market with Monday morning's trade? Thnx...