Tuesday 12-04-2007
New trading day means new opportunities !
Gap
down opening on the stock futures.
Seeing a bit of a bounce back up into the
gap
.
ER2
has formed what appears to be a possible V bottom on the 5 minute time frame.
In the
ES
, 1470 is a bit of resistance from overnight. Overnight singles from the
gap
at 1472.25 along with the prior day's
LOD
sitting there.
ES
1473-74 looks like a resistance zone if the market is able to rally up to that level.
NQ
is showing relative strength on the bounce.
markets stalled at the overnight resistance zone
ES
formed a little double top at 1471.50 on the faster time frames. I did not take the setup, primarily due to that V bottom sitting down there off the open...I don't want to get into the mode of picking tops in a slowly creeping uptrend...thus will need to see a clear trendline break by the
NQ
and
ER2
to shift to a short bias.
pretty choppy trading... third test of 71-72 zone was rejected with a bit more force that time
ok took a little long here in the
NQ
at 67.50
looking for
ES
to break the 71.50 barrier and wake-up some short covering
ES
is testing 70.50 now, pulling my stop up just in case the market rejects the test...hoping for a punch through resistance...in either case this test should set the tone for the afternoon trading session.
just noticed on the all sessions 5 minute chart of the
ES
is showing an inverse
head and shoulders
pattern, our 1470.50 resistance level forms the neckline... a breakout should take us up to test the singles
ES
has punched on through resistance and touched the singles at 72.25, so the initial objective of this trade has been met.
market trading back down through the 1470.25 neckline in the
ES
, suggests to me a retest of the morning lows may be in the cards this afternoon
Here's a chart of the action today to put what
PT
is saying in context. 15 minute bars. The white bars are overnight action and the cyan bars are
RTH
.
Click image for original size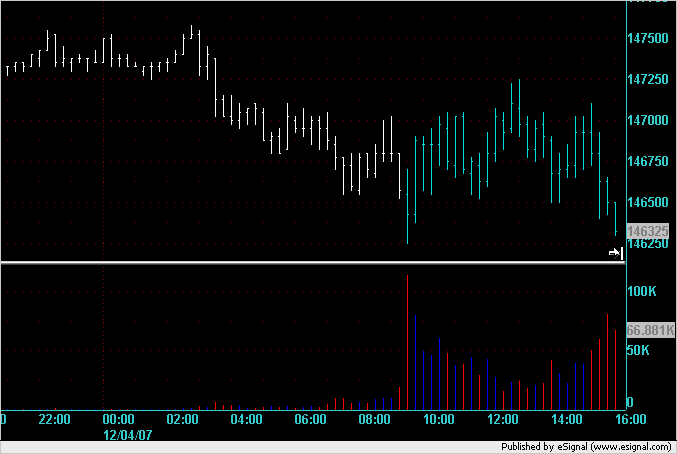 Strange, I'm also using Firefox but I can see them. I'm using version 2.0.0.11 - what version are you using? And do you have any AddIns loaded?