Thursday 12-20-07
I'm thinking that the 1469.25 price is going to be important resistance overnight tonight and tomorrow because this will be the second day that it's the
VAH
in the
ES
...
daily chart of the
ES
&
NQ
could be interpreted as a
bear flag
...
in which case we need to watch our support levels... yest lows obviously...
ES
1462 , 1456-58
NQ
2050, 2040
These are the patterns that you're looking at right?
Click image for original size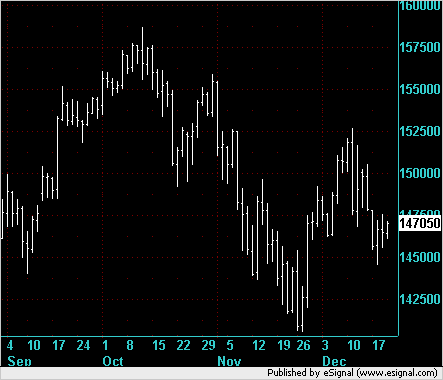 Click image for original size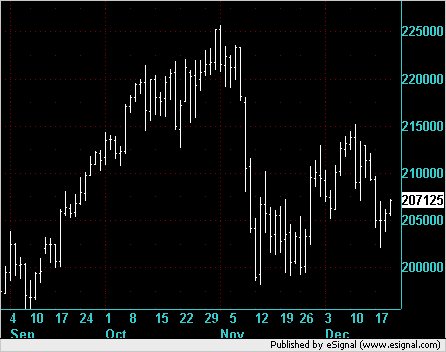 yep exactly DT, given the pattern has formed inside a congestion zone (to the left), the
bear flag
is going to be less reliable, but something to keep in mind if sellers get hold of the market.
Bush news conference at 10am EST
Double top may have formed in the
NQ
's
Took a short in the
NQ
on that last retest
NQ
2080 line in the sand for now...
My 1469.25 resistance level was blown out the water by the overnight action. The resistance it turns out was yesterday's
HOD
.
Here is today's 10,000V chart with end of yesterday and overnight on it:
Click image for original size
quote:

---

Originally posted by day trading



quote:

---

Originally posted by pt_emini

very nice charts DT, the tri-color is a nice visual enhancement, can you post one of the NQ's as well ?

---


I'll try and make sure that I do a 2,000V NQ and a 10,000V ES at the same time tomorrow (Friday) so we can compare side by side.


---
PT
and DT, thank you for your information - thats what i was looking for
BTW, looking back at yesterday's
NQ
2k chart i see there was a nice short 123 pattern when bruce got short.
And, at approx from 11cst to 11:54cst there was a nice long 123 pattern on the
NQ
2k when i got long on the
ES
Im not sure if using one index as a proxy for another is valid but i will keep an eye on that
thx again