Opening Gap Trade
The Regular Trading Hours (
RTH
)
opening gap
trade is a well known trading setup. This trading setup is certainly something I always consider at the opening of the new
RTH
trading session.
Guy did an analysis of this setup in his article titled "
Fading the Gap
"
From his article we learn the following historical statistics from the sample period he used...
Given these basic concepts as a foundation, I thought it might be helpful to use this topic for further discussion, analysis and trading ideas.
it has been a choppy mess all day....it would be funny if the market managed to fill these
gaps
in the last hour today.
quote:

---

Originally posted by pt_emini

it has been a choppy mess all day....it would be funny if the market managed to fill these gaps in the last hour today.


---
ES
just printed 1351.00 to the
tick
, filling today's
gap
...
that was so cool....once again they took everyones money who used the
gap
amount as a stop loss only to watch the market go in the direction they wanted.....The most recent vendor to jump on the train and promote the
gap
trade is John Carter.....The vendor I learned this from in the mid 90's called it a "jump" trade and said there was a generic 82% chance of filling in the same day when we open in the range...luckily we have DAY TRADING and his enhanced statistics to improve the stats.....
And thanks to you also
PT
for keeping us up to date here.....
Here is something you may or may not find interesting
PT
..I'm not sure if you remember the "
gap
" I was referring to ( page 4 of this thread)in your
NQ
from wednesday in the overnight when the retail sales hit...at 8:30 a.m.EST....here is the screen shot ..look at the left side...someone got caught on the wrong side
Click image for original size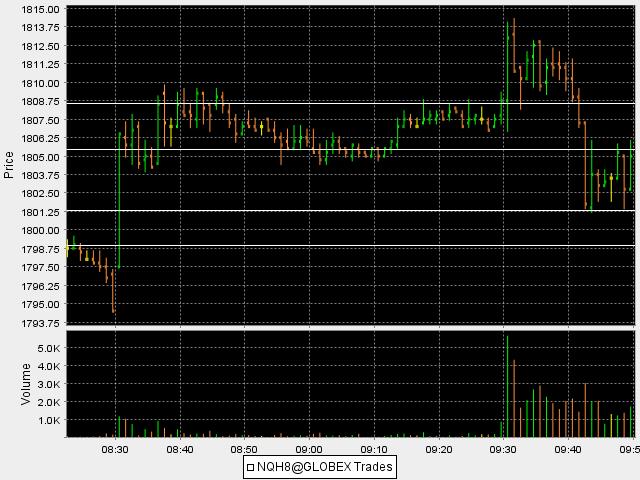 Look what happened when they re - entered that zone yesterday////great reaction////I'm sure you have enough to look at but just thought I'd mention it....
here is the reaction when we traded back to that area on Thursday in the day session...we blew through it later in the day
Click image for original size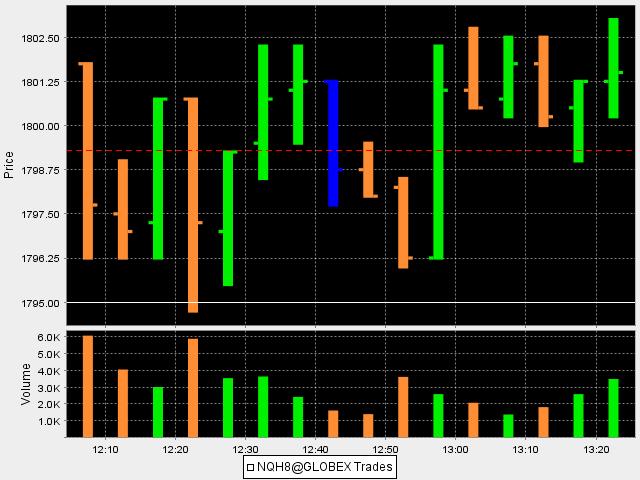 Tuesday's
ES
close was 1355.50
Globex
range is 1355.50 - 1332.75
80% probability boundary ( 7
ES
point
gap
down ) = 1348.50
Gap
Mid-point (close -
globex
low) = 1344.00
Today's
RTH
Open for the
ES
= 1337.75 down 17.75
...notice how the
gap
mid-point is once again acting as a price magnet this morning
as long as
ES
holds below the
gap
mid-point, I will remain neutral on the idea of a
gap
fill this morning.
ES
traded up to 1343.75 = 1
tick
from the mid-point and has reversed to the downside
ER2
has broken down and is trading below the
RTH
opening &
globex
lows
ES
just ticked the
gap
mid-point and is once again being rejected to the downside.
The
gap
fill traders are trying to get that pot at the end of the rainbow... but to get there they will have to overpower sellers laying in wait at the mid-point.
we are banging on the first High volume number at 1344 too..and S1 is there also..but as long as 1340 - 41 holds I think we are going to 1348 soon and then to the
gap
fill....interesting that the other high volume number comes in at 1337 so we are like a ping pong ball so far...
If we happen to get new lows then 1332 is the area to watch....I'm not trading for that...bias is to upside...
thanks pt....53.75 was my best exit...i don't like the way they ran that up...so i'm looking for shorts ahead of fed minutes to target back down at 1342 - 45 but this stair step is a concern...you can see a nice
gap
down at 1342....the obvious 64 - 65 is next upside but no longs for me up here
great
gap
play in the
ES
today. Huge rally sold near the R2 pivot to watch it
gap
fill and then some.WOOT!