ES 8-21-08
That is no bull 4th wave. I think it's the 5th wave of the bear hell-bent on reaching 54, and winning it. The bull baseline is toast, but they began to form another. I want to see the action at 68 before I make a decision. If 68 is lost there's nothing in the way of bears. In fact I do believe this 5th wave is trying to throw-over 57, its own channel. If so a measured .618 correction of the entire run to 1243 seems likely. Which at the end of it will either be the beginning of a bonifide bull 3rd impulse to correct 1441 or the continuation of the bear market.
Click image for original size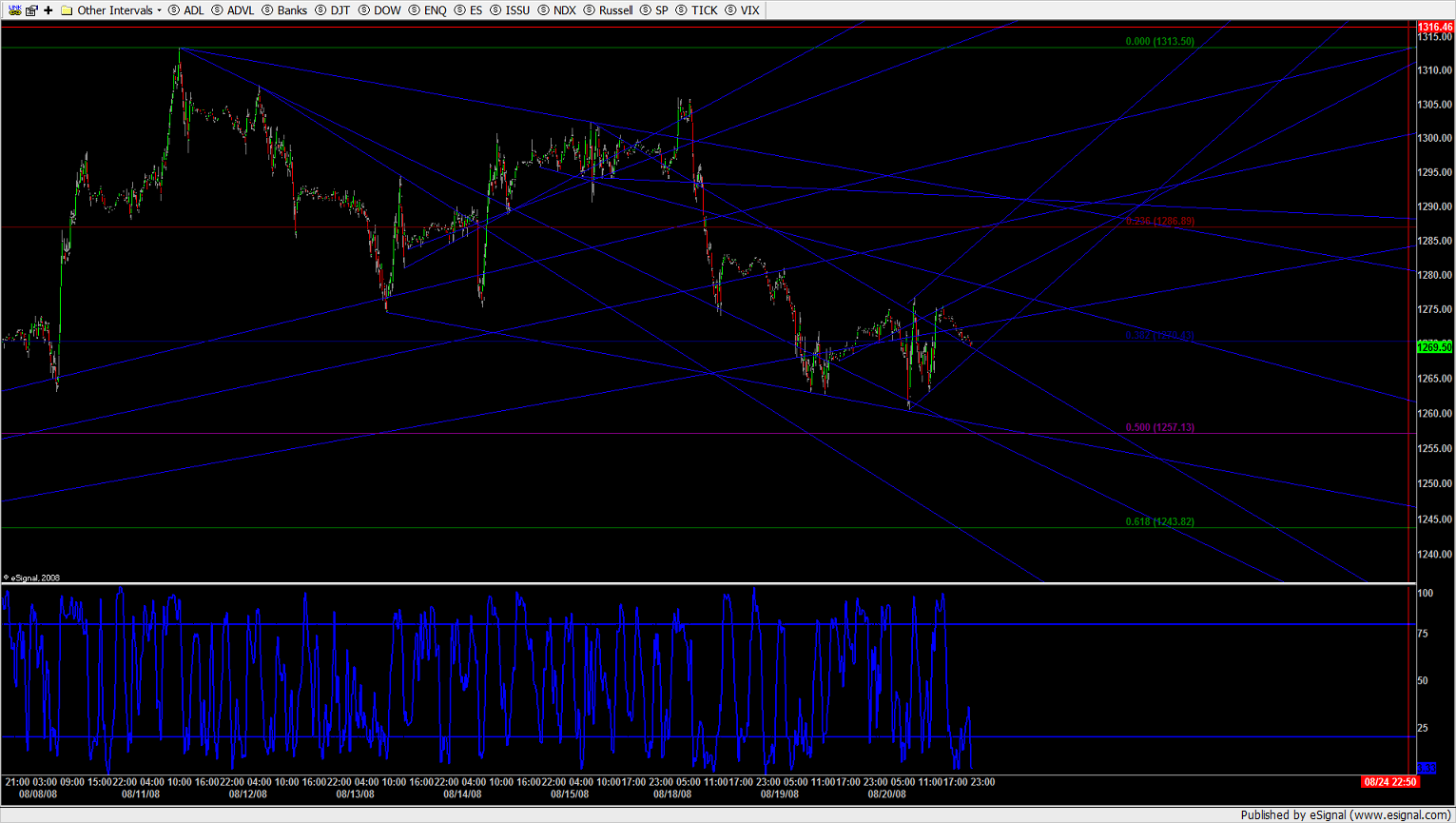 hmmmm.note the nasdaq is lagging today. Bodes well for the bearish senario. good luckSPQR. CYA manana
yup; I agree SPQR. I have had so many issues with my connection I can't focus where my supp/res areas are.
I'm still in the trade, BTW. It looks like a bull's leg, but I didn't buy it. 80.75, 377
EMA
. Rejected.
I'm keeping this one.
I had time to more carefully study today's action. Alright here's what we know: Yesterday's opening range was the first wave of the bull, and today's action was the entirety of the third wave, which threw-over its channel, is struggling to hold its run baseline, and, oddly, its own channel from the first wave, but buyers are finding a degree of support at the 55
EMA
of the 5000T, a faifthful representation of
price action
. Though there seems to be a regression tendency toward the mean now at 73, which acted as strong resistance to buyers. A measured move from 81.75 would be 67.75; near where buyers' lowest channel resides. Two fibos are clustered at 70, the 62% of this move, and the 38% from 1200.75 to 1313.50 top to bottom. While I want to bleed this pullback, and I intuit a test at the channel at 67, and considering the odds against long at this point, 70 will bounce and I don't want to give back anything just in case.
I'll stay up most of the night with the want to manage this trade to 70. I'm up 5 3/4 handles so far at 12 contracts tickled pink.
Here's a 10m channel chart cleaned up a bit. I'm not hopeful for more longs tomorrow, but if there are, around 86 would be the throw-over from the first wave, and while difficult to tell this early, around 1300 for a throw-over of the 3rd wave.
The path of least resistance and all that. We'll see.
Click image for original size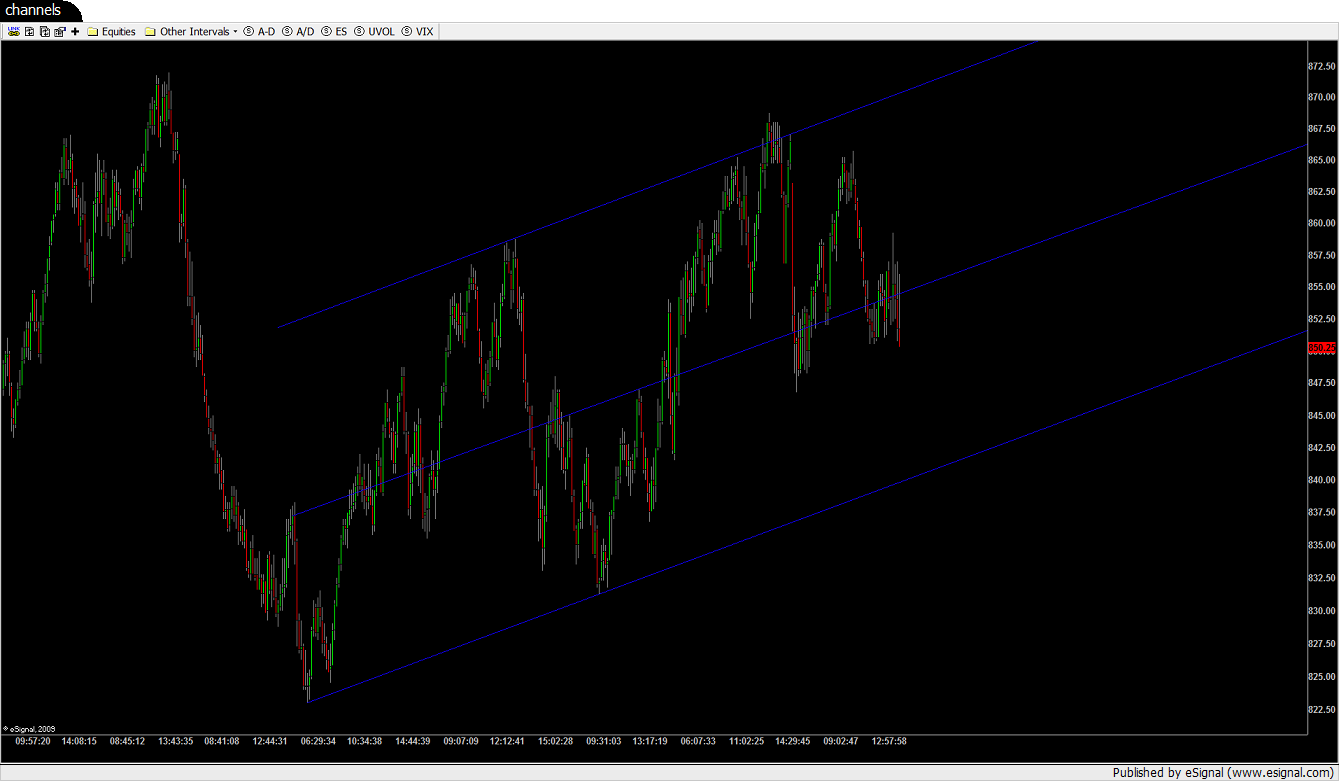 I covered at 72.50 for 9.25 points 5 1/2 large. It's hung up and longs look pretty in the morning. I'm not going there though.
Click image for original size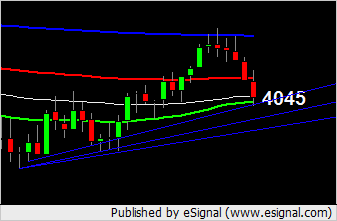 price projection to 1267.00. I would have lowered my stop to breakeven (1280.50, wasnt it?)and held for the big one covering around that 1268 magnet.But i suppose a big win is a big win! Kudos on that entry. That was off the chain! I really thought i had a chance too...missed by three
ticks
. Im going to have to pay a lot more attention to the 240 and 377
ma
. Ive used the 89 for some time now. Congrats friend.
Thanks RED..you are on top of it........we have some single near 90 too....93.75 is last months high so that is a good zone up top,,,,,
quote:

---

Originally posted by redsixspeed



quote:

---

Originally posted by BruceM

don't like the shorts up here today..all markets above high volume bars....no trade under first minute lows today so that is first sign for me that two sided traded is not happening as much as it should.....trying to fiqure out when they will get 82 area


---



Bruce; We have an untested value area above us @ 80.25 to 1302.75
& naked POC @ 1293.25 correct or am I behind the ?


---