high volume I'm using on Tuesday
high volume I'm using on Tuesday
This is from Mondays
RTH
- so valid for the next day
817.50- 820 *** this volume started the whole rally today
831 - 834
841 - 843
853 - 855 nice
air pocket
that got filled in from the 864 failure
862 - 864 this was a left over volume area from last week and again saw a nice volume surge today
I don't know about anyone else but they made me work hard today.
Good luck on Tuesday
Bruce
one other one sits up at the 875 - 877 area......I think they want to test those 831- 834's and that awesome 820 and soon......thinking can get you in trouble though..
Does volume help? My charts have no volume and yet I get bye fairly well. Perhaps I'm missing something.

Is volume the missing link?
I get a bad feeling here Montecristo......Take from the threads what works for you.......And please post what works for you so we can compare and analyze the ideas. Lets not try to turn Mypivots into an Elite forum......you seem to be an antagonist so far with your posts on other threads. My feeling is that you need to post some constructive stuff for a while before you start be critical. The flip side of this is that it's an open forum and you are free to post what you want.

I will look for your posts with YOUR trade ideas soon I hope.
Have to agree with Bruce M

Of the limited number of posts you've made Montecristo most seem to carry a critical or smug attitude with them. Your post in this thread maybe an honest and legitimate one, but I'm already tainted by your others.

I hope I am wrong about you and by posting helpful info you could prove this to be the case.
here is how we look so far...
The overnight high is 874 and our other zone began at 875- 877...close enough........we can make these areas better by watching to see if we get extreme high or low
$tick
readings at these Volume thrusts. A point I don't write about enough....
here is the current chart
Click image for original size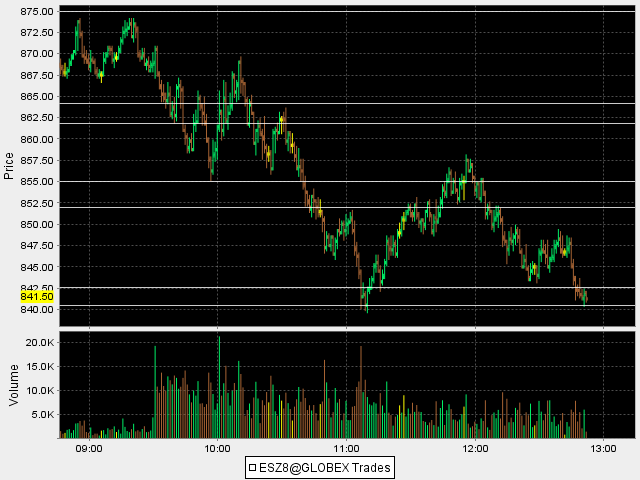 the above chart shows part of the overnight. I'm on E.s.t so real market begins on the chart with the first volume thrust at 9:30
here 's the whole day session...nice touches down into that 31- 34 area and other cool areas....62 - 64 played well too
Click image for original size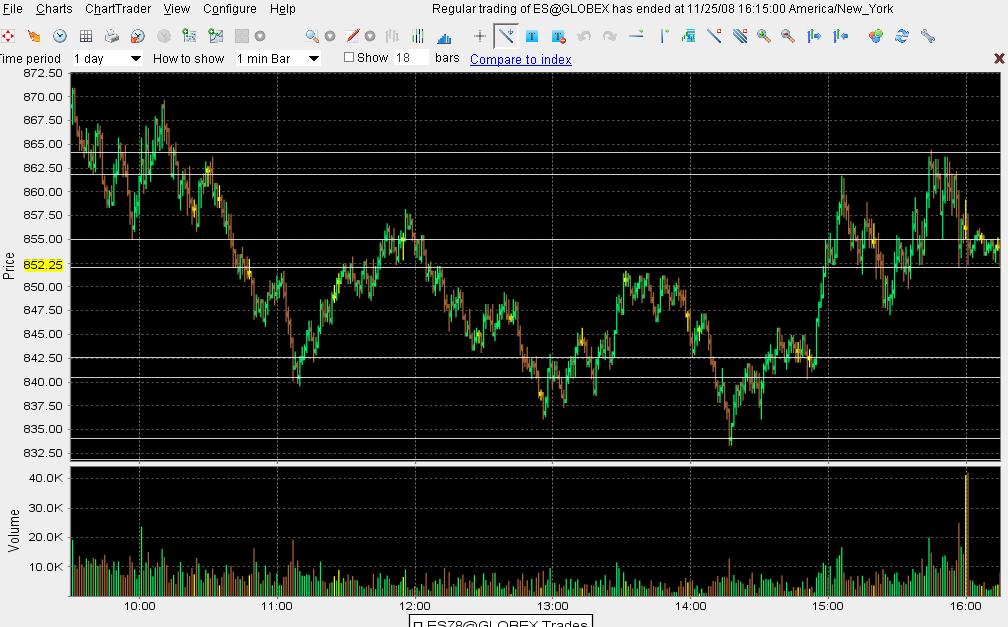 Thank's for posting your volume numbers every evening. I just thought it needed saying. Best Jack S.
100% percent agree with Jack! every projection i get, i cross reference with Bruces vol zones! Whevever they line up i have added confidence in the numbers. Very powerful! KUDOS Bruce!
Thanks for the kind words and feedback. It means a lot to me. I also appreciate the extra effort
that has been made by you folks and others.

Bruce