Charts 1-14-09
I see so many complicated charts, with dozens of indicators, sometimes makes my head spin
Here is something real simple
Here is a simple daily chart of the E-mini
SP
500, with just 2 charting indicators. 2 indicators keep things real simple.
A 14 day ADX combined with a 50 day
simple moving average
. As you can see the bounce of the lows of the
SP
500, (or E-mini) made on November 21, 2008 did bounce or retrace to its mean as defined here by the 50 day
moving average
As we can also see the bounce was done a basis of declining strength.
The ADX is a good indicator for a pure measure of strength, and in my own personal experience tends to work better on longer time frames than on shorter ones A bounce on weakness suggests that the big money has yet to step back into the market and gives greater weight to the Markets Like to Retest Prior Lows theory
Click image for original size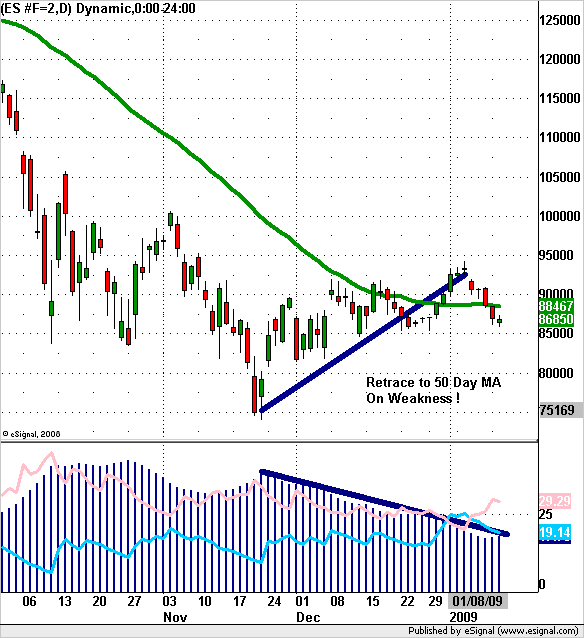 [email protected]
THE BRADLEY CHART I POSTED SIMPLY REINFORCES THE 23RD AS POSSIBLY THE MOST IMPORTANT DATE OF THE
TWO
DATES I HAVE PREVIOUSLY GIVEN TO WATCH!
They don't always work out. This was a beautiful
ABC
setup. Price had moved all the way across the fibo bands and made a move above the
MA
to the 1.618 band. It then retraced back down through the
MA
to the 61.8% and the opposite 1.618 band. We had a nice bullish candle that shot back through the
MA
and gave an entry. This is a classic setup (my favorite) and in my experience the most reliable, however, as you can see it didn't follow through and stop was taken.
Click image for original size