1-24-2009 Weekend Chart Summary
1-24-2009 Weekend Chart Summary
Well gang this Butterfly was the reason for our nice upside trade today. Sure wished I had recognized it. And to think I was long @ 804.25 before I left...
Click image for original size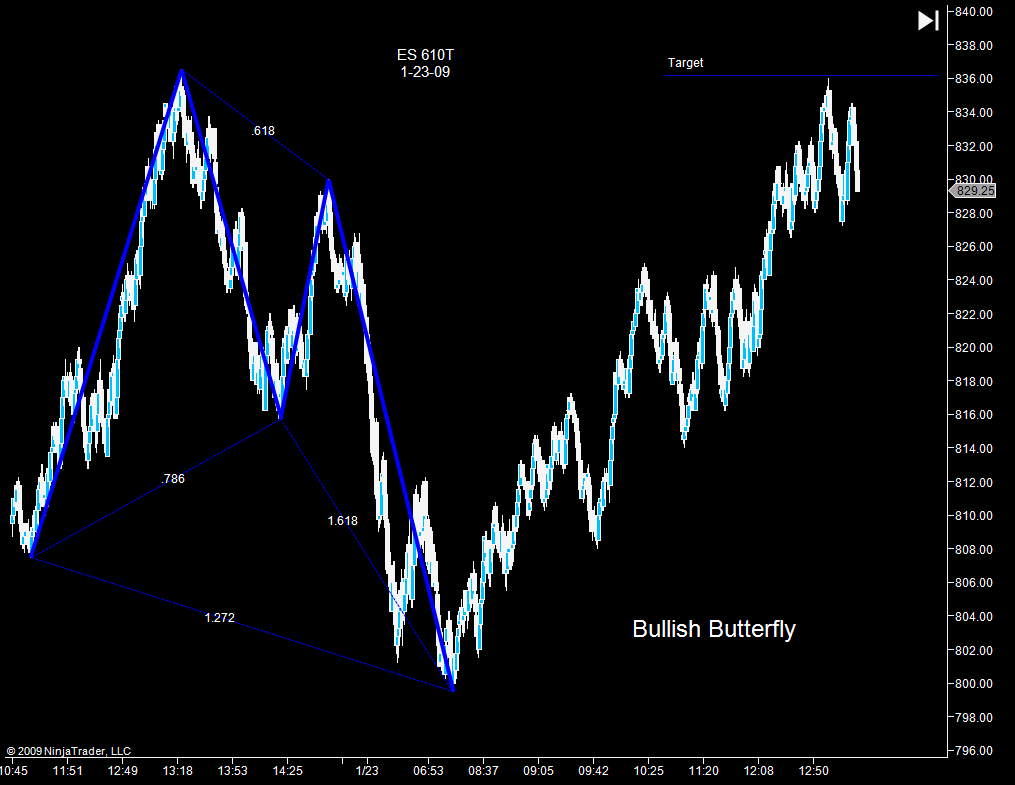 Interesting to note how the relationship between Bonds and Gold inverted at the most recent swing. Note the "extra" turning point (swing Low 131-285) the first week of Jan 09 on the Bond chart which caused the inversion.

As I noted Friday in the voice chat, Bonds breaking down and Gold breaking to the upside signals Inflation. The longer this new "inverted" relationship continues the stronger that signal will become. As Kool often says the market is trying to tell us something. Six months from now, when we look back, we might be saying yeah that was obvious, even though today it is perhaps not as clearly obvious to us. If only we could know today what we will know in six months !
ALERT: KOOL'S 7-WAVE PATTERN HAS FORMED IN THE US DOLLAR
See
VO
's daily chart of the
DX
above. Count starts at point C on the chart !
Notice the last 4 bars on the
DX
daily chart form a shelf at 85.83, and also form a double top ( a 2T pattern to be precise ). Also of note is Friday's long selling tail and weak close.
A break below the 85.83 shelf confirms Kool's 7-wave trend killer pattern AND the 2T
at the same time !
There is a lot of evidence to suggest that we are in the time frame for an important low. the problem is , i keep getting price projections a little lower ..794 and 783 areas! Again and again! Is the market trying to tell me something? The longer term cycles are always a little hard to 'nail down' but they seem pretty clear that this past week to the end of the month should contain an important low (important in terms of time, not necessarily price). Meaning whether or not we test the ultimate low or go lower ,it has to happen soon, or wait till at least Mar. IMHO ... ive never been as good at the longer term stuff cause i dont put much time into it ,(or really care). im a short term player, but heres a look at some of the evidence...