Weekend Chart Summary 1-31-09
Weekend Chart Summary 1-31-09
Excellent set of charts !
Gold: 7 wave trend killer ? Or the start of a new 7 waves after the abc correction ?
Look at the daily chart of $HUI, note the bearish
divergence
with gold and a micro
ABC
high attempting to form. A break below 295 on the $HUI daily confirms a trend change signal. Historically $HUI tends to lead the metal.
P.T. , Ive noticed the apparent 7 waves on gold also,though the 7th wave may not be complete yet! F.W.I.W.,
MY
MONEYS
O/N
THAT 955 LEVEL!
F.W.I.W. DEPT: Technical Market Report
by Mike Burk
The good news is:
• Non existent.
The
S&P 500
(SPX) finished its worst January ever, down 8.57%.
During the 1st year of the Presidential Cycle, since 1928, the SPX has been up 62% of the time, in January during the 1st year of the Presidential Cycle, with an average gain of 1.7%. Out of the 8 times the SPX has been down in January during the 1st year of the Presidential Cycle all but one turned out to be the beginning of a down year. (SOMETHING TO KEEP IN
MIND
DURING THE SPRING RALLY THAT MAY OCCUR!)
Click image for original size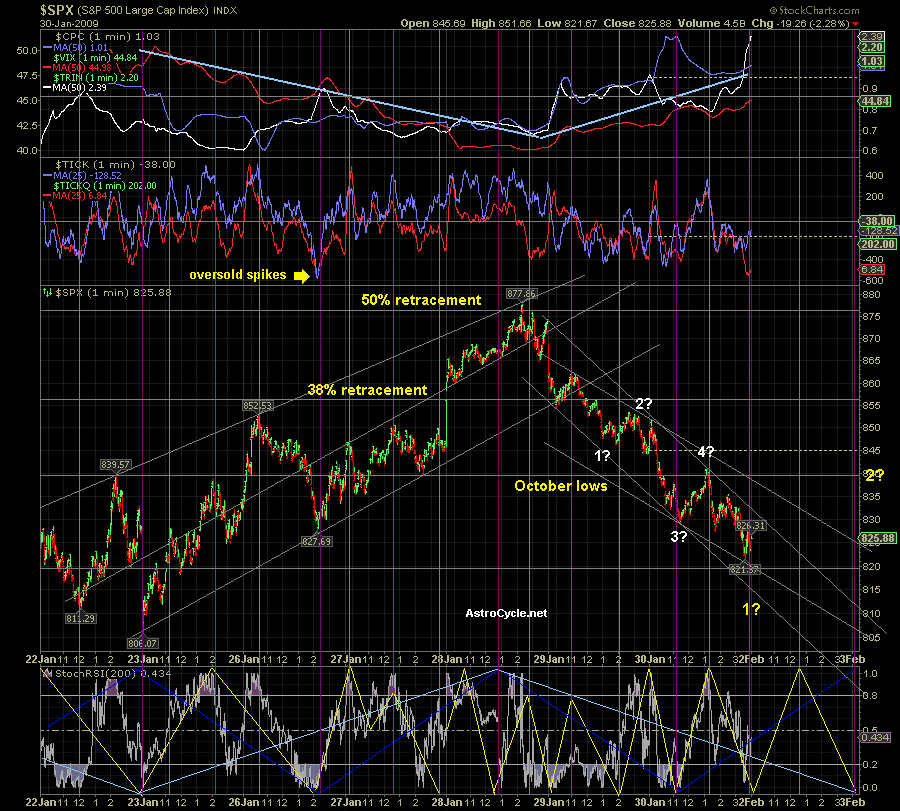 ...i love this guy, a true wacko just like me!..courtesy Francis Bussiere