Week 9
quote:

---

This is the sixth weekly installment of my CL/CES journal I outlined in The Intro. Previous weeks:
Week 3
Week 4
Week 5
Week 6
Weeks 7 & 8

The course is based on material provided by DLC Profiles, as well as Jim's texts on Market Profile, MoM and MiP. Anyone needing more information should fill out this form and schedule some time with DLC to get a deeper overview of the course.

On with the journal ...

---
CL/CES
-
Week 9
I feel like I got a lot of work done this week. a key element this week was Jim's webinar (held Thursday after
RTH
close). i'll cover the
CL/CES
webinars in my two month review post.
Monday, 03/09/2009
Pre-market
though the ONH was several points above Friday's close, we will probably be opening several points below PDC. like 15- or 16-points. the ONL is right at the top of the L-period bracket from Friday. at least in the overnight, it looks like the market discounted that M- and N-period rally. we will be opening with a lot of short inventory. look to balance it.
EOD Notes
inside day
. opening was
LOD
until L-period. took out ONH and balanced overnight inventory. didn't take out the high by much and couldn't do anything about PDH. it took all damn day, but we eventually found our way back to the open and had minor RE to the downside. crappy lows (minimal excess).
Trading Notes
since i didn't have the foresight to buy the opening print, i was sidelined for a while. with such a large
IB
, i was not looking for a trend day. when we chewed through the ONH, i decided to take a short. i considered that the second open, since that essentially brought everything back into balance. given the early range, it looked like we might be witnessing excess in the B-period selling tail. value was going to have to work hard to get back to unchanged or lower, so despite the open, i felt i was positioned counter to what was developing. this was my only trade. i would love to say i stayed with it until the close, but that didn't happen.
Homework
yes
Tuesday, 03/10/2009
Pre-market
ONR very similar to PD-ONR and PDR. open will be very long. upward movement was shut off at yesterday's C-period high. watch that for
RTH
reaction. otherwise, look to balance overnight inventory. if we open anywhere around here, unchanged to lower value will be a chore. overlapping higher do-able.
EOD Notes
no real effort to balance overnight inventory. or stay below 700. there was a little bit of volume building around PDH but clearly not enough to contain the rally. again, we had a large
IB
, suggesting a trend day was unlikely. excess evident in A-period and possible in N-period, but that is an incomplete bracket. Prominent
POC
today, double distribution, but not elgonated, trend day. other than N-period, it was more of a mis-shapen p-shape profile. typically that it is indicative of short-covering or a market that it is too short. after trading on both sides of the
POC
, we closed several points above it.
Trading Notes
i was sidelined again at the open. it did dip a little, but with so much overnight long inventory, i did not feel i had a good place to jump in. with such a large
IB
, i opted to take a short trade looking for a pull towards the open and balancing some of the overnight inventory. that worked for a bit, until it didn't. when we couldn't push lower and started tightening up around that area, i reversed and went long. that one worked a bit better and definitely quicker. even with all the positive movement, it sure seemed like a lot of technical or mechanical motion. double tops, double bottoms, more double tops, revisit the failed IBH, and so on. trying to allign myself with the direction (mechanical as it was), i took another long at the failed IBH region. before that, i wanted to short that 715 double top area, but passed. i struggled a bit watching it pay off pretty quickly and had to make a concerted effort not to
fade
that reaction. waiting for the breakout area (IBH) was a real chore for me. and when it did come, it looked like a shiny, sharp knife.
Homework
obviously
Wednesday, 03/11/2009
Pre-market
looks like we will be opening very long relative to PDC. above
POC
,
VAH
, and PDH, but down from ONH. coming into
RTH
, we are actually in a short-term down trend within the overnight session. look to balance overnight long inventory. above, look to test ONH. downsid also has
gap
fill and a prominent
POC
.
EOD Notes
our first attempted direction was definitely down, but it didn't attract selling money so the first stab down was rejected. we made it to ONH, chewed through it, then chewed through that high, each time with no oomph or conviction. having balanced the overnight shorts, we started working on the overnight longs. for the most part, we one-timeframed our way down through H-period before even a decent attempt to thwart the sell-off. Excess in J-period (crap volume at the lows and we didn't hang out there very long). built a prominent
POC
. late afternoon rally, but finished several point down from that rally high. also closed below open,
VAH
, and
POC
(just under it). funky bracket lows (E/F and G/H).
Trading Notes
not much going on here. took a short near ONH but got shaken out, damn near at
HOD
. wasn't composed enough to recognize the
low volume
and lack of conviction on the shakeout, so i didn't re-up. next move i made was shorting around the E-period high. heat was negligible and payoff was solid. i wanted a piece of the J-period excess, but with
POC
and ONL below us, i convinced myself the knife was sharper than it was. hindsight.
Homework
bookwork tonight
Thursday, 03/12/2009
Pre-market
here's something we don't often see: opening near PDC. however, we did get through PDL, PD-ONL, and a prominent
POC
from two days ago to the downside, so i'll be looking to see if we do some exploring in that direction. barely traded above PDC or
VAH
in the overnight. we do have a prominent
POC
region above us. then, of course,
VAH
, PD-ONH, and PDH. all technical levels, so we'll have to see who is playing if we get to any of those levels.
EOD Notes
today was
rollover
, so from the outset it's going to be a different scenario than most days. we did open near close and did explore to the downside, but no one was interested in selling. made it through PDL/excess, PD-ONL, and the
POC
from two days ago, but we did not make it to the ONL. if you had any reason to buy, get it done within the first 15 minutes and just hold it all day. i didn't do that, but it sounds like a great idea now the first real pullback was in C-period when we approached PDH. at that point, i thought we were trading technically and, despite this
range extension
, might finish out the day rotationally. we made it back into
IB
and back into
VA
, so it looked like that was materializing. in fact, it was lending itself to a potential p-shaped profile, suggesting short covering. 'was' is the operative word here. from E-period to the close, we one-timeframed our way up, closing near the highs.
Trading Notes
looking to clear out the overnight lows, i missed the up train in that A-period tail. then, looking for technical trades, i waited for the PDH test and missed the selloff. by E-period, it looked improbable to get to unchanged, overlapping lower, or lower, so i was looking for a long. given the developing p-shape, i felt i was left with sub-optimal trade location, but wanted something near the bottom of the distribution. so i took a long near the IBH and PD-
VAH
. the top of C-period was my visual destination. if we made it through, i would be cautious of excess. we did trade through and i got out on the decline. heat was near my max, but loss from top was low. so was the portion my portion of the next up train. low as in none.
Homework
unlikely - caught some bug and am done for the day/night
Friday, 03/13/2009
Pre-market
*** still feeling a bit rough, so missed pre-market/open and wrote this after the fact ***
overnight is long, but has sold off a handful of points from ONH. likely to open at least a couple handles above PDC. ONL,
VAH
, and singles below us.
EOD Notes
what an ugly open. i am not upset that i missed it. it looks like the kind of market that would have frustrated me and probably chopped me up. kind of an average
IB
range today. small tail in B-period. another tail below in F-period. couldn't quite get to those singles, so selling looks pretty rejected there. one-timeframed down from B- to F-period, then one-timeframed up from F- to close. closed above prominent
POC
area, PDC, open,
VAH
, and near
HOD
. end of
rollover
week and a friday. the money had gone home.
Trading Notes
bought near IBL looking for rotational. did not even notice ONL was so near. or
VAH
. i probably should have not been here today. got flushed out of that trade. not much later, i took a short around the same area. that trade turned out a bit better. nice looking excess in F-period, but i was not on board. singles were close, and before i knew it my chance to buy was gone. rather than keep overlooking a thousand different market elements, i called it an early day.
Homework
in various forms, yes
i did a Save instead of a Save As ... yesterday so POOF! there went last week's notes (hence the late posting). rebuilt them last night and then lost internet until just a bit ago. charts will be here later tonight.

hope everyone is having a great week!
Here's a chart covering the action from Tuesday's overnight through Friday's close.
Click image for original size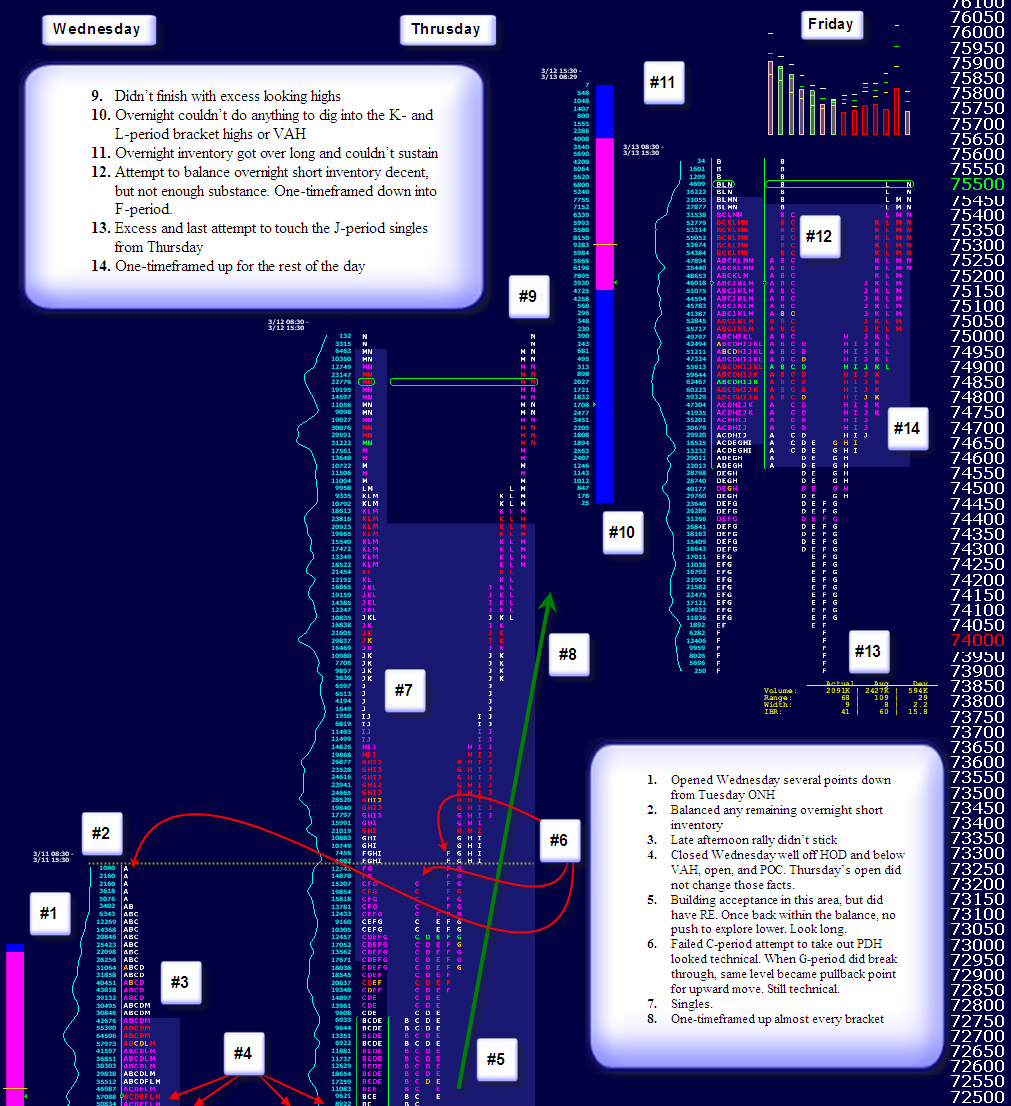 i realize many of my thoughts and commentary are often numeric and small-minded, but that's why i am doing what i am doing. how i think about and view the market away from
RTH
is too often different than what i fall back on when the market opens. time and practice, time and practice ...
Thanks again Omni for keeping us updated. Did Terry always own Window trader ? Just curious...doesn't matter really...nice graphics
quote:

---

Originally posted by BruceM

Thanks again Omni for keeping us updated. Did Terry always own Window trader ? Just curious...doesn't matter really...nice graphics


---
Hi Bruce, my pleasure.
as for WT, i'm not sure. Richard has been my sole WT contact, but i'd be happy to ask about it and get back to you though. given other
MP
practitioners' tendency to eventually put out their own software (i.e.
Steidlmayer
with Aspen and Jones/Cisco-Futures with their software), it wouldn't surprise me. i could definitely see Terry and/or Jim passing along some ideas/suggestions to the folks at WT
as always, thx for stopping by and your ongoing contributions to the forum.
have a great week!
just because it's Friday, the weekend is here, and it's okay to have a laugh or two ... even about trading
Hope y'all
enjoy!
quote:

---

Originally posted by BruceM

Thanks again Omni for keeping us updated. Did Terry always own Window trader ? Just curious...doesn't matter really...nice graphics


---
i didn't forget about ya Bruce
though he has not always owned it, Terry does own WT and has for a few years . however, his involvement with WT is completely separate from DLC Profiles.
hope that helps. have a great week!