ES Thinking Out Loud
This is my
ES
Daily.
The blue dotted lines are the monthly R1 & S1 pivots. The white lines are the first 360° angle cycles from the top's close and its first pull-back close.
The yellow lines are the projections from the bounce; not having a pull-back yet, the range is tighter.
What I noticed and why I'm watching 37 so closely is that when sellers broke their first cycle instead of conservatively covering they added to their positions. You can see someone trading with some size hoping for a bounce lost quite a lot of money.
By my count we're in a bear's fourth wave of the first impulse fifth ready to break down to complete the fifth. Statistically bear 5ths fail more than bull 5ths simply because you make more money trading up.
An Elliot law states that a fourth wave will not trade below (or above) the range of the first and second waves, and we're not - not only did we double top 74 1/4, we saw some pretty impressive price rejection. Couple that with buyers struggling at this month's R1 and their own cycle, I'm looking for a pull-back. We should know at the open monday as close to 8:40 as possible if they sell the open bears aren't done. On the other hand a break past 78 is a clear indication of at least a bull rally correction, where my forecast of 902 for this Wed. is still in play.
What doesn't bode well with me though is the break-away
gap
sitting right on last month's pivot. They'll want to fill it, and if they do, that means bears will have to have made support out of the historical pivot; and also, ruining bulls' chance to make support out of 750ish for a profitable bull 3rd wave.
Likely short term: I'm looking to fill the
gap
at 850 and head to 836-37 to make bear support out of it.
Click image for original size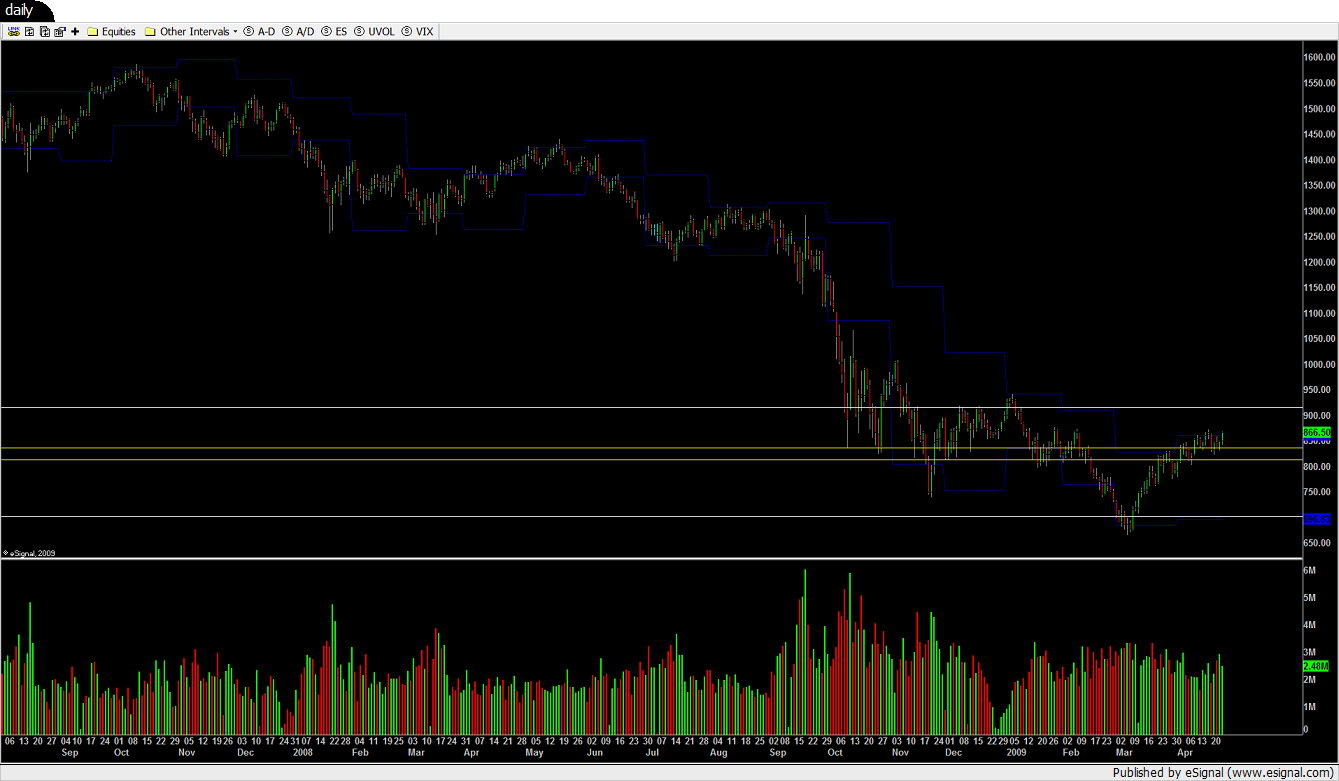 50 target hit. As of 1:22
PM
Mon. Apr.27 in the 233T I have a measured move to 36.50 from the fourth wave of the bear third heading into the fifth, where there'll be five full waves, five waves off the fifth and an
ABC
to get long at lowest volume. The fifth will want to retrace at least 50% of the entire movement from 71, which will put it around 52, where sellers should hold their fourth wave where we're trading now. If they don't, it's by no means an indication we're heading to 70s level, only that movers are working out the kinks so that their quant numbers square to make a bottom. If you're short at the time from somewhere near the top and they break 52ish, you could cover and sit the bench, but to move things along and get back to business
add
, and
add
big..