ES Map/Analysis for 10/30/09
ES Map/Analysis for 10/30/09
Here's a 15 minute
ES
chart with the "
price action
"
S/R levels
in
BLUE
... also have Wkly Pivots overlayed with red being median and green as
S/R levels
.
Using these prices as "inflection zones" to trade off of based on how
price action
during the current session unfolds around them. In other words, they can be places to get long OR short (or to take profits on a current position).
Would welcome any and all comments and analysis and additional charts for mapping/planning Friday. The more inputs and varied analysis, the better.
Click image for original size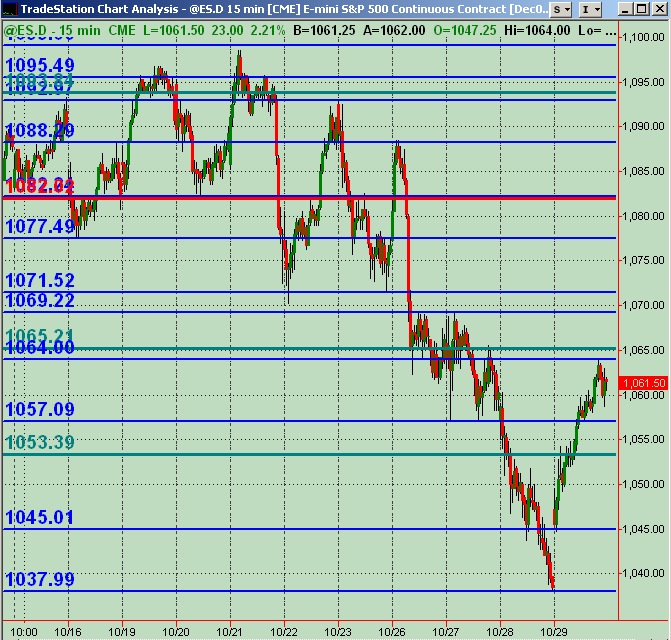 Thanks
MM
...based on volume spikes from Thursday I have 1062.50, 1057.50 and 1052.50..those match up well with some of yours..uptrend can't go on forever but long enough to put us to sleep
I would expect some lower trade and then higher to try and pop over yesterdays high. That was fairly
low volume
yesterday and we are at months end so I'm not expecting much today....gotta watch for the snap back after a minus or plus 4 as the floor was unable to push it around much yeaterday....today will be a better day for them I beleive....working a very small long from 56.50 to try for 61 area......overnight is like going to the casino for me some days....
pulled and tighten runners at 61 even....miracle trade....quick and the dead...I would have added to that tradee at 52 if it hit..
quick explaination....I was long in overnight thinking they would have hit a plus 4 number off the open but i reversed to short when the 5 minute low was broken......as previously stated I thoughth the floor would get even and run out a plus or minus 4 and then bring it back to the open because they didn't get a chance to do it yesterday and they want revenge...so I then reversed to long at the hit of the minus 4 number...runners stopped as I type.....looking to get long agin until yestedays high is broken
these trade postings have no real value but I like to put my trades where my mouth is....legging into longs at 53.75 and going small....will try for open print...
very rare to keep it inside the 30 minute range so we know it's low or high will be broken.....getting above open print should run out the highs
MM
,
thx for the response, and not to worry, it was far from being babble.... Actually some useful tidbits.