Monkey S/R Levels for 11/2/09
Monkey S/R Levels for 11/2/09
These price levels are what I've got based on multi-time frame
S/R
price action
levels (drawn in on a 30min chart). Not as solid or comfortable with these as usual. But still will be my map along with Pivot Levels from this site in the background.
Click image for original size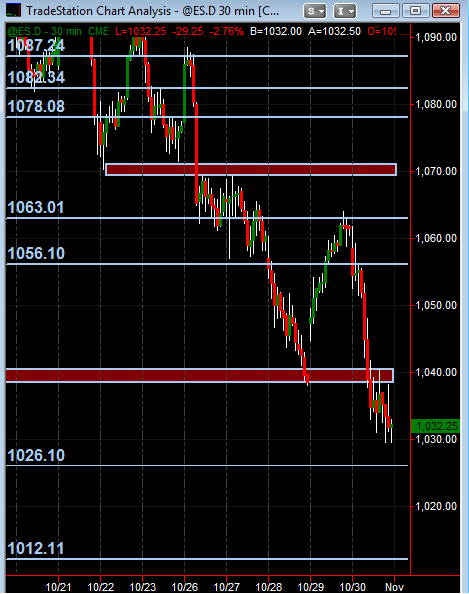 Open to any feedback and additionally, any and all analysis and chart postings from everyone!!
And I'd be remiss to not include the bigger pic of the daily
ES
chart ... with 50sma in royal blue ... price channel in cyan ... bull trend line in dark red ... also have purple horizontal line drawn in as daily price
S/R level
. Hope folks find this useful in some fashion.
Click image for original size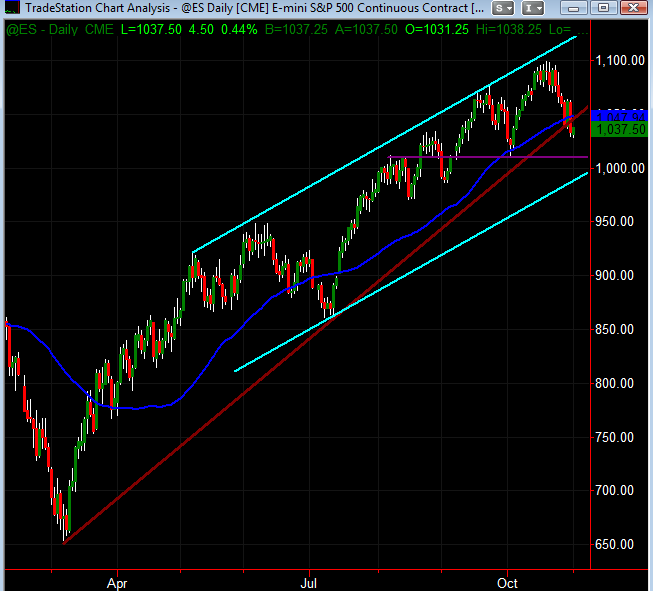 Bruce, Kool, Joe et. al. (and any and all others) ... whadda ya got that you're looking at coming into Monday?
my homeworks tells me support 1024, potential resistance at the daily
pp
=1041.75, 50d
EMA
=1042.25. I also have 1051-52 as a potential resistance level
I have the 40 - 42.50 as price zone longs will need to try and beat..other two are the 50 - 52.50 and 32.50 - 34 as per volume magnets from Friday...great matches with what you folks posted
Hey Kool,
Around midmorning I saw your posted 1024 area you were looking at (assuming that's what you're referring to) ... nice call. I had 1025-1026 lines drawn on my charts back here at home from
price action
(the above charts were at my gf's last night). Like the synergy of that and the areas that Bruce,
PT
and phileo listed and described.
Good, usable stuff ... ended up buying that retest of earlier session low of 1026 just a little while ago ... bot @27.75 quick scalp out @30.75 (watched the 1min chart for entry) ... wishing I'd left a runner or two on now ... oh well. Only trade so far today. Couldn't get a read on what to do up near 1050 this morning ... so just watched. Maybe some of y'all found a reason and place to get short. If so, please share.
I'm guessing Bruce got short some up near the 1050 area this morn'. I had a
price action
line on my home charts at 1052 and Wkly Mid-Pvt was at 1050 ... know he was watching that area from a "volume magnet" approach.
no Kool...I also found them enjoyable but the challenge for me with those was always trying to remove the discretion from choosing the "correct" time period to look back. I have found that certain legs of market moves will attract high vertical volume at the same approximate price levels even on different days so price eventually spends more time there and that in theroy can pinpoint the same longer term profile volume point.....the 1061 area comes to mind.....that is long answer of "no I donot"