ES S/R Map for 11-17-09
Blue lines are potential
price action
S/R
... Red line is Wkly Mid Pvt ... Greenish Lines are Wkly R1 and R2 Pvt ... Maroon (Gig 'em Texas Aggies) line is described on chart. Didn't change much from prior day's price levels except
add
1096.00 which was the prior day's high that price gapped above on the open. Also showing the 1113.50-1115.00 zone and 1122 Rtc along with the Wkly R2. Hope the price levels might prove helpful.
As always, open to any and all feedback and additional analysis ... including charts etc. describing what you're looking at coming into Tuesday!
Click image for original size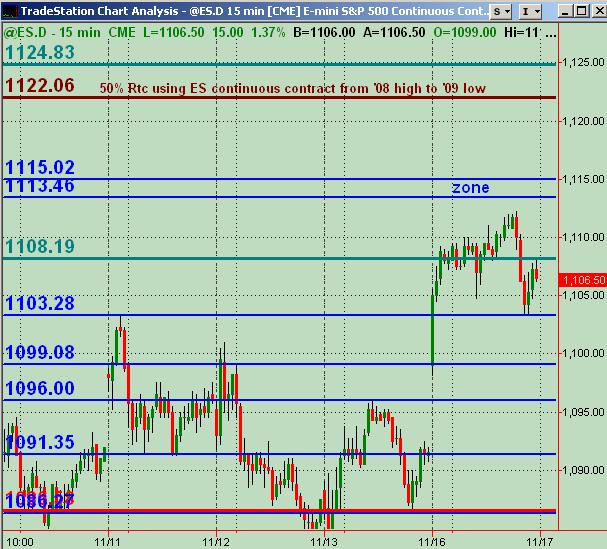 out at 03.75 for a
tick
... anticipated a faster reaction back up, whether a grind or a spike ... hasn't happened ... the bane of a scalper, even taking into account the slow motion after hours cold molasses price move
Wow, just got home and look at the
globex
low! 1101! Now you see why i thought i should mention that 1101.50, that kept appearing on several charts!
volume in overnight is spiking at the 1103.75 - 1105 area....that was created at 9:50 a.m. in Mondays
rth
session...so that is the price to beat today for longs to win.....I'm looking for a
rollover
down to go get the 1092 volume but will obviously be watching what happens if/when we bust the
RTH
low on Monday too..
on the 07's to try for yesterdays lows....still lots of work to get through the key zone......of 3.75 - 05..
hey Joe, can u start selling...? this meager volume is killing me..so far is doesn't seem that the buyers from yesterday are returning at this same level todasy....so down to consolidate is the way I think
lol bruce I am not short or long the
ES
at the moment. Cleaned my
ES
longs at 1110. Been waiting since, I am heavy long the US dollar so looking for a broad based sell off in equities for the rest of week. I don't like pissing in the wind so I have less patience with the dollar. If that 1100 gets taken out I'll be happy but not holding my breath.
hope so Joe...I have a small postion on at 1109 .....this I'm going to try and hold until 1092 and 1084....I'll daytrade the others as time permits today.....we know they will breqk the monday - tuesday range and hopefully it will be to the downside first...key for me is still that 1103 - 1105
gm bruce,
Drinking my coffee looking at the
ES
tank on those numbers good call, can't get much closer than that to the top...not one to coat tell but that would have been real nice with a dozen lots, could have taken the rest of the week off....naaaahhh