ES S/R Map for 11-17-09
Blue lines are potential
price action
S/R
... Red line is Wkly Mid Pvt ... Greenish Lines are Wkly R1 and R2 Pvt ... Maroon (Gig 'em Texas Aggies) line is described on chart. Didn't change much from prior day's price levels except
add
1096.00 which was the prior day's high that price gapped above on the open. Also showing the 1113.50-1115.00 zone and 1122 Rtc along with the Wkly R2. Hope the price levels might prove helpful.
As always, open to any and all feedback and additional analysis ... including charts etc. describing what you're looking at coming into Tuesday!
Click image for original size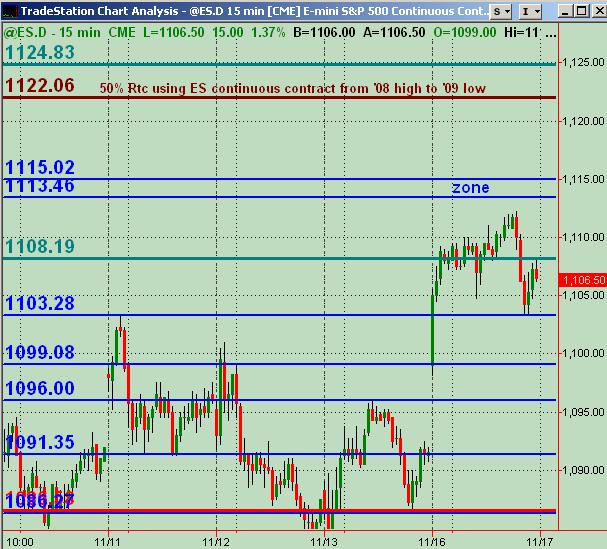 Click image for original size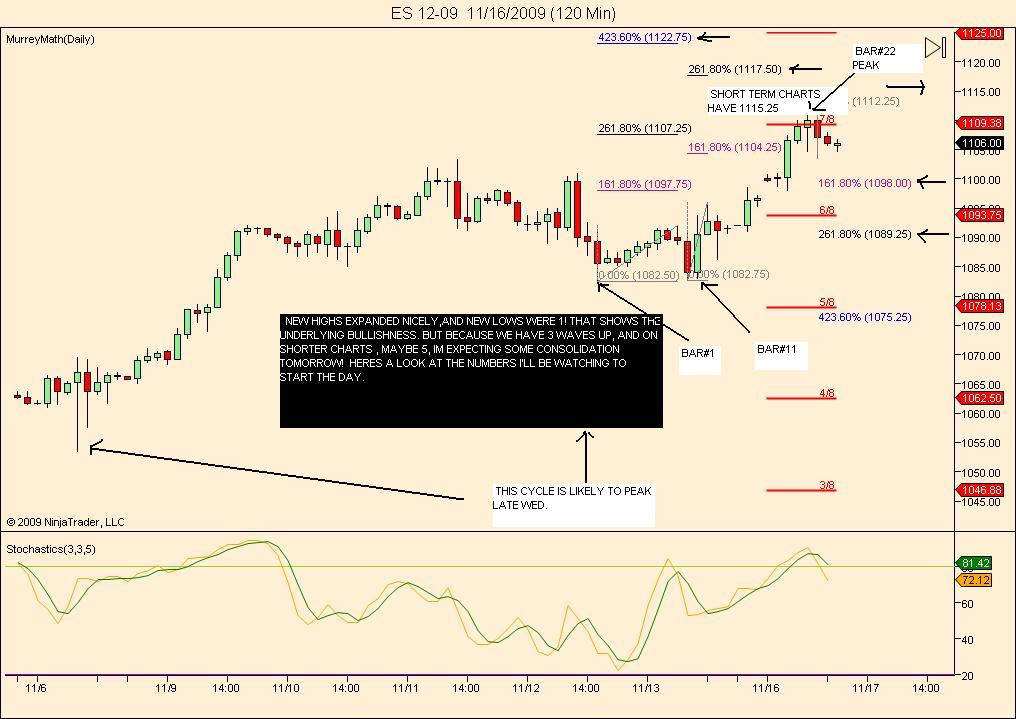 ...THIS CAN ALWAYS CHANGE ,BUT THIS IS WHAT I'
LL
BE WATCHING EARLY TOMORROW!
By all means Kool ... highjack away! Always interested on your analysis ...thx!

So, to make sure I'm reading the numbers you're looking at correctly ... to the upside you've got:

1122.75 (which is near the 1122 50%rtc I have on the chart)
1117.50
or 1115.75 perhaps, and not necessarily reaching 1117.50 (depending on the other counts as the session unfolds?)

And below:

1098 initially
1089.25 and then
1082.75

Have I got it? What levels from the above are the most significant? And does that change based on diff time frame counts unfolding going forward into the night/tomorrow? Looking forward to your description El Koolio!
Thx Monkey! FWIW.. AFTER LATE WED . CYCLES GENERALLY ARE NEGATIVE INTO THE 23RD OR
SO
. ..LEADING ME TO BELIEVE A NICE LITTLE SHORT TERM TOP IS VERY CLOSE. PROBABLY JUST A DAY OR
SO
AWAY
AT
THIS POINT.
Sorry, had posted and then updated asking about the price level questions ... also, is there a way that you can post your charts in a way that scrunches 'em down to fit the "window" without having to use the horizontal scroll bar to see 'em (espec. with this new format)? Would be easier to see it all at once for putting together synergistic analysis ... at least for this technologically challenged feller.

Yeah Monkey you pretty much have it right.. im especially interested in 1098 and 1115, and 1118 as scalp points.. ill see if i can figure how to change the size of the charts . in the meantime ,just click on the image to show it all . then click one more time and it becomes clearer.
And to answer the last question.. sice inital or complete moves off of a high or low are what generates projections , i always look at highs and lows made during the night on
globex
, when i come home about 6:30 am. im usually able to 'fine tune my targets then. By the way i must have posted several charts showing a down projection of 1103.75 today. that number just kept re-appearing. when that happens i pay special attention to them ,if approached.... and voila! 1103.50!
I had 1103.25 as a
price action
S/R level
... while the mkt opened and buyers were in strong control driving it through several levels ... once things had settled down ... that was the price that the mkt couldn't get below, but bounced there ... I think Bruce had the same area on his radar.
This kind of synergy, when a price area lines up, is really interesting since I'm coming from my
S/R
price reading, Bruce from
MP
and more volume based analysis and you from cycle counts and fib projections. When they line up ... it seems there's more significance at that particular price or price zone.
It's productive having those prices for me ... and I'd guess others as well ... for trading (or exiting a trade) these levels in the market.
Know you have your "room" but would encourage and appreciate the interaction like this here for "mapping" ... there's more and safer coin to be made there I believe.
OK ... long
ES
@ 1103.50 ... hard stop at 1102.00 (might cut out with smaller loss if price continues to sit hard here or deterioriate) ... that level is a solid area from my analysis and also with inputs from others' ... gotta love thin
globex
trading (usu. prefer trading
NQ
's ... and almost did as a proxy).
gm bruce,
Drinking my coffee looking at the
ES
tank on those numbers good call, can't get much closer than that to the top...not one to coat tell but that would have been real nice with a dozen lots, could have taken the rest of the week off....naaaahhh