ES 12-09-09
Good morning. Doesnt look like i missed a whole lot . this is my last day trading Dec. Tomorrow i switch to Mar. Well , well , i get a kick out of surfing all the blogs. It appears everyone is 'confused ' by this obvious side ways consolidation.. lol. I told you we needed more time. That time is almost over, but i'll wager not quite yet!! Although the major cycles are up into Jan and possibly even Mar.,on a shorter term basis, the next good cycle lows will probably hit right before Christmas! Is nothing sacred anymore? LOL. For today or tomorrow, im looking for 1079-1081 to be kissed before any real rebound .DOESNT HAVE TO , BUT I JUST THINK IT WILL. Here's a look at some areas to keep an eye on as we start the day....
Click image for original size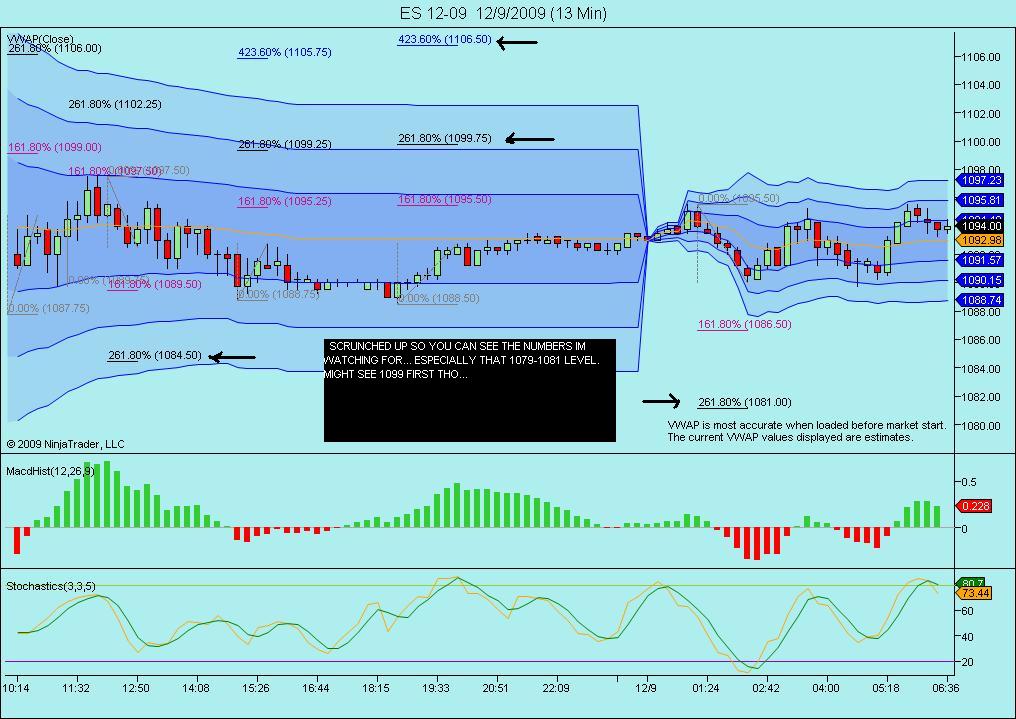 Well, we just had a small mini cycle peak . next one is around 7:50-55 then close to 11:00 est. see you then!

Thx Prest!. Man that cycle peak at 11:00 came in nicely!..But i see we never hit 1099 and change yet! That surprises me.
It's a little early to tell, but low at 1090.25 to the initial peak 3 min later of 1091.50 says we'll see 1093.25 at least! ...(i hope)
KB is it cool if we post additional signals that go along with your ideas? Like you buy at 1090.50 was the low of the
value area
from yesterday.
Well ,basically ,another day of mish-mash,which could last a while yet! When the breakout of the last couple weeks trading range does come, we will have to be on guard for a fakeout and reversal! Hope everyone had a good trading day!