Price Support Resistance
Main focus is currently on stock trades but always following the
ES
among other things for market analysis. I always draw in
S/R
lines on the
ES
. The first chart is what I drew in as of Wednesday's close. Simply eyeballed it and drew in the red horizontal lines. If 2 lines are within a couple of points of each other I view that as a "zone." And all
S/R
lines are in effect a tiny zone give or take a couple
ticks
.
At the close Friday I nabbed another screenshot of the same chart where I'd drawn a vertical yellow line at Wednesday's close so that the following 2 trading days can be seen. It's an hourly chart. I circled in white the price swings where they react off of these areas of price
S/R
.
Just tossing this out since I see this all the time and could be incorporated or folded in to so many other strategeries or trading analysis and styles.
Would like to hear and see how others employ what I call
PASR
lines ...
Price Action Support Resistance
... in their own trading with as much specificity and any xtra info. This
[email protected]
's been around since before Dinosaurs and the Big Bang ... but thought it might be interesting to explore ideas of how it's effectively employed in the current market. Hope that makes sense.
Click image for original size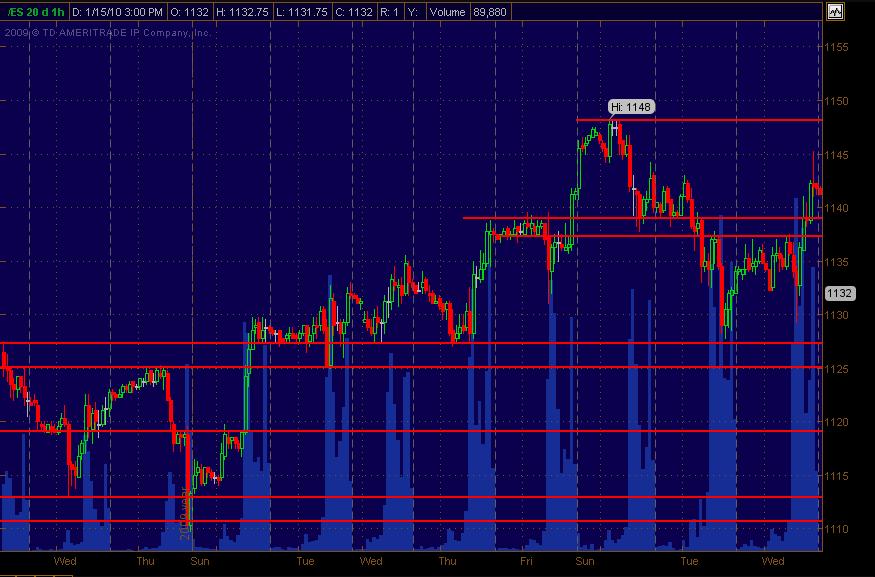 The following 2 days of
price action
after Wednesday's
S/R
lines drawn.
Click image for original size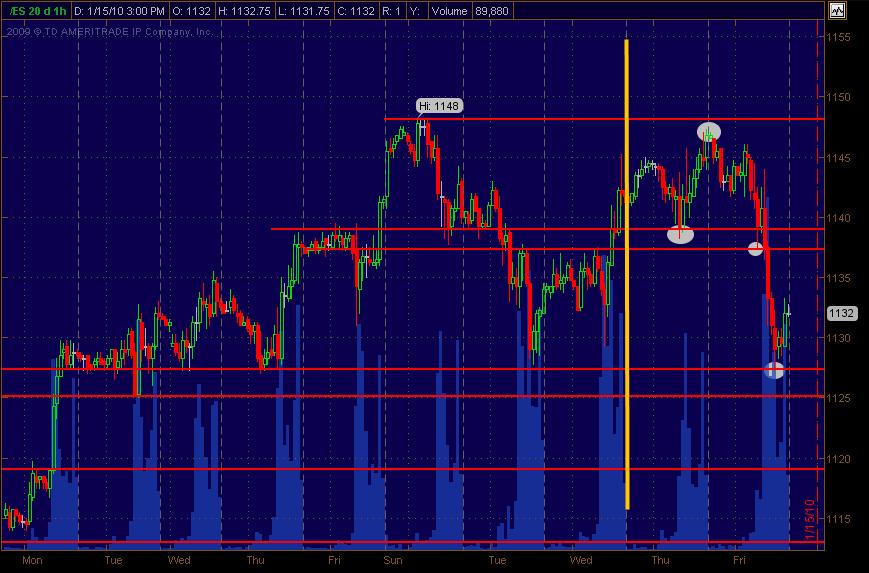 Appreciate the sharing RiskyB. I rank my
S/R
lines very similar to what you describe based on multiple time frame analysis. There's also the issue of
RTH
and all trading hours (ATH) as to what I look at and where I find and "weight" potential price levels. It'd be cool to see a chart or several charts of what you do to draw in your
price action
S/R levels
here. Thanks for adding to this thread and I look forward to your next postings!!
nice on the 1091
MM
...lots of volume came in there today....hopefully not from buyers..yet!!
Yeah, and the 5min chart pattern and action stayed strong continually showing strength ... and blew through 1091 ... bleh!
I've updated the hourly
ES
chart this eve with
S/R
price action
levels that I see fwiw. the 1100-1102 zone looks pretty significant to me ... but 1105 also is a potential resistance area with the way I see things. I don't like a 5-POINT zone for trying to trade off of. But that's what I've got for now ... makes an upside
fade
trade more difficult imho.
Anyway, here's the updated chart ... hoping it's helpful and makes a tad bit of sense from an
S/R
perspective.
Click image for original size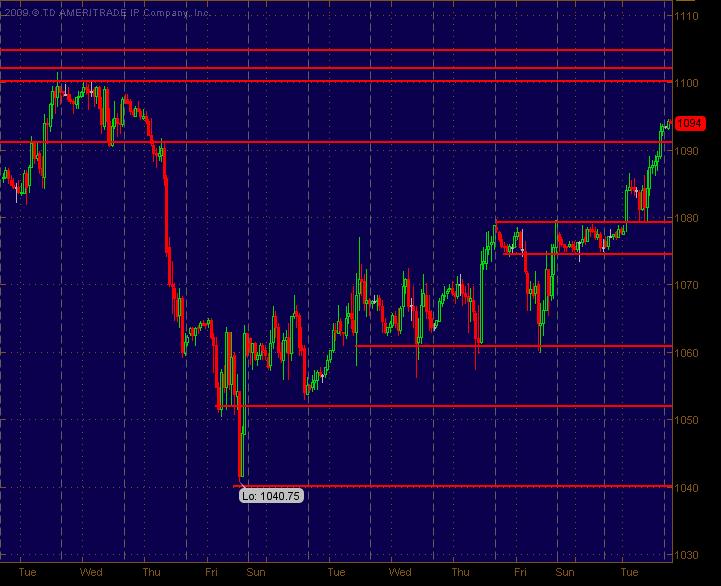 Hey RiskyB,
Appreciated your post. If you can, it'd be cool to see a chart from ya where you see
S/R levels
... and even which ones are weighted heavier than others. Dive in! And any and all input, analysis and aditional
S/R
related postings are not only welcome but highly encouraged from folks!
S/R
price levels on an Hourly chart for Monday ... just my take on
price action
.
Click image for original size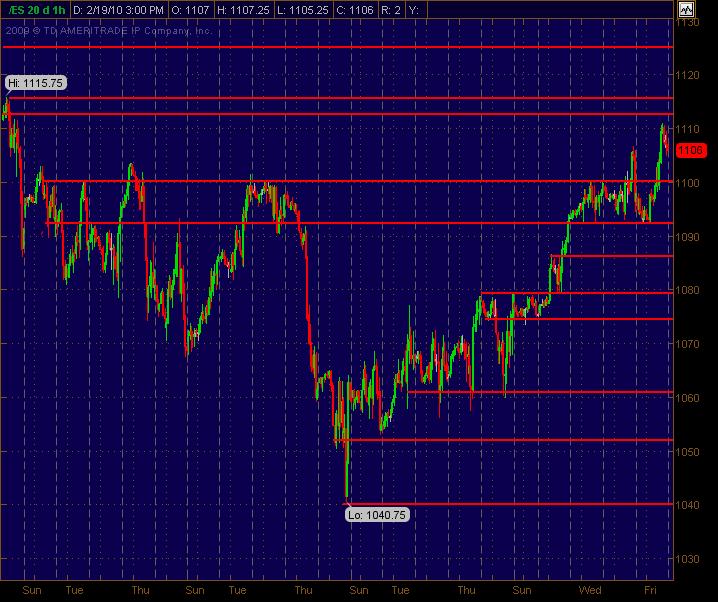 Monkey's take, is a very, very, very fine take
With two trades today in the bank
Little chance now my account will tank
Now everything is easy
'Cause of the Monkey...

My very sincere apologies to Crosby, Stills, Nash & Young for that satirical massacre :-)
Massacre? No way man ... I busted out the git-fiddle, pickin' and a grinin' my way through your lyrics for hours.

And I couldn't help but think of some other simian friends belting out something about a "day trade believer" ... hey, hey, we're all Monkees:

You once thought of me
As a trader watching CNBC.
Now you know how happy I can be.
Oh, and our good times start and end
Without dollar one to spend,
But how much, baby, do we really need?

(And they weren't even a real group ... as colorfully noted by Sam Kinison)

MonkeeMeat

ps. Woooooooooot!
Posting the same
ES
1-hour chart with
S/R levels
still intact and active from my "read" of the market. Thought I'd also circle the area where price found resistance within a
tick
or two of a level above the market that I posted this weekend for coming into today's trading day fwiw. Happy monkey flips to all and hope these postings are at least semi-helpful. And, as always, am open to any feedback and/or additional analysis and chart postings!!!
Click image for original size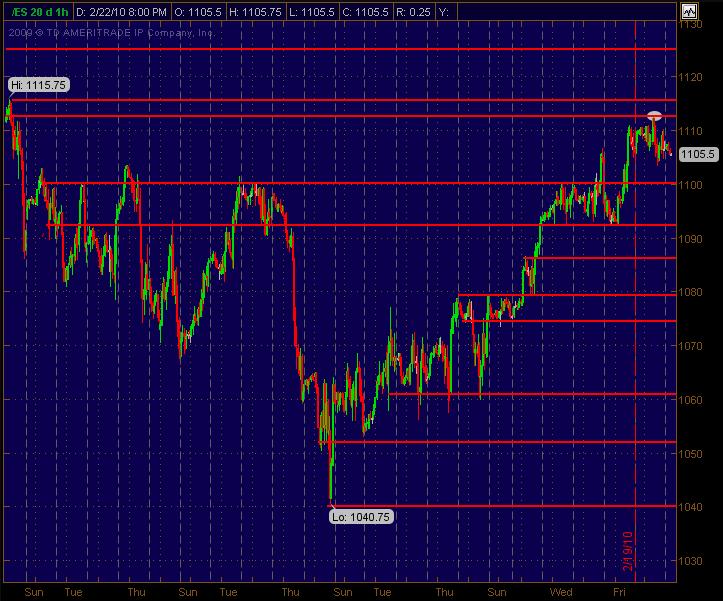 Here's the same 1-hour chart without any updates on the
S/R
lines ... simply pointing out where/how price reacts off of or pushes up against and then punches through for a run. The magenta line is one I drew in from the daily chart. As usual, always want any and all feedback or additional ideas on
price action
. I need to now update this chart's
S/R
lines from looking at multiple time frames. But this still, to this day after trading and tracking
S/R
for over a decade, surprises me as to the xtra edge it lays out in advance fwiw.
Click image for original size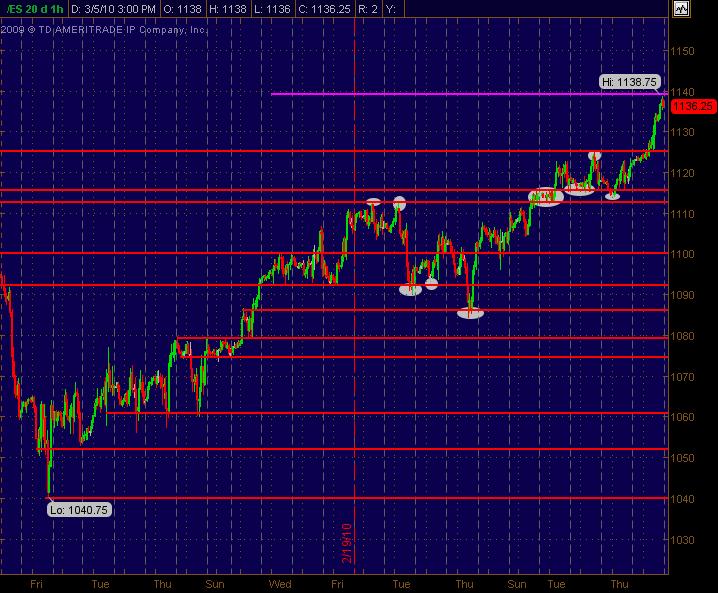 MM
, Thanks for posting the chart.
Monday's S1 is 1125.75, Weekly pivot for this coming week is 1126.5, which happens to correspond to one of those red lines drawn in your chart.
Should be an important level to watch next week.
Here's an update of
Price Action
S/R levels
for the
ES
coming into Monday 3-29-10. I looked at a bunch of daily equity charts and really wasn't turned on for many longs (or shorts) ... mixed. That's what I've seen the past few days fwiw. And the
SP
has been "sloppy" trading back and forth intraday for the past few sessions. (even though there have been some decent moves for trades).
Anyway, it still looks choppy (at least to me) now after such a strong and grinding run up the past few weeks ... even on low volatility. Hope this helps as a roadmap with some ideas. As always, open to any and all analysis and feedback.
Click image for original size