sell with me...
everyone see's that ledge at 32. IF they decide to let them win they will run it up into 40 - 42. Hope not!
no sir, I am not...that was done in the overnight as per the first post of this thread at 8:34. I only had two on and came out on both at 1027.50. I really thought I'd be adding to that on the open but for once I actually had a good overnight initial entry
Originally posted by stocksster

BruceM, are you still holding your short position?

no I am refering to all those lows at 32.50 on the 5 minute bars...I find when those hold and they don't run them out they will try to push the market 8 - 10 points higher so in this case I was expecting the 40.50 - 42.50 to get hit. I think the Sunday night session will go up there.
I don't usually trade as if those ledge areas hold and wasn't long the market. Same concept happened a week or two ago at 988.50. In that case we had 5 bars in a row with the same low that held. Eventually they came back and cleaned it up though. They'll come back o these 32.50 too.
Originally posted by ak1

Ledge meaning??? Are you refering to the 2 consective dojis

Interesting point Bruce. Lets look at the first 5 minutes of the
RTH
open. They sold but failed to break the 1/2 range on the down side. The bulls seized the opportunity and 32.50 was on the card. A good bearish push for a point there. If they retrace to this level again the market will slip to 28. Lets see what happens for the market is presently above its 200% extension from yesterday and in a prime # zone
Here is fridays chart....horizontal lines are the
air pockets
but more important for these rantings are all those lows at 32.50....if they can hold that they will push it up to 40 - 42...the overnight so far has traded into the
air pocket
at 1135 and is attempting to rally ( not shown). The only problem with the long side scenario in the
RTH
is that they already ran the
triples
that sit up at the 37.50 area so they may need to run it down first for the 32.50... I'd prefer the push up first so we can attempt sells. Hopefully the market will cooperate..
Click image for original size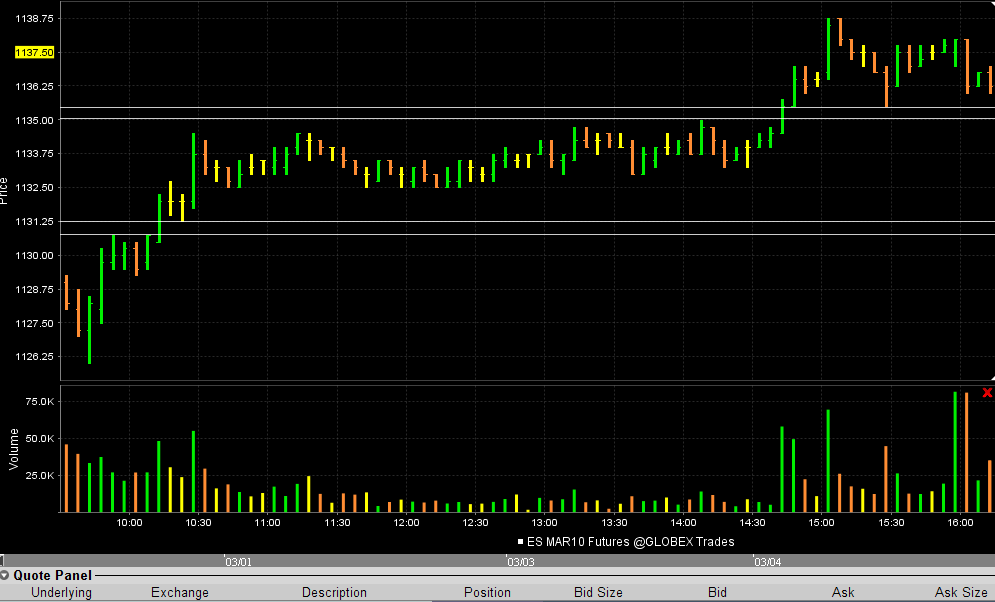 sometimes the market is cruel and follows the structure we are expecting without us being on board for the ride. Here is the test up into the 1140 area in the day session on Monday and then the roll over to test the 32 ledge in the overnight session. It was perfect and expected. The timing was just not there for those of us who prefer not to hold trades overnight.
Click image for original size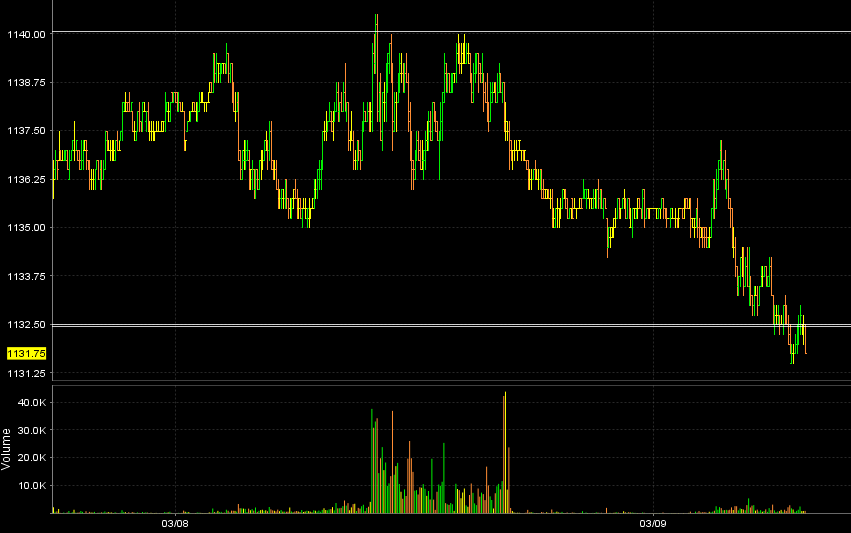 Originally posted by BruceM

up here at 1131....

Buy with me @ that 1131...lol...we moving up from that area now
nice false breakout down..I'd like to see these hour highs run out and yesterdays leftover
triples
run out to start looking for shorts for todays
triples
near yesterdays lows...we need more volume..