sell with me...
on the 40.50's for the 37.75's..gonna be a hard hold..trending...no plus 8 or 10 number hit ..yet!
if those
triples
hold they will try and push it to the 44 - 46 area today....and I won't be trading on the long side for that...still fading
what happened to the
NQ
? showing even greater
divergence
.....which would help us short siders...plus 8 got hit... still a tough
fade
...volume all dried up again....BORING!!
I find that when I start drawing classic patterns on my charts is when I start to lose objectivity and end up on the wrong side...this may be a great example...the rising wedge..should be bearish..in theory so that means they will probably bust it out to the upside into that 44 - 46 zone......I mention it as this is a weakness of mine
Click image for original size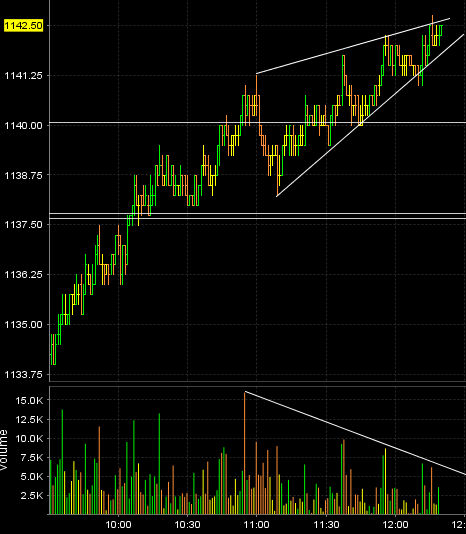 If I can see it then so can everyone!
the 8 - 10 zone off the open is 1142.25 - 1144.25. The plus 8 - 10 off the low of the
triples
is 1144 - 1146. This could get interesting now that 44 has printed
was that R2 for you REd or a candle pattern?
Originally posted by redsixspeed

watching 45.50 / 46.50

r3A = 1146.83..r3B = 1147.25.....the 45.50 / 46.50 are
projections. If the projections fall @ a
s/r
area they
are stronger, but I trust the projections more than
the
pp
areas