ES short term trading 4/08/10
ES short term trading 4/08/10
crucial day.. short term bias:down (hell it is Thursday, right? ). well yesterday they took it down almost to my 1172.50 number (and the trendline!) falling just short at 1173.25.The bad news is last night on
globex
we hit 1172.50 and crashed below the trendline. Oddly enough, seems like most bloggers are expecting a wave 3 explosion higher today, so one of us is going to be very right or very wrong!
averaged in at 80.75 which basically sucks.......here is a chart that shows how the price distribution will look when it begins to trend.......look at those little valleys on the right...shows me price wasn't efficient and two sided trade did't take place at those spots..so just looking at this chart alone they will need to fill in 81.50, 79.50 and 77.50 and of course the 74. I'm not convinced that it's gonna happen today.....seems like the 85 area is next natural target and yesterdays highs..damn..
Always tricky for me to catch the trends and never really do...sometimes I think I have the trend fiqured out and something shows up to mess me up...today that 1174 messed me up
Click image for original size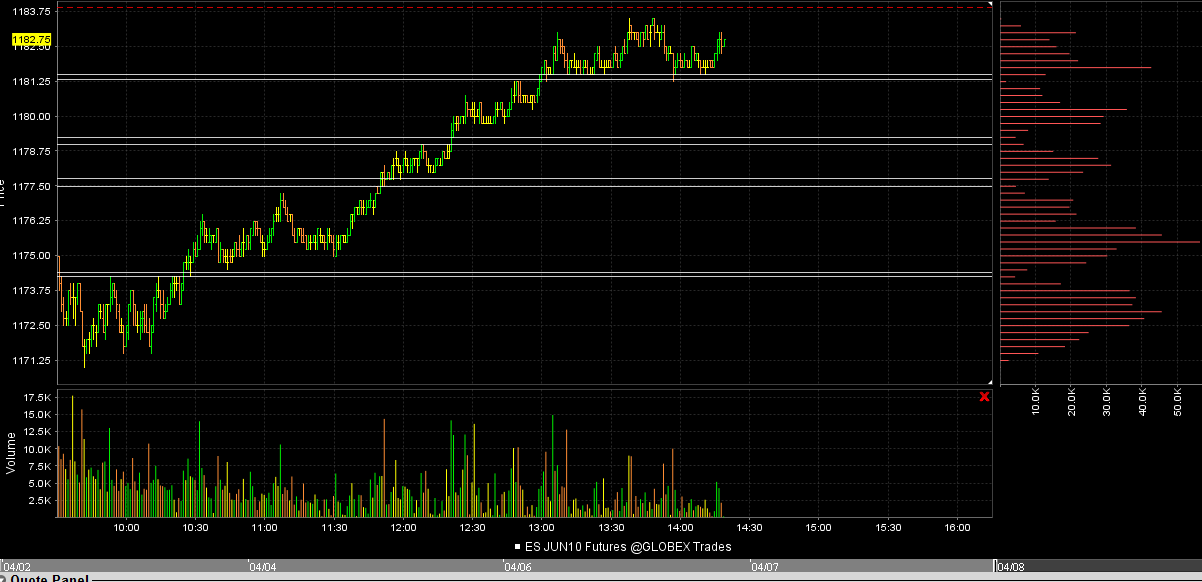 my least favorite time to hold short is from 2:40 till bonds close....shaken out many times
out at1183.50 on the other... i'll live to fight another day! flat day today.See ya tomorrow!
these levels are critical as we are now into yesterdays high volume if it breaks Bruce you will be happy
didn't happen for me....I covered for the loss just before the cash close at 82.75...I'm glad that trend is out of the way just wish I could have stuck to my iniial plan and targets
what happened here AK1...I think Rburns has a point that we need some kind of reason and follow up.......but I don't like how he is coming on here and not really contributing...only trying to get your "secrets"...I think we gotta give a little to get a lot...anyway I'm trying to keep you honest...LOL
Originally posted by ak1

Short 1183.