Short term trading weekend preview
Short term trading weekend preview
Earnings silly season
begins. And it wont be the earnings , but how people perceive the news that will determine the trend. We continue marching upward, due for a decent 5-6% pullback that daily indicator divergencies say could now happen anytime. Not just the garden variety 2% pullbacks we have seen since the current rally began Feb 5th.Just having fun with kools tools indicates a good probability of good reactions off of some key price zones just ahead! And 2 possible time frames to keep an eye on....
Click image for original size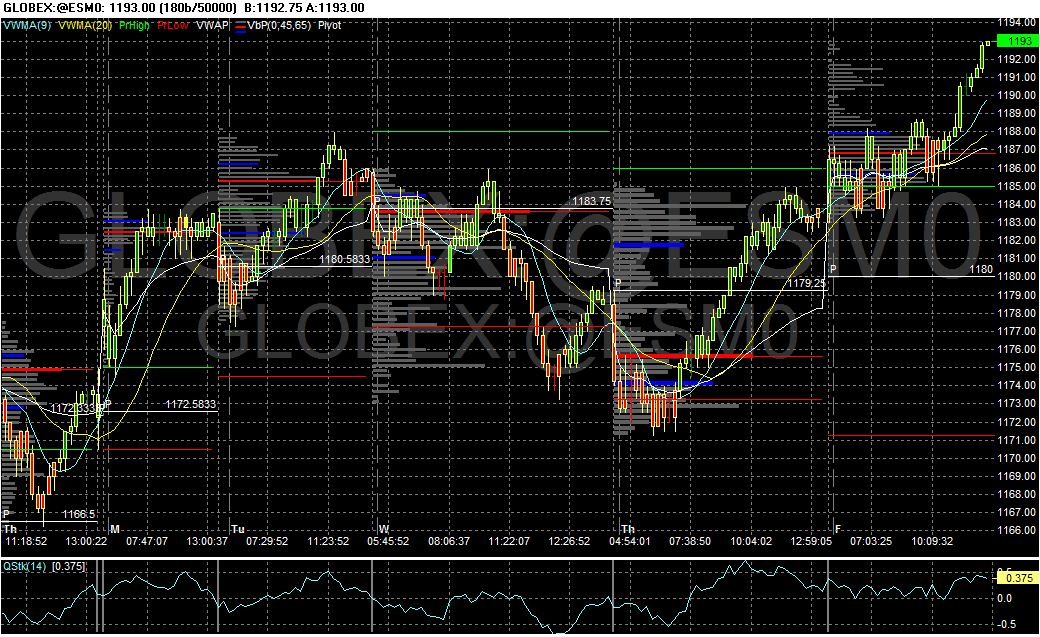 Note how price spent the most time around 1182-1183. This was the accepted
value area
for the week. Prior week's fair value was around 1168.5 - 1169.5. Fair value keeps going up, so, the Wed/Thurs pullback did not threaten, but actually confirmed that the uptrend is intact.
Note also the market reaction to April's
NFP
report (Good Friday, when futures mkt were open only for an hour). Breakout monday, test of breakout wed/thurs, and closed at new weekly and contract highs - again.
The weekly
pp
for last week was 1170.75. We have a "naked" weekly
pp
, as price was 2ticks away from tagging it.
All this reinforces the prevailing sentiment. I thought sellers might have something to work with on the Wed. pullback (also because
ATR
was increasing up to that point), but their control has been completely obliterated, and the sellers will have to start from scratch again this coming week.
This coming week's weekly
pp
= 1185.5. I will be looking to buy at those levels, unless the sellers show us something new that we have not seen this week (or last, or the week prior).
Here's what I'm seeing with
Price Action
S/R levels
/zones for Monday (used a variety of time frames and both
RTH
and 24hr data).
Click image for original size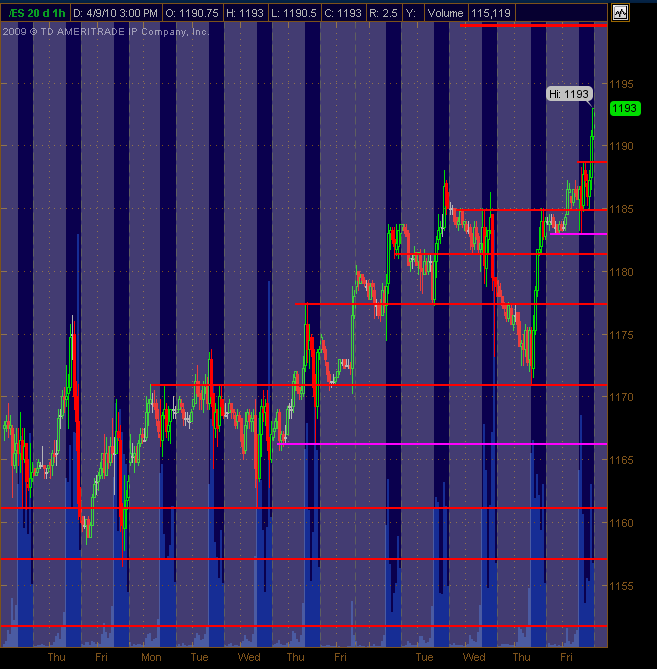 Just some musings:
I know we're in an upmove, grinding higher with the majority of days closing above the open. And yeah, we're entering the wildcard of earnings. Any hint lately of a
rollover
/selloff has quickly been met with buying spiking price up hard and quick ... but with overall talk of
low volume
.
There's no look of a parabolic move on the daily
ES
... but I'm thinking perhaps this may be a potential non-conventional "blow-off" topping pattern/action. I've only hit the high points of internals and they're not offering a decent "tell."
With trendlines and trend channels ... as well as signif resistance in the 1200-1210 area (and the obligatory Dow 11,000 ... which are just the round numbers) ... I'm looking for input/feedback from the great minds here as I'm considering positioning myself short for a multi-day/week pullback/selloff.
Would be playing it with options on the
SPY
while still trading the
ES
long or short intraday, fyi.
Anyway, just looking for some additional feedback beyond the
PASR
levels I've posted and trade with intraday ... and wanting more of an input for what I see as a potential decent swing type of trade. And I only have to go back just a couple months or so for a short term top that offered a decent magnitude move down ... thinking we may be in a similar situation shortly.
Any and all ... lemme and the rest of mypivots folks know whatcha think!
Thanks ... The Funky Monkey