ES short term trading 5-07-10
ES short term trading 5-07-10
Once again a historic day. (the secular bear that started in 2000 has seen many of them!).Unlike 87,(i was trading!), unlike 98, unlike all the history made last year in a historic bear market, this crash was simply stunning. The dow plunged 1000 points not in time measured in 2 days or even all day, but in MINUTES! Welcome to the new dayz of algorithm driven robot trading! TRULY AMAZING . I didnt have many comment or posts during most of it because my charts were messing up (so i thought) and ive been around enough to know when Not to trade. I thought that was pretty much common sense, but apparently some chose otherwise. Foolish! I saw movements measured not in 1 or 2 handle increments like the 87 crash, but moves that looked like 7 or 8 handles at a time.I read one analyst who said they were closer to 20.Anyway, to the future. Like with any major earthquake, there is always the chance of small aftershocks, so please if you decide to dip your toe in the water, exercise due caution and USE PROTECTIVE STOPS!....Trust me, new highs (thats right i said new rally highs are ahead). The world isnt ending quite yet! lol
ok, this is it... on this push up, if it can't get above 1122.75 and stick, then I think next week will be lower.
Here is a shot of the symetric profile and the trade I didn't take....
Look at the nice bell shaped curve..the long I didn't take was off the 07.50 area to target 1115 - 1117
BEFORE:
Click image for original size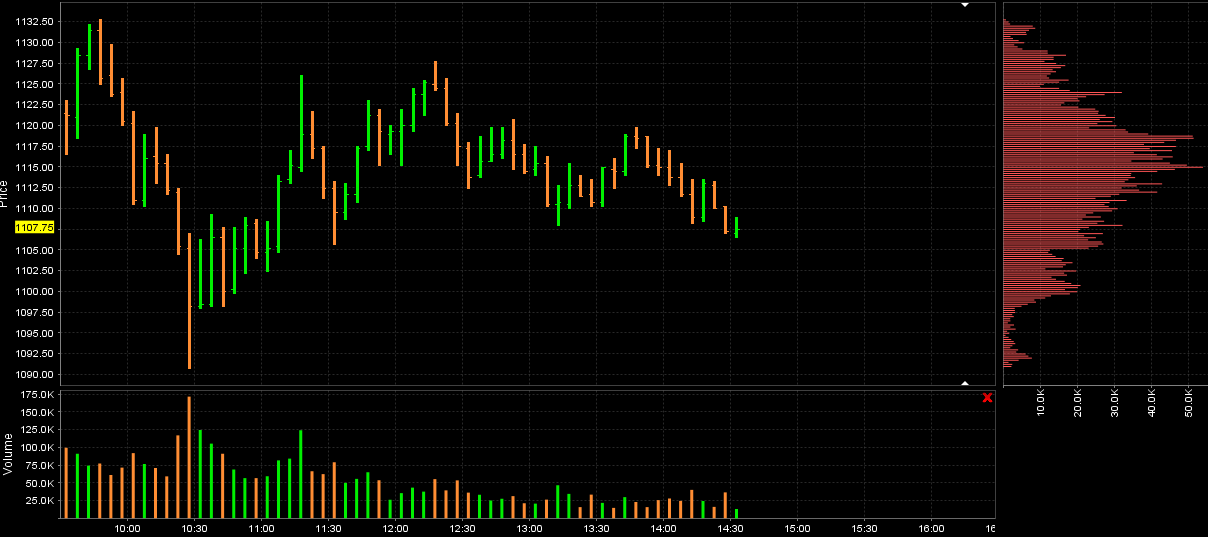 and here is the test into the 1115...profile still symetric so they may try for upwards again...and if they don't then look out below you folks with those 98 stops...no trades for me
Click image for original size
Great charts ,Bruce, i voted you up. On your first chart see that low spot around 1102.50? That where i think they may want!
let me rephrase this....I sure do Kool...now that you brought it to my attention....!!
Originally posted by BruceM

I sure do Kool..it's missing a tooth....

Originally posted by koolblue

This dont look good! IF 1105 doesnt hold last hope for bulls is 1102.75. But , we'll see,

Bingo!..lol
I missed all those trades. Like most stable men in their late 40's, I still blame my parents....


They're here now visiting with me so I didn't take those trades...