MP tgts achieved in Spoos but not in Bonds
MP tgts achieved in Spoos but not in Bonds
[1272.75] H
[1272.50] H
[1272.25] HI
[1272.00] HI
[1271.75] GHI
[1271.50] GHI
[1271.25] GHI
[1271.00] GHI
[1270.75] GHI
[1270.50] GI
[1270.25] GIJ
[1270.00] FGIJ
[1269.75] FGJ
[1269.50] FGJ
[1269.25] FJ
[1269.00] FJ
[1268.75] FJK
[1268.50] FJK [
VAH
]
[1268.25] FJK
[1268.00] FJK
[1267.75] FJK
[1267.50] DFJK
[1267.25] DFK
[1267.00] DFK
[1266.75] DFKL
[1266.50] DFKL
[1266.25] DFKL
[1266.00] DFKL
[1265.75] DFKL
[1265.50] DFKLMQR
[1265.25] DEFKLMQR
[1265.00] DEFKLMQR
[1264.75] DEFKLMQR
[1264.50] DEFKLMPQR [
POC
]
[1264.25] DEFKLMPQR
[1264.00] DEFKLMPQR
[1263.75] DEFMPQ
[1263.50] DEFMPQ
[1263.25] DEMPQ
[1263.00] MNPQ
[1262.75] MNPQ
[1262.50] MNPQ
[1262.25] MNPQ
[1262.00] MNP
[1261.75] MNP
[1261.50] MNP [
VAL
]
[1261.25] MN
[1261.00] MN
[1260.75] N
[1260.50] N
[1260.25] N
[1260.00] N
[1259.75] N
[1259.50] N
[1259.25] N
This is the
Market Profile
graphic in
tick
increments. I agree with your comments about neutral day. Here is a bar chart showing the 30min bars for the
ES
H6 contract over this week. The 3 horizontal lines show the
VAH
,
POC
, and
VAL
. On Monday the
POC
and
VAL
were the same so it looks like 1 line is missing there.
Click image for original size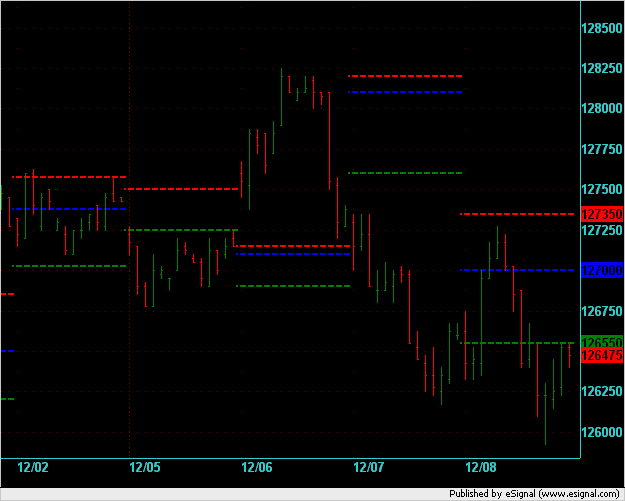 one line missing from your chart or mine or one line requiring to complete something. In reality I don t think it matters either way becasue as you will see with Fridays postings the market is showing possible signs of needing to search out lower value especially if the early Monday am open rejects the buyer. This past week has been entirely about spreads and roll-over is very similar to option expiry in that it sucks out the premium and beats everyone up until they no longer wish to play anymore. That is precisecely when you should take the next trade.