ES short term trading weekly preview 7-31-10
ES short term trading weekly preview 7-31-10
This is likely to be a key month of the year. Although long term patterns allow for a major bear market top in spring of 2011, Aug has the makings of a decent cycle top heading down into the obligatory late Sep ,early Oct low. There are several possible timeframes for this to occur this month. Watch for Tues 8/3 to be a turn point of some sort , but more importantly the 9th-10th and the period around the 24th look to be critical! Be advised that for the past 9 months or so the high comes very early in the month and low around mid-month. At least thats been the general pattern.Next week is the infamous Kools 12-13 day low at the end of the week heading in to the critical 8/9 date, so my short term bias would be for an high early in the week (perhaps by Tues?), and then lower into the weekend.I would expect the second week of the month to be strongly up after the 9th-10th is out of the way.....
Click image for original size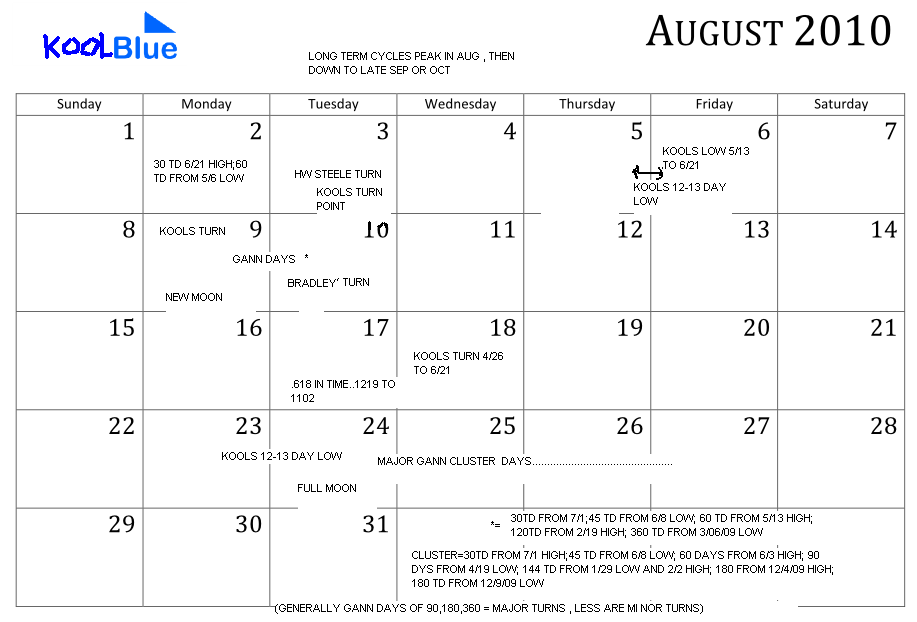 Great Study DT. Have you updated it with recent data by any chance?
Originally posted by day trading

There were a couple of mentions and questions over the last week about when the most likely time of the day was for a high or low. This should help:

Timing the High/Low of the Day