How soon after the close can the value area be computed?
How soon after the close can the value area be computed?
How difficult is it to come up with the
vah
,
poc
and
val
?
How soon after the es market closes can the
value area
be figured out?
Can the
value area
be used in trading the es overnight?
From about what time is the best times to use the
value area
?
Thanks.
many of us use the DEVELOPING value areas so it is unfolding as the market trades.....so it is calculated real time....! No waiting and no fuss.....the software does it all......In general it is best to use Yesterdays
VA
's for the first 90 minutes or so......then you can see what happens with the current day.....but lines (
Va
's) can be used
ALL
day and some use only that...
Gap
days are good to use the developing too
Thank you Bruce M.
I'm new to all this.
Is the software expensive?
Can anyone tell me where I can get "DEVELOPING value areas" software?
I echo what Bruce just said. In the last hour of trading the
Developing Point of Control
does not change much.
Here is a chart showing the developing value areas and
point of control
for today in the
ES
. As you can see, tomorrow's
Point of Control
of 1046.00 in the
ES
was set at 3pm this afternoon.
Click image for original size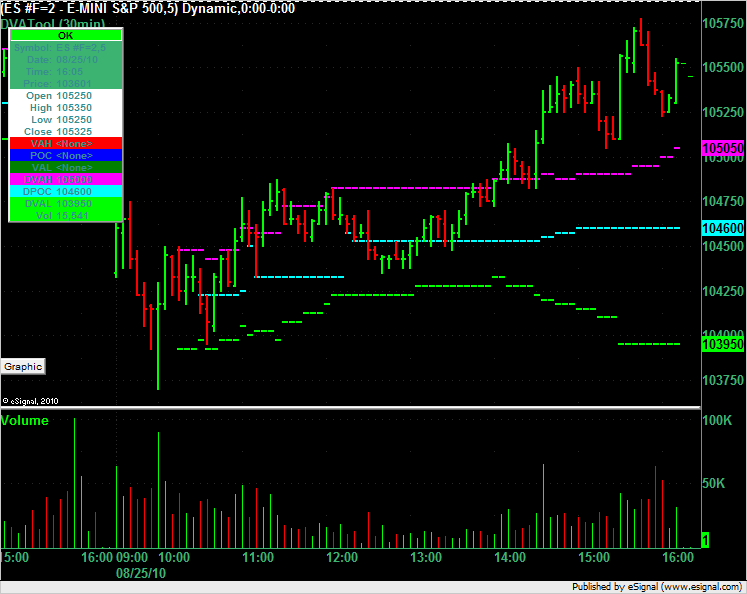 If you are an
eSignal
user then you can get this indicator (
DVATool
) and
other indicators
if you're a
premium member
of this site.
I suppose a late response is better than no response.
Regarding when to calculate VAs.....that can be done as soon as the market closes, but as previously pointed out, the
POC
will not change at the end of the day, EXCEPT, if you track a vol based
POC
, the vol
POC
can change if a lot of vol. is traded towards the close. That doesn't happen everyday, but it occurs enough for me to pay attention to it.
Like others here,the first 1-2 hours I pay attention to the previous day VAs and
POC
(and I tend to give more respect to vol based vs
TPO
based VAs and
POC
), after that I pay more attention to the DVAs and
DPOC
(developing).
One thing to consider is watching a composite profile made up of multiple days. Some traders use a calendar week, other use a rolling week, and there are other ways as well. One of my favorite ways to create a multi day composite is to merge together days that have over-lapping VAs. Such a composite will can have VAs and
POC
. It can be a great way to get a sense of how the different time frame players are operating and how they see the market (I'm a daytrader and am flat at the close but looking at multiple time frame Market Profiles can be very beneficial).
PopDoc