ES PASR Map for 11-10-10
Here's what I've got on the 30-minute chart. Blue lines are
PASR
levels and are the core of what I'm looking at. Magenta is semi-significant. The whitish dashed lines are Wkly Pvts with a Fib retracement drawn in showing a .386 and a .618 with solid White lines.
Obviously, the clustering of these in a tight area of price tends to be more important as potential Support or Resistance. Hope this is helpful as a MAP for Wednesday's trading. Will hopefully have a chance to post some price levels that are looking significant to me.
Notice how the
ES
bounced off of the confluence zone at 1206.65 late yday which was a very significant confluence zone fwiw. That was, to me, the most important area I had on the chart even though I didn't think it'd get there. So, here's for tomorrow ... drew some new lines in after the close and so far 1212.50 has held as resistance in early overnight trading. Here's all the pretty lines and colors:
Click image for original size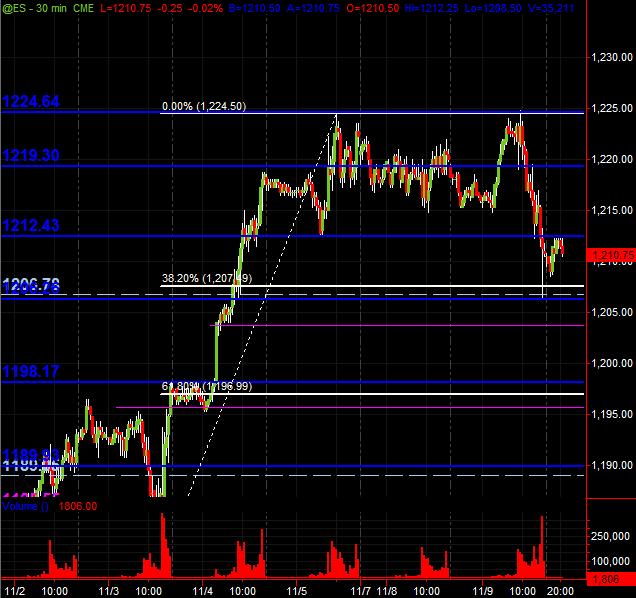 Originally posted by i1hunter




Originally posted by Lorn

Here is the 30-min projection up off the morning low.




Click image for original size






Just thought this was interesting to point out. You can see the projection up using the first leg up off the July low. Prices have just now bounced off and up from that 1.618 level. I'm not suggesting the next level up in the fib projection will be reached but it is useful information to know.
And it will be very interesting to see how today closes in relation to this level.
Click image for original size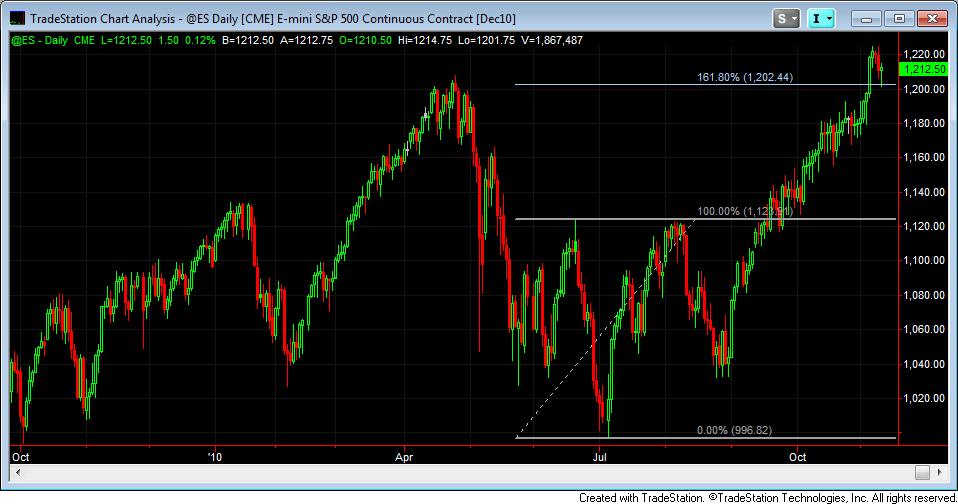 Got to make a correction on this from earlier. I was wrong on the 2.000 projection down for Monday's range. That had already happened yesterday around 1207.50.
2.618 level was today at 1203 zone.
Sorry for the screw up.
Originally posted by Lorn

Here is the footprint of the O/N action. Very interesting behavior imo after yesterday's selloff.

As per Paul yesterday did see the 1.618 level reached to the downside of Monday's range. So the 2.000 level I have at 1202.75. Also the 4.236 projection down off the initial move is 1204.25.




Bounce off the 45
EMA
. Critical support over the short term for those who want to be long equities.
Click image for original size