ES Short Term Trading 12-01-2010
ES Short Term Trading 12-01-2010
Here is the
cumulative delta
picture. Yesterday as prices rallied
CD
(
cumulative delta
) found resistance at the Friday peak, then as prices sold off
CD
stopped at that support area where buying has been entering the market over the last two days.
Now we have this large rally in the
O/N
but
CD
is still below yesterday's peak.
What this all means is within the last few days price range there has been no real net gain in either short inventory or long inventory.
Lets see if
RTH
brings in new volume.
Click image for original size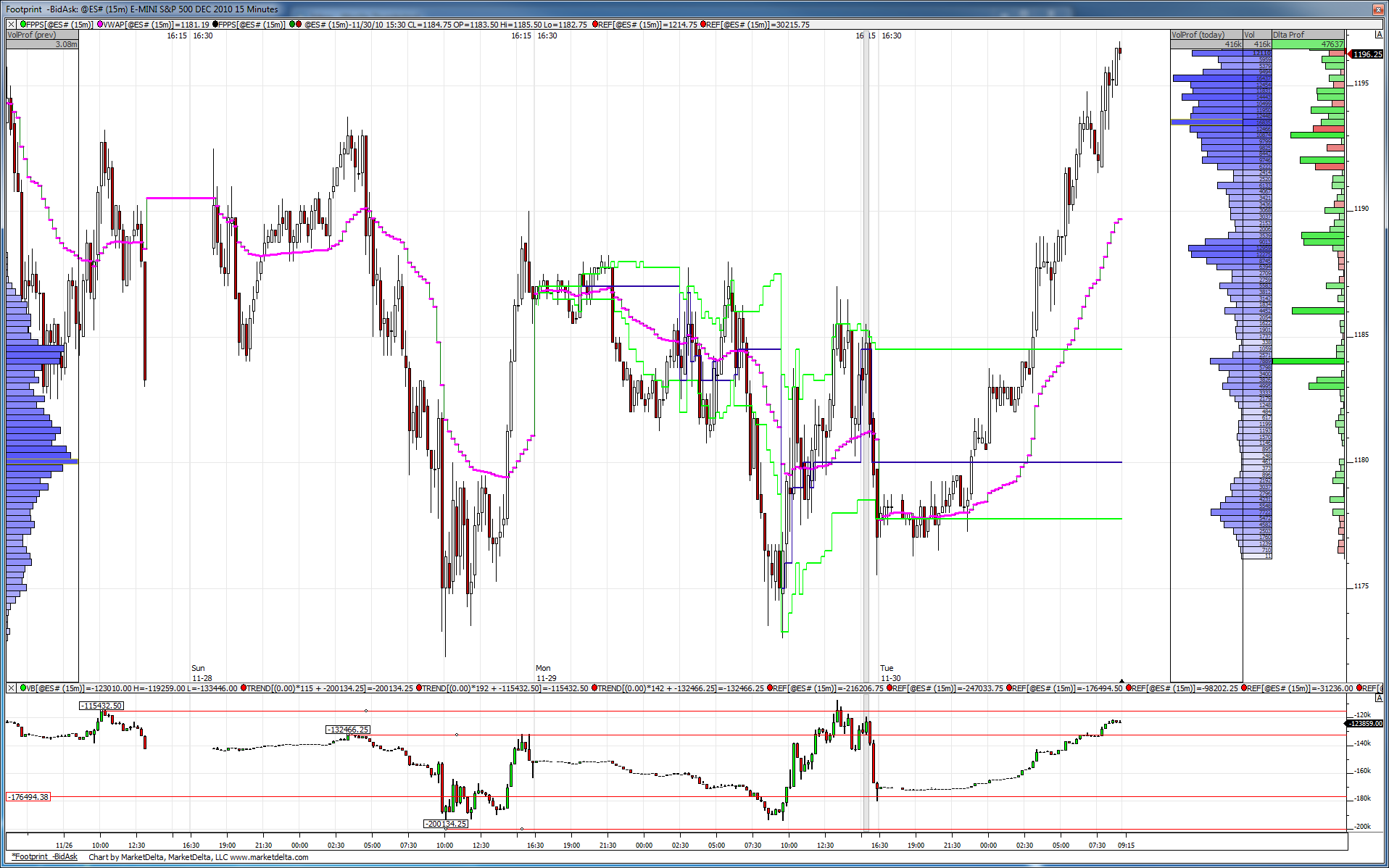 changing
add
point to 09.50 ...see 11-11-10 and 11-12 -10 for reference points...average in is 06.75 on these runners
Once again
YM
has made new 30 min high while
ES
and
NQ
have not. Will have to wait until 1:30 for this to be confirmed.
here is big whole on my
Volume Profile
.....these usually fill in on the same day ( because of the size)but for me I now have two things....those quads and this whole.....which fill in overtime....so this may run a bit but I know they will come back....
I'm not meaning to imply that I will hold overnight or keep adding to this trade over and over....I'm agressive but not stupid..
If they don't get the whole today then we need to keep itin mind on any future day ( within 3 days for the quads) that starts trading or comes back into todays range
For me I will
add
into 09.50 and that will be it....and will close out near 11.75 if wrong now...
afterall we have the hour breakout and the non-
gap
fill and we opened outside of range and never traded on both sides of the open...implies trend.....so all
fades
today and adds have been lighter in general
I may not have broken my
fade
mentality but I'm chipping away at getting better by trading smaller on days like this..
Click image for original size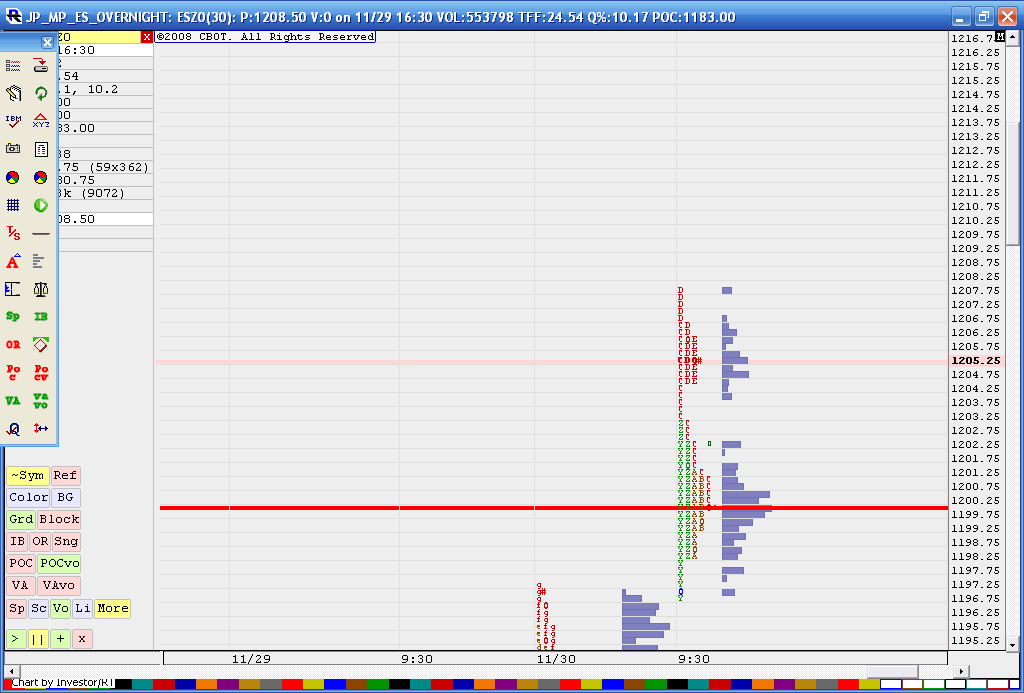 a very important idea that I'm looking at is that the "hole" is not just any ordinary
air pocket
or
single print
as per 30 minute analysis....this is an unusal hole in my volume data as
IB
volume gets clumped and I don't see these as big as todays without filling in....
everyone is trying to decide " Is this a valid breakout ?

hard to tell as volume is higher at specific breakout point from "C" formation thread but volume isn't higher above that....after the breakout.....seems to have dried up a bit up there...

so the breakout folks want it to close above 1202- 1203 and us faders want the selloff to have it close back inside the bigger range....and way below 1202 - 1203
thanks Lorn....
gaps
in data so super
low volume
...I guess we need to wait for final hour.....those quads still below also....tough call...I'm holding only two now....and those will stop out at 06.75...that is just above that mini spike of volume on one minute time frame...03.50 was main target so after that I have no clue...and no good place for stops!
so if this
triple
holds it will go for that 1211...I think this one is gonna get run out.....so now that I see that it changes things a bit......
now adding at 05.25 for
triples
....new highs will be a concern for all contracts (runners have the 06.75 stop pulled)
so now we have three magnets below:
1) quads
2)
triples
3)
single print
complete fill
and when it trends we will lose!
haha! That is a new saying for sure....
"When it trends we will lose!"
Originally posted by BruceM

so now we have three magnets below:

1) quads
2) triples
3) single print complete fill

and when it trends we will lose!