ES short term trading 01/06/11
ES short term trading 01/06/11
In order to overcome the 1273.50 resistance barrier from this afternoon, I think the
ES
will need to open
gap
up and above it.
So for tonight and tomorrows trading: If
ES
moves above 1272,50, will target 1276.75 as first objective, above 1276.75, 1281.25 as second obj. above 1281.25, 1285.75 as third Obj.
The voiding point for that possible scenario is at 1269.25.
Below 1269.25, 1265.00 is next support.
ES
trading 1272.00 @ 22:22
Will see, and as always, the market has the last word and in due time will show us the way.
And finally, theres my number...1266.50! long one from 1266.75
Long time reader, but first post here. This close looks very enticing to buy. Nice 5 wave move up during
RTH
from 5825 to 7450, the pullback is a nice looking 3 wave pattern assuming we make a new low today during the session. Looking to buy 6475 (.618 fib retrace) with a 4 point stop as I think we
gap
much higher tomorrow. Target is 8250. GL
stop is now at 1267.00... just in case
out at 1269.25 and satisfied...C ya!
ps: and theres the 1270.25 that was indicated...
Not that im aware of, John. Sorry
you folks had some nice buys at the end there....well done!!
Here is the 30 minute with a few basic comments....just sharing a few ideas regarding the closes. I'm not a break out trader so I don't advocate using the closes in that way.
Click image for original size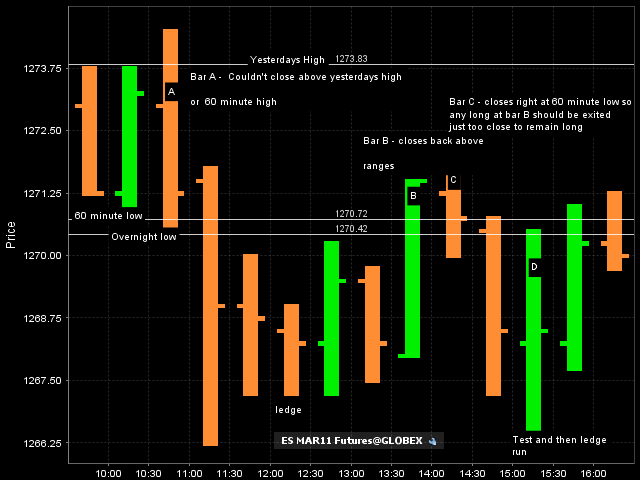 Here is one example of double bottom, "BUT" it is in a 2M chart.
Below is a pic of 3 intraday charts from the same day session 12/31/10. A 2M chart (left), a 5M and a 10M.
In the 2M chart, notice that at 09:46, the price hits the daily support trend line and percentage support cluster (78.6% and 127.2%) then bounces off. The second 2m bar, at 09:48 opens right at support and also bounces off creating a double bottom with the opening right at the low on support.
Notice that the other time frame isolators where working their way down to oversold.
This set-up does not happen often but when it does it is fun to trade it.
Click image for original size