ES Short Term Trading 02-24-2011
ES Short Term Trading 02-24-2011
Weekly
RTH
profile going into tomorrow. Notice the
HVN
's at 1306.25 and 1314.
Click image for original size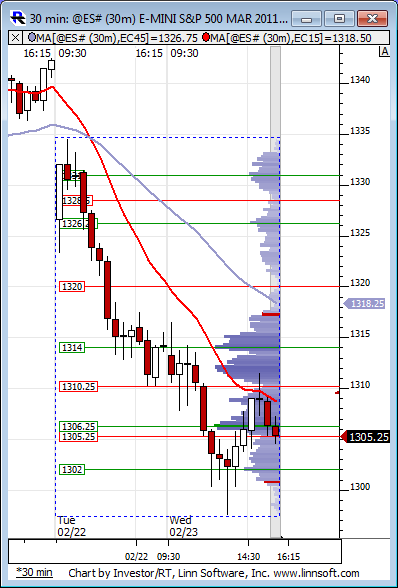 the nice thing here is my stop is nicely above the red avg on the 5 min (avg is 1301.00) at 1302.00 for a risk free trade on the runner...
Note: avgs in dead neutral alignment,so no clue there, but
prc band
still pointing down, and the 13 min red avg is up there too, so thats a critical area
Originally posted by koolblue

taking one off here...just in case!

covered one at 1298.50..plus 2.5 there! Yippee! that puts me back in the black today
well, i covered the other at 1299.00 ,just dont want to make the same mistake i made earlier! plus 2 handles there... watching to sell again
Thats for sure!..at least i got a few handles ouuta them!.. Herea one min chart cause it has the numbers to watch! ..dont forget the hourly wants 1283!... gotta get some sleep!..
Click image for original size