ES Short Term Trading 02-24-2011
ES Short Term Trading 02-24-2011
Weekly
RTH
profile going into tomorrow. Notice the
HVN
's at 1306.25 and 1314.
Click image for original size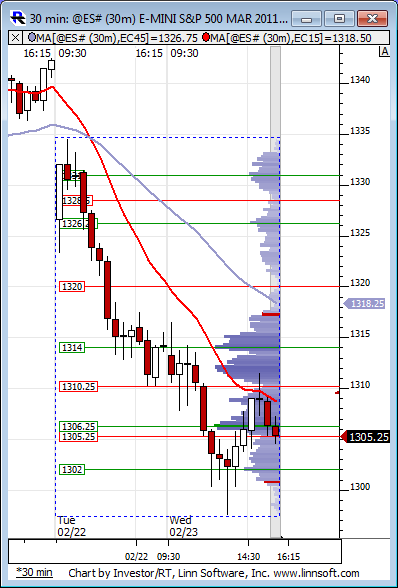 dont be misled by my wimpy trading!...i still think a retest of the low(1293.50) and likely lower are a real possibility. I should also
add
that early strength(1310) followed by late weakness is Not a bullish pattern!
hehe...that train likes to leave with as few passengers as possible!
Originally posted by koolblue

sneaky bastards! This time the train left without me!

Thats for sure!..at least i got a few handles ouuta them!.. Herea one min chart cause it has the numbers to watch! ..dont forget the hourly wants 1283!... gotta get some sleep!..
Click image for original size