ES 4-27-2011
Here is a 30-min chart with the developing profile for the week. On the lower pane I have a relative volume study giving feedback for the past 200 trading days. Quite interesting the rally over the last week has come on some seriously weak volume in relative terms to the last 200 days of trading.
Notice the one bar from todays session which is about 130% above normal 200 day volume, that came on the high reversal bar for the day...
Click image for original size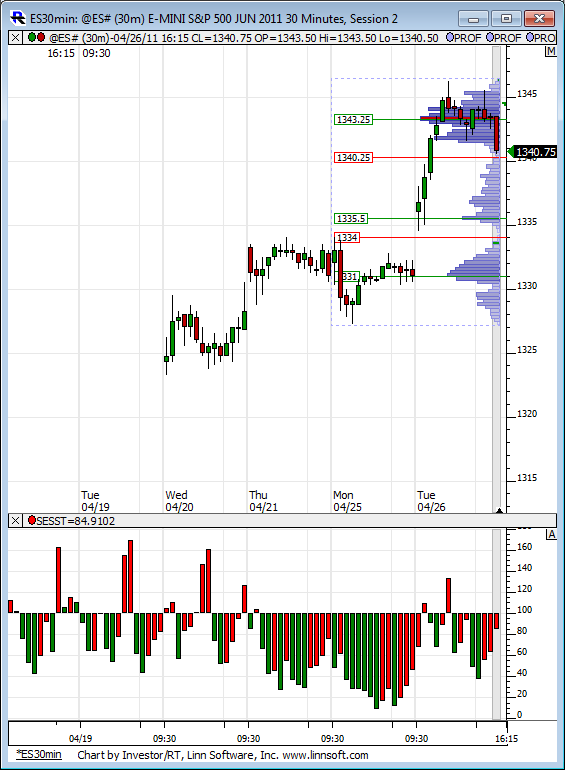 biggest opportunity is if they do a first push up but also biggest risk as the key number 1350 looms above!!
started core
RTH
shorts at 45.75...ultimate goal now can be the
gap
fill but we have lots of work to get there.......plan is still target 44 for
O/N
positions
Really nice call bruce
Originally posted by BruceM

started core RTH shorts at 45.75...ultimate goal now can be the gap fill but we have lots of work to get there.......plan is still target 44 for O/N positions

thanks....so far so good..we have a
low volume
push away from the 44 so I expect it to return to that number again
Love watching bonds as they move up minis move down
Originally posted by BruceM

next target will be low volume of 42.50 from YD

well ,if there is a double top pattern in
ES
30min chart,the book target will be 1340.5-(1346.5-1340.5)=1334.5
my market is left-justified, so could not place it near the cell in 3P column