ES 5-6-2011
Just wanted to point out on this 30-min chart with weekly
volume profile
on it the massive uptick in volume today on the one large down bar.
Click image for original size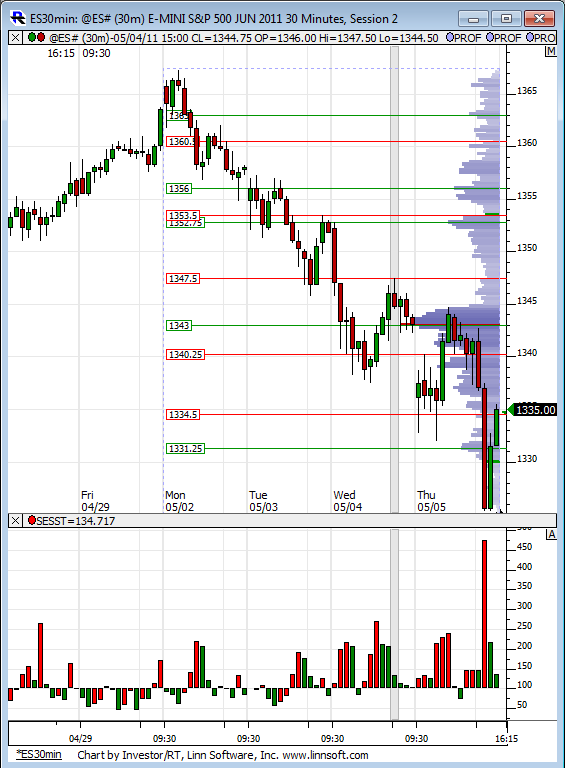 lorns chart shows that nice little
low volume
area sandwhiched between two
high volume nodes
.....lets see them back fill a bit to make the profile more symetric
took one off at 42.50...that was begining of my key support mentioned earlier......holding one...38.75 is target on last ... keeping stop wide.....still not convinced of a big selloff yet....volume still bunched in the middle
if we make new lows now then my stop will go slightly above the current midpoint and above that
low volume
area.....so that point for me is 47.75....if we print 40 I will move stop down...much harder to play when you have only one contract left
I hope somebody actually understands some of the visuals or the words...otherwise this would just be posting trades and no real value......which would be a waste of my time and the time of anyone who is actually left reading these
great trading bruce, and thanks for the multiple explanations
thanks for the good words...I'm glad it's useful.....I'm flat at that 38.75 print
Volume picking up here on these two big down 30-min bars. Relative volume compared to last 200 days of trading on the bottom of the chart.
Click image for original size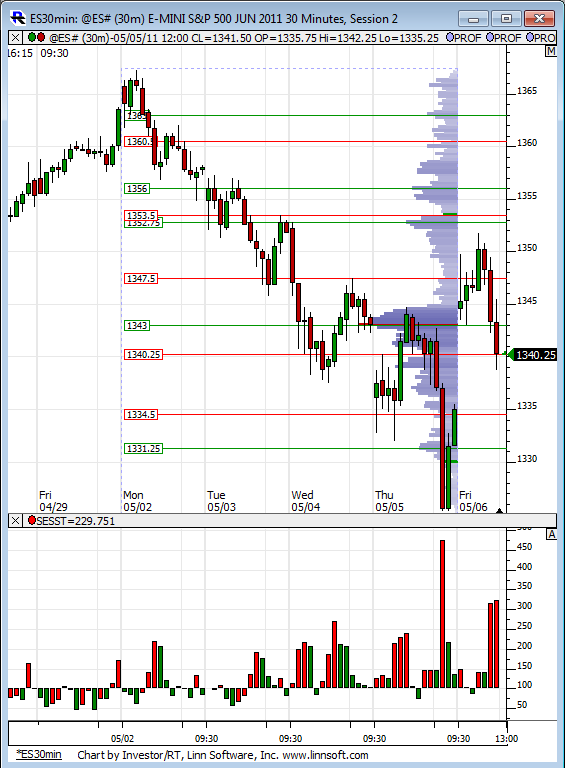 for anyone still holding short you ideally want to see trade stay below 42.50 - 45...that area includes yesterdays
RTH
high, the
value area high
and TODAYS 60 minute low.....also the breakdown point
air pocket
is in there now....critical to hold any rallies BELOW there...we want volume to build under there....to attempt
gap
fill
German coalition source confirms that there is crisis meeting in Luxembourg with Schaeuble and Asmussen taking part...Apparently Greece wants to leave the euro area...euro plunging here
always reading here...always appreciating the posts. thank you for taking the time.
Yes BruceM, I am very appreciative of your posts. Wife and I are getting ready to hit the road for a year long travel across this great land of ours in our new fifth wheel RV. So I am a bit distracted but once on the road I will be spending my mornings following along.

Thanks again.